The Penguin Girl
Then time had come for me to leave Statesville and North Carolina and head south to Florida, where I was to pick up Tim. Before eating breakfast, I brought my last suitcase down and put in in the trunk of my car so my backpack was the only thing left in the room. When I had enjoyed Lori's breakfast for the last time and promised her that I would stay with her again the next time visited Statesville, I picked up the backpack, and then I headed out of town to I-77. I would stay on this interstate for the first part of the trip down to South Carolina. I had been warned that there was roadwork going on all around Charlotte, as so-called HOV lanes were under construction. HOV stands for High Occupancy Vehicles, and are special lanes that you can only use if you are two or more in the car. There are many who are alone in the car during rush hour, and therefore these HOV lanes can be considerably faster than the rest of the lanes on the interstate. In this case it has been decided that the HOV lanes shall be toll lanes which at least some of the potential users is a bit annoyed about, but anyway, toll booths has to be constructed and that slows down the construction work further.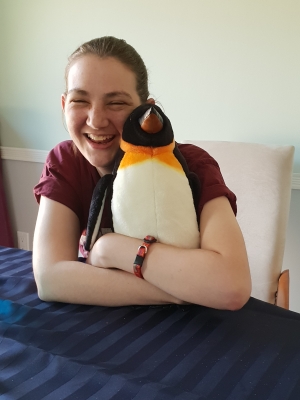 Lexie with one of her penguins
Fortunately, it was a Sunday, so there was not much traffic on the interstate, but as always there is more traffic around cities than elsewhere. There were approximately 40 miles (65 km) from Statesville to where the road works began north of Charlotte and it took me about 35 minutes, to get there and then it took about the same time to drive the 10 miles (16 km) around Charlotte, but as soon as I passed the road work area, I could increase my speed for rest of the way to Columbia, South Carolina, 90 miles (145 km) to the south, where I made my first stop and had a cup of coffee. Around Columbia there was road work as well, but not as much as around Charlotte, so it actually did not delay me much. Near Columbia, I changed interstates to I-26, which led me southeast to a interstate intersection not far from Santee in the same state. We have actually stayed in Santee a couple of times, but this time I just passed. At this intersection I once again changed interstates, this time to I-95, which I was going to follow all the way down to Flagler Beach. Initially, I was planning to stop for the night somewhere in southern Georgia or northern Florida so there wasn't that far to drive to Flagler Beach the next day.
I do not know what is happening with the weather in Georgia, because when I was heading north about a week earlier, it rained all the way through the state, and now, heading south, it was exactly the same thing. I also met another road work when I was going around Savannah that delayed me a bit, but not that much though. Along the way, I made a few more stops to get gas, coffee and lunch. Although rain and road work had slowed me, I decided that it was too early to stop when I reached the Florida state line, so I decided to continue all the way to Flagler Beach and then find a motel there. If it had rained when I drove through Georgia, it got even worse, a real cloudburst, when I reached Florida – The Sunshine State, and when I passed Jacksonville on the beltway, it rained so heavily that you could not see the signs above the lanes which made it difficult to get into the correct right lane at interchanges, and since it not only affected me, but also many others, it took quite a while to get around town. But in the end I managed! Not far south of Jacksonville, it stopped raining, and here I made the last stop of day before I reached my goal. I called Tim and told him I would go all the way to Flagler Beach, so we agreed that when I had found a hotel, I would look him up in Lexie's parents' home.
When I reached Flagler Beach I located a Holiday Inn just off the interstate where they had vacant rooms. This time I only brought one suitcase to the room, and then I headed for Lexie's or rather her parents' house, which is not far from the beach. We chatted for about an hour about what Tim and Lexie had been doing in Florida while I was in North Carolina. In addition, we looked at penguins. Lexie (like Tim and I) has something for penguins, and she has a large collection of them. Toys, by the way – not actual living penguins as the weather conditions in Florida may be a bit too warm for them! All the penguins had names, and even if she and Tim told me the names – and also the names of other stuffed animals, I don't seem to remember. And yes, Lexis is an adult! :-) I was invited to dine with them, but I wanted to go back to the hotel and relax; After all, I had been up at 6 am and had been on the road for eight hours as the only driver. There was a Subway right next to the hotel, and I thought a sandwich would suffice. I would also like to get some rest before we had to drive to Miami the next day. So I left the family and Tim and headed back to my hotel. Here I ate a sandwich on the reported Subway before returning to the room, after a day where I, including the short drive in Flagler Beach, had driven 502 miles (808 km).
Rejuvenating water and some pelicans

The next day we were going to drive to Miami, taking Lexie back to Denmark (not against her will that is). However, this changed. Lexie was undergoing an examination by the health authorities in order to clarify whether she could receive MedicAid subsidies for the expensive medicine she was using, and she had to go to two meetings the following week. She and Tim had unsuccessfully tried to move the meetings, unfortunately she could come along with us to Denmark, but had to go on a later date – which proved to be in August. Instead, Tim and I had to figure out what we had to do with ourselves for the day.
But first I had to pick up Tim at Lexie's parents, and as we certainly weren't in a hurry, we had agreed that I should be there at ten. But just as I had to get out of the door, the shoelaces broke in the only pair of shoes I had. I also had a pair of sandals, but they were packed in the suitcase I had left in the car and which I did not wanted to open again. So I had to find a shoe store along the way, and so did I - even two in the same shopping mall. Unfortunately, none of them opened until 10 am, so I had to wait. In return, the lady in the shop I visited was very friendly and helpful and ended up even putting the laces in the shoes for me. This meant that it was about a quarter to eleven before I reached Tim. I spent some time talking with Lexie's father (Lexie and her mother were at the hairdresser's) while Tim got ready.
Around 11.30 we drove off and we initially headed south by the road along the Atlantic Ocean, Florida Road A1A, Ocean Shore Boulevard as it is called. Here there are some great views of the Atlantic Ocean on one side, and some expensive houses and a little further down the coast expensive apartments on the other. When we reached Ormond-by-the-Sea, we saw a sign for a park, and then we headed inland. We never found the park itself, but we drove through some lovely residential neighborhoods. Ormond-by-the-Sea is the neighboring town of Ormond Beach, where we had stayed for a night in 2016, and when we got there, it was so late that we decided to have lunch, which we only rarely eat while on the road. We therefore headed even more inland, to a restaurant where we have eaten on that occasion, Houligan's. Here Tim had an excellent burger (at least Tim told me that the burger was good) and I had a chicken salad (oh so healthy) while we enjoyed the presence of what may have been the total police force of Ormond Beach, including a K-9 unit, who ate lunch at the neighboring tables but without the dogs though.
While we had been separated, Tim had rented a car himself and he and Lexie had also been going sightseeing. They had, among other things, been in Orlando to see Sea World, where they had been allowed to go "behind the stage" after the performance and where they had met another friend who lived in Orlando. But more importantly to me was that they had visited Saint Augustine north of Flagler Beach. Here they had visited the Fountain of Youth Archeological Park, where you can see the Fountain of Youth (or at least a spring). In the park's gift shop (of course they have one), you can, among other things, buy bottles of water from the spring – or you can buy larger, empty bottles, which you can then fill up yourself. Since I wanted to bring some youth water home to my aging acquaintances, who might need it, I had asked Tim to buy me some. However, as it was still early, and as St. Augustine is an exciting town (I may make a video for my YouTube channel on this town one day), we agreed to head there anyway. After lunch we therefore headed for I-95 and then to St. Augustine. Along the way, we talked about whether we could get into the gift shop without having to pay the entrance fee to the park itself, and when it turned out that this was the case, I wanted to go there.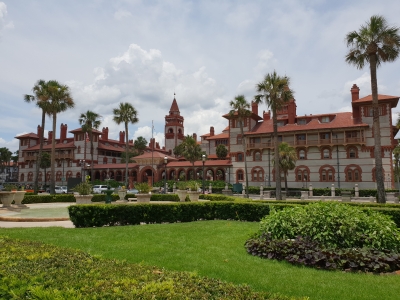 Flagler College, St. Augustine - former Hotel Ponce de Leon
We parked the car outside and entered the shop. Here I bought one more bottle of water; you can never get too young! :-). Besides that we looked at the many souvenirs, which for the most part were probably made in China, Japan or Korea. Then we drove around town, and Tim let me out off the car at one of the city's central squares, so I could take some photos of which I already had several, but I managed to get a very good picture of the local University, Flagler College, located in a former hotel, Ponce de Leon Hotel, built by Henry Flagler (or perhaps on behalf of Flagler) in 1888. The hotel is built in the so-called Spanish Renaissance style, as many of Flagler's other buildings in St. Augustine and it's pretty impressive. By the way, Flagler was - if you didn't already know - co-founder of Standard Oil along with John D. Rockefeller and a very wealthy man (if you did know, he was co-founding the company anyway). The hotel was one of the first buildings in the US, which had been fitted with electric light everywhere from the time of construction. The power was supplied by DC generators supplied by Flagler's good friend, Thomas Edison.
We drove a little more around town after Tim had picked me up again, and then we continued across the Lion Bridge (it is guarded by two so-called Medici lions, thus the name) to Anastasia Island across the Mantanzas River, even though it is not actually a river but an estuary. Our goal was to visit St. Augustine's lighthouse, and even though we were going down pretty little sideroads without any signage, we managed to locate it, but turned down the visit in the end, as we didn't want to pay $ 13 each to walk up the stairs. We decided to head back to Flagler Beach, but instead of returning to the interstate, we stayed on the beach road. The previous day, Tim had told me about all the many pelicans that could be seen down by the beach at Flagler Beach, but even though I had driven back and forth along the beach several times, I hadn't seen a single one, so I believed that he was just pulling my leg. On the way back, however, we saw a whole squadron of pelicans flying in formation over the road in front of us, so even though I didn't see them in a sitting condition, I saw them in flying.
In Flagler Beach there is a winery, and as we reached it, we made a stop and visited the place to see what they had to offer and it was reasonably good wine so we decided to buy a couple of bottles. After the visit, I drove Tim back to Lexie while I returned to my hotel for a rest. Later I picked up Tim once more so we could get some dinner. This time we headed north on the interstate once more, but only to the town of Palm Coast, where Tim knew there was a buffet restaurant. We like those because there is always a lot to choose from and the prices are usually quite reasonable. This was a Golden Corral, which we had never tried before, but as expected it was excellent and here too the price was in order compared to the quality of the food, and as usual in that kind of places, I basically got stuck at the salad bar. After dinner we drove back to Flagler Beach where I left Tim before returning to my hotel for the last time. The weather was fine all day with sun and a few clouds, but still a high humidity. 151 miles or 243 km it was made on this, the tour's penultimate driving day, all inclusive.