James Melton
James Melton is a hard to understand character. Maybe the strangest of all the characters of the Dooley case. His wife had affairs without him interfering and he even slept in the same room, where his wife and her lover shared another bed. And even if almost everyone else in the area knew, it looks like he stayed a rather respected man in the local community. He testified at the trial, but unfortunately his testimony is lost.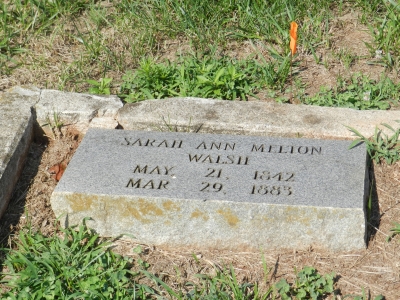 The photo to the left shows the recent gravestone on Sarah Melton's grave in the Melton family plot in Elkville, near the old home of Ann and James Melton.
James Melton was born in 1838 as the son of Henry and Elizabeth Melton. He was the second of four children. His older brother was Francis A. Melton, who at the time of the murder lived a few hundred yards from Ann and James with his wife, Mary Holder and nine children. An interesting thing is, that in the 1850 census, there is no Francis in the household of the Meltons, but a 14 year old daughter called Frances! Unless a sex change operation later took place, a rather grave mistake was made by the assistant marshal who took the census. Wilson Foster spent the night in Francis' home, when he first went out to look for Laura. The younger brother was called Alexander. James also had a sister, Sarah Melton, who in February 1866, a few months before the murder, was married to Bennett Walsh, one of the people who testified at the trial. Sarah herself did not testify.

James Melton married Ann Foster in 1859, when he was 20 or 21 and she was 15 or 16. From the beginning of the marriage, he gave in to all her whims, even if they meant that he had to sleep alone in a bed while she entertained her lover in another. Witnesses explained that he was afraid to ask anything of her or question the things that she did. He did not even try to persuade her to take part in the daily work on the farm or in the house. Instead, she spent most of her days in bed, while James and Pauline worked the fields together, sometimes assisted by a day laborer, Jonathan Gilbert.

Contrary to what legend suggests, James Melton did not remain Elkville during the Civil War (and couldn't have married Ann while Tom was away). Already on June 12th 1861, several months before Tom, he joined the confederate army and on July 13th, he was enrolled in 26th North Carolina Infantry Regiment, company C, that mainly were recruited from Wilkes County. He fought with the regiment at New Bern, The Seven Day Battle, The Battle of Rawl's Mills and at Goldboro, until he was wounded in the shoulder and leg on the first day of the Battle of Gettysburg, where he served as the regiment's color bearer, but the wounds may have saved his life as he did not participate in the rest of the battle. 15 men served as color bearers on that day. 14 of these were killed or wounded during the fighting. The regiment was part of Pettigrew's brigade in Heths division, Hills corps and they fought on McPherson's Ridge primarily against The Iron Brigade of the West commanded by Brigadier General Solomon Meredith. 588 of the 800 men were lost on the first day of the battle. On the battle's second day the regiment were allowed to rest on Seminary Ridge, but on the third and final day, they were at it again.
On this day the regiment took part in the disastrous attack on Union lines, which subsequently became known as "Pickett's Charge". In this charge, 26th North Carolina troops advanced further than any other unit in the attack reaching the goal "The Copse of Trees", a small group of trees, about three quarters of a mile from the Confederate lines, where soldiers were advancing through open space and en route had to pass a road, while the Union troops were taking cover behind a stone wall. In this attack the regiment lost another 120 including another 8 color bearers and were left with only about 80 unwounded men. No other regiment, Confederate or Union lost more men during the battle. After the battle, James was mentioned on a Roll of Honor.
Although he survived, James Melton's wounds must have been pretty severe, as he did not return to the regiment until more than a year later, in the fall of 1864. In March 1865 he was wounded once more in the leg at the Battle of Hatcher's Run. He was sent to a hospital in Richmond and he was still in hospital when Union troops conquered the city, and was captured on April 3rd. He was transferred to the Prisoner of War camp at Point Lookout in Maryland, the same camp where also Tom and others from his neighborhood were imprisoned. He arrived in the POW camp on May 2nd 1865 and four days later he was admitted to the camp infirmary because of his wound. There are no reports that he and Tom ever met in the prison camp. On the 26th of June, two weeks after Tom, James signed the Oath of Allegiance and was released. On his release form he was described as being of light complexion, with light hair and blue eyes and being 5'10" tall.
Also a few other persons from the Tom Dooley case served in the regiment, ie Phineas Horton, a witness, Rufus D. Horton, another witness, Ben Ferguson, one of the deputies that later arrested Tom, Pinkney Foster, Ann Meltons older brother, Ben Walsh, who later married James Melton's younger sister and William Holder, who took part in a party at the Melton place on the day Laura disappeared. All of these survived the war.
Also the two brothers, Francis and Alexander volunteered. They were both enrolled in 42nd North Carolina Infantry Regiment, Company K like Tom Dooley and several others from the area. Alexander joined the army as late as 1864 and spent most of the spring of that year in hospitals due to different illnesses. In March 1865 he was apparently taken prisoner together with Tom and transferred to Camp Hammond as well as many other soldiers from the regiment. A lot of prisoners, some sources have 4,000, other have up to 14,000, died in this prison camp, and among these were Alexander Melton. His name is found on the memorial on Point Lookout. In the list of witnesses Alexander appears, even if he was already dead! Most likely his name has been confused with that of his brother, Francis. Francis was mentioned several timers in different testimonies, but he never testified, while Alexander was never mentioned, so I think that the name of Francis in the list of witnesses has somehow been replaced by that of Alexander. Also James Isbell is called Thomas in one of the witness lists, but James' father, Thomas Isbell had passed away long before the trial. Francis had joined the regiment on April 26th 1862 , and apparently got through the war without being wounded or captured.
When he returned from the war, James continued to look after his farm, but worked simultaneously as a cobbler for the local area. He had, among others, made shoes for Laura Foster, and it was James who made the shoes that she was buried in. In the census of 1870 he was recorded as wagon maker and in 1880 he registered as a farmer and carpenter. Apparently, he was quite the handyman as was the case with many artisans of the time.

The family was not wealthy as the legends claims. James didn't own his own land, and he had to use his milk cows for plowing, but on the other hand he had enough money to hire Jonathan Gilbert as a laborer, when he was in need of assistance in the field, and he could pay Pauline Foster $ 21 for a summer's work. Ann was also reported to be well dressed. These money he probably earned from the different crafts he was skilled in.
At the census in 1880 Ann was dead and the daughter Jane Martha had married and left home. James had married Louisa Gilbert in 1875, and he had two children with her, Margaret and James. His youngest daughter with Ann, Ida, still lived at home, and in the household was also his new mother in law and sister in law, Margaret and Delia. In 1883 James and Louisa had another daughter, Mary. Louisa Gilbert had a daughter from before her marriage to James Melton, but she stayed with Louisa's uncle, Rufus D. Hall after the marriage. In 1880, James and his new family had moved to Caldwell County. I haven't been able to find out when James died and where he is buried, but he was alive in 1910, and when Louisa died in 1915, she was recorded as being a widow, so he must have passed away sometime between 1910 and 1915. Louisa is buried in the Chapel of Rest Cemetery in Yadkin Valley, so maybe James is buried there as well but not registered?
The Melton daughters
We know a little about James' and Ann's daughters, Matha Jane and Ida Vaughn. Even if they had nothing to do with the story, here is a short brief on them.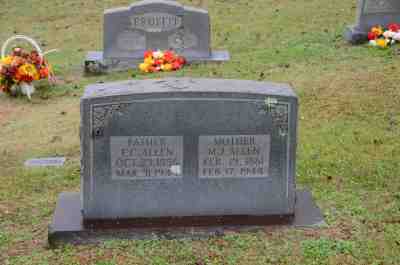 Gravestone of Martha Jane (Melton) Allen and her husband Edmond C. Allen in Elk Creek Batist Cemetery on Elk Creek Darby Road in Ferguson.
Martha Jane was born in 1861. Some later sources makes her the daughter of Tom Dooley, not James Melton, but there is no proof of that. We don't know where she was at the time of the events before and after Laura Foster's murder, as she was not mentioned during trial at all. Not even Pauline Foster, who testified about who slept in which bed in the Melton household, mentions her. Maybe she was staying with her grandmother or other relatives to make room for Pauline in the small on-room cabin of the Meltons.
Martha Jane married Edmond Columbus Allen, whose mother was a Hendrix, and moved to Watauga County, more specifically to the small settlement Meat Camp, not far from Trade, Tennessee. I have not been able to find out when they got married, but their oldest child was born in 1878. They got at least 8, maybe nine children. In 1910, they moved back to Wilkes County where five children still lived with them, but in 1920 only the youngest daughter was at home. In 1930 they still lived in Elk Creek in Wilkes County, now with two grandchildren, Lisette and Lavila Martin. In 1944 both Edmond and Martha Jane died. Martha Jane died on February 17, 82 years old and two days before she would turn 83. Edmond died on March 31, 88 years old, and was buried on 2 April, while Both spouses were buried in Elk Creek Baptist Church Cemetery in Ferguson.
The youngest daughter, Ida, was not even born when the events took place and Tom was executed. Even if all census records agree that she was born in February 1871, the homepage findagrave.com prefers to let her be born in 1868. However, this is reasonably easy to disprove. In February 1868, Ann Melton was in prison, and she had been since September 1866, and James Melton has hardly had access to "intimate visits". It would not be in the spirit of the times, nor is it told anywhere that Ann was pregnant during her imprisonment. Ida got married on January 13, 1891 to Rufus L. Winkler and they settled in Caldwell County, where they both lived, but not far from her old home in Wilkes County. The two of them had two children, Augustus, who were born in December that year and Rufus who was born in October 1893. This marriage lasted so short that the couple is not registered in any census as living together. Rufus died at the age of 30 in September 1893, after just 2½ years of marriage, although a later erected tombstone said September 1892 - but that would have made it difficult for him to be the father of a child born in October 1893. Rufus is buried at Belview Cemetery in Lenoir, Caldwell County, along with his mother Mary. On December 25th 1896, Ida married again, this time to John W. Minish, who also lived in Caldwell County. The two apparently did not get any children and in 1908, John died at the age of 34, and he is buried at the Fairfield Cemetery in Lenoir. After his death Ida moved to Oklahoma, where she died in Carnegie on May 12, 1918, 47 years old. Both her sons served in the US Army at the time, but the oldest could take leave so that he could visit his mother before she died. The youngest son was on his way to France to fight there.
Ida's first husband, Rufus Winkler, was the son of J. W. Winkler and his wife Mary. John Walther Winkler, 38 at the time of Laura's disappearance (Rufus was 4), was one of the people who participated very actively in the search for Laura Foster and also helped identify the body. According to some sources, he related to Laura, and it is also possible, but can not be proven today. In any case, Laura was buried in a place, which at that time belonged to Winkler at least according to the descendants of the Winkler family.

- Return to Tom Dooley page -
- Return to English Pages -