Laura Foster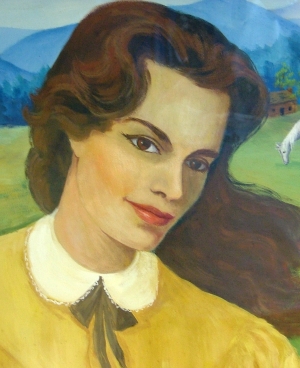 The painting to the left depicts Laura Foster near her fathers house, as Edith F. Carter imagined her. The original picture is in the Tom Dooley Art Museum at Whippoorwill Academy and Village in Ferguson, North Carolina and is reproduced here with permission from the artist.
The songs and legends do not tell much about Laura Foster, except that she was a beautiful and innocent girl who was brutally murdered by Tom Dooley or perhaps someone else depending on the specific version of the legend. A later source described her this way: "Laura was very handsome, with chestnut brown curly hair and cheerful blue eyes." Nothing is mentioned about her appearance in official papers, except that she had a large gap between her rather large front teeth and that she had a distinctive face shape, though nowhere is mentioned what it was that made her face shape distinctive. It was on these traits, the body was identified when it was found after the murder. A newspaper article described her as "frail", but it is obviously her morals not her physique that is referred to.

Only her father and her brother James is mentioned in the official documents from the trial, but census records show that she was the oldest of five (some sources have eight) children. She had two younger brothers both named James, James Thomas Foster and James Elber Foster (Elger in some documents, Elwood in others). It is most likely that the 'James', who was mentioned during the trial, was James Thomas, whom Laura was very fond of, and the othert brother was primarily known as Elbert.
Laura was the daughter of Wilson Foster ( born around 1810) and Martha (Patsey) Foster born Bowman (born around 1812). Wilson and Mary married on February 9th 1842 in Wilkes County. They were both over 30, a rather old age to get married, so maybe one or both of them had been married before? In 1850 the household numbered (according to census records), Wilson (age 40), Martha "Patsey" (age 30), Laura (age 5) and James (age 3). In the 1860 census the household had the following members: Wilson (51), Martha (48!), Laura (17), James (11), Elbert (8), John (6) and Elizabeth (2). Here is another example of age discrepancies between two censuses, and this makes it hard to determine the age of anyone. A Foster genealogy claims that Laura was born in 1843 which agrees with the 1860 census, but not the 1850, which suggests that she was born in 1845. The same genealogy claims that James was born in 1845 which is not in accordance with either any of the censuses. If the 1850 census is correct he must have been born in 1847 and if the 1860 is correct he was born in 1849. As he served in the Confederate Army at least during part of the war, I donít believe either census, but I think the genealogy is right, making him about the same age as Tom, and therefore Laura one or two years older, the same age as Ann Melton. So I think Laura was around 23 when she was killed, not 18 as some legends will know In 1864 Mary Bowman Foster and the two younger children, John and Elizabeth died during a flu epidemic, so at the time of the murder, Wilson lived alone with three children, Laura, James and Elbert. Actually both James and Elbert may have been living as farm laborers with other farmers, which can explain that none of them were questioned about what Laura did on the morning she disappeared.
The family didn't live in Elkville at the time of the murder, but in the small community German Hill, just across the county line in Caldwell County. The family was rumored to have been poor; at the trial it was reported, that Laura normally was dressed in worn dresses and had holes in her shoes. On the other hand, when her body was found she was wearing two dresses, one made of home spun cloth and one "store bought". There are indications pointing in the direction that Laura's father and at least the eldest son. James, worked as farm laborers for some of the wealthy plantation owners in the neighborhood, while Laura may have washed or sewn. Later sources also claimed that she was good weaver and made a few dollars weaving for Mary Winkler (according to an interview with a descendant of the Winklers, Lawrence Fulton Winkler, in C. C. Barnes book, The Tom Dooley Files). Mary was the wife of J. W. Winkler, one of the men participating in the search for Laura's body, and on whose land Laura was finally buried. On the other hand, there are some sources, that claim that Wilson was moderately well-to-do, and owned a rather large tract of land (see the discussion on Wilson Foster, when that page is updated. We know for certain that he owned a horse, which was rare at the time and in the 1860 census he owned personal estate to a value of $ 200 but no real estate.

The sources are very uncertain when it comes to Laura's kinship with Ann Melton. In an article in a local paper, The Statesville American, from the time of the trail, it was stated that they were distant relatives. None of the other witnesses mentioned any family relationship between the two. Legends will know that they were 1st cousins, and that Lotty Foster and Wilson Foster were siblings. Unfortunately none of Wilson's siblings was named Carlotta, Lotty or anything that even remotely resembles that. On my first visit to the area someone told me, that they were illegitimate half-sisters because Laura's father, Wilson, was also the father of Ann Melton out of wedlock. One recent source believes however, that they were fourth cousins, which may be correct even if I have not been able to trace the relationship. Normally, as you can see from the above, it is supposed that it was Laura's father and Ann's mother that was related. Personally though I believe that it was Ann's father that was related to Wilson Foster, and I will elaborate on that in the updates of my articles on Ann Melton and Lotty Foster.
In my first version of this article I mentioned that also the relationship between Laura and Pauline Foster was uncertain. Pauline mentioned in her testimony, that the too of them were distant relatives, and tt is clear from the testimonies that the two of them knew each other before Pauline came to live with Ann and James Melton in Elkville. Lately I have learned something new (always a good thing to get wiser) that explains the relationship. I have recieved this information from John Hawkins, former head of the Caldwell Heritage Museum in Lenoir. He gave me some information gathered by the late historian Allen Poe. From this information I learned that Pauline's paternal great grandfather was the brother of Laura Foster's paternal grandfather, making the two of them 1st cousins, once removed, meaning that they were one generation apart, even if the were almost of the same age. More on this in the article on Pauline Foster, when that is updated.
In legends and songs Laura often appears as the innocent victim of a bestial killer who had lured this innocent girl away from home under the pretext of wanting to marry her. She wasn't quite so innocent after all though. People who knew her described her as "a girl with round heels". This was a local expression indicating that she was promiscuous or in more modern language, "she was an easy lay." She was accused of having sex with "colored men", which was not comme il faut in the American South in the era just after the Civil War and the abolition of slavery. Even her father accepted that this could be the case. During the trial it was testified that he had accepted the possibility that Laura had "eloped with a colored man." Laura's sexual escapades are not documented in official records, but a significant part of the prosecutor's argument for Tom being the killer, was that Tom's motive to kill Laura was that she had infected him with syphilis. This alone indicates that she was not entirely innocent. A persistent rumor says that Laura was pregnant when she was killed, and Tom was the father, but if that is a fact it was not mentioned during the trial, nor by the doctor who examined the body.
Charlotte Corbin Barnes suggests in her book "The Tom Dooley Files" (2016), the possibility that Laura was a Unionist, and that this could be at least part of the reason for her murder. There was quite a few Unionists in Wilkes County and some also in Happy Valley, and the possiblity that Laura was one, can not be rejected, but personally I don't think so, and even if it was the case, I don't think it was part of the motive for her being killed.