Pauline Foster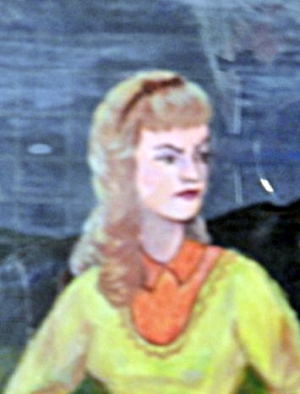 The painting to the left depicts Pauline Foster in the midst of quarrel with Ann Melton, as Edith F. Carter imagined her. The image is an enlarged part of a larger photo, thus the poor quality. The original picture is in the Tom Dooley Art Museum at Whippoorwill Academy and Village in Ferguson, North Carolina and is reproduced here with permission from the artist.
Pauline Foster played an important role during the trial as the main witness for the prosecution, but despite this we do not know much about her or her specific background, at least not from official papers from the time of the trial. She testified that she had told people, that she had come to Elkville to visit her grandfather, but in fact it was just an excuse for staying in the area while seeking treatment for syphilis from Dr. George N. Carter. In connection with her testimony, she also stated that she was a distant relative of Ann Melton, but she didn't tell how they were related and the official records don't say anything. At the time of the murder, she was 21 years old, thus one or two years younger than Ann Melton and Tom Dooley. The surviving trial records tells nothing about her parents, but it was mentioned that she had at least one brother and she also mentioned a brother in her own testimony. Unfortunately, his name was not mentioned, so it does not help us to find out more about Pauline. During the trial, it was also mentioned that she spent a night with Ann Melton's younger brother, Thomas, and that, besides Tom, she had also been with Tom's friend, George Washington Anderson. When she arrived in Elkville, she accepted an offer from Ann and James Melton to help James in the field during the summer for a payment of $ 21. She accepted as she needed the money to pay for her syphilis treatment. During the trial one of the witnesses, Colonel James Isbell, testified that Pauline had been arrested twice, but only the arrest that led her to becoming the main witness of the prosecution was mentioned.
In the original arrest warrant, issued one month after Laura's disappearance, the Justice of Peace from Elkville, ordered the Sheriff of Wilkes County to arrest four people. One of course was Tom Dooley and another was Ann Pauline Melton. The remaining two were a Granville Dula and an Ann Pauline Dula. Initially this made me believe that Ann Pauline Dula and Ann Pauline Foster could have been one and the same person. However, I don't think so anymore. Today, I'm pretty sure Ann Pauline Foster and maybe her brother were to be arrested together with Tom and Ann Melton. How the justice of peace got them mixed up with Tom's two cousins is not clear to me, but I will offer a guess later.
In the newspaper article that could be read in the New York Herald on May 2nd 1868, the day after Tom Dooley's execution, it was mentioned that Pauline, after the murder, had married a white man but had a child with a black man! The latter mustn't be taken too seriously. The journalist obviously didn't care much for the poorer people from the area, and especially not the women, and since the newspaper was known as a "scandal monger", it is very likely that this whole story is the journalist's invention - or at least the part of Pauline having had a child with a black man – more below.

In the first copy of this article, I made some speculations about Pauline and her relationships to the other people involved in the case. I will not repeat those here, as my recent research, and not least my visit to the area in the summer of 2017, have made me wiser about these family relationships. It is not least information from John Hawkins, former leader of the Caldwell Heritage Museum in Lenoir, which helped me on my way. My new research has led me to the surprising result that not only was Pauline related to both Ann Melton and Laura Foster, but in fact she was even more closely related to Tom Dooley!
Pauline's mother was born Anna Church in 1820, and later got married to a Henry Hughes, exactly when is unknown, but probably about 1835. 15 years was not an abnormal age for girls to marry at that time. The couple had a daughter named Lucinda. Henry Hughes died in the late 1830s. As a widow, Anna moved in with Levi Leander Foster or vice versa in the early 1840s, and they had three children before they got married. In the census of 1850 the children are registered with the surname Hughes, but later they are Fosters, which indicates that their parents have now been married. One of these children was Anna P. Hughes, later Foster, who must be our Pauline. In addition to Lucinda, Anna's 's daughter from her first marriage, there were two younger sons, Joseph and Horton. It is not clear which of these is the brother who was mentioned at the trial, but as Ann Melton accused Pauline of having an incestuous relationship with her brother (which Pauline denied), it points in the direction of Joseph, who was only one year younger than Pauline. Pauline was four years in 1850, and once again the censuses is not very precise when it comes to age. Not about Pauline, as she is recorded as being 15 in 1860 and that fits the age of 21, she gave in her testimony. The problem is Joseph who is only recorded as being 12 years old, but this must be wrong. That he was 14 or at least almost 14 is much more likely. By the way, Horton is not mentioned at all in 1860, so he may be dead from some contagious disease, as many children did during that period. On the other hand, there are now five more children from 10 to 2. The oldest of these, is called James, and maybe he is actually the same as Horton. Many children had more names than one, and different people called by various names, so maybe the persons who spoke with the census takers, used a different name in the two censuses.
But then who was Pauline's father? And who was the grandfather she officially came to visit)? Here I am quite sure that the grandfather is John Dula, known as "Jack." He had gotten a child oút of wedlock with a daughter of one Robert Foster. Robert had four daughters, but one had already married a few years before Levi Foster was born and two were simply too young. Most likely candidate is therefore, Robert's daughter, Mary. She was unmarried at the time and her age was right. Robert Foster was a brother of Laura Foster's grandfather, Thomas Foster. This would explain the distant relationship between Laura and Pauline, as mentioned in a contemporary newspaper article, as Laura and Pauline would then be second cousins ​​once removed. The son of (probably) Mary Foster and John Dula was Levi Leander Foster, who was the father of Pauline. The father of Levi, John "Jack" Dula, was a younger brother of Tom Dooley's father, Thomas P. Dula. That means that in spite of being illegitimate Levi was Tom Dooley's cousin, and Pauline was thus Tom Dooley's first cousin once removed! This family relationship was not mentioned at all during the trial, but there are many other family relationships that were not mentioned. The grandfather, whom Pauline said she had come to visit, must therefore be either Robert Foster, or more likely John Dula. When I believe that the latter is most likely, it is because Levi Foster and his family apparently lived very close to John Dula just before and during the civil war – actually so close that the family members of Levi in the community were often referred to as Dulas, not Fosters. In fact, Levi is noted in one record not as Levi Foster, but as L.F. Dula. This may explain the name confusion in the arrest warrant, not least because the two girls Ann Pauline Dula and Ann Pauline Foster had the same first names, or at least were known by the same first names. Also Ann Melton was named Ann (or Angeline) Pauline, so the name or name combination must have been popular in the area. In fact, one of the witnesses living close to Laura, is recorded as A.P. Scott, and she may also have been an Ann Pauline. Unfortunately, we do not know today. Why the name of Granville Dula got on the arrest warrant is unclear, but maybe he was mixed up with Pauline Foster's brother, Joseph because of the confusion between the two Ann Paulines? Dr. John E Fletcher suggests in his book, "The True Story of Tom Dooley", that Wilson Foster simply confused the two pairs of siblings when he reported Laura's disappearance to the authorities almost a month after it had taken place. However, it doesn't seem very likely to me. As Pauline Foster and Wilson were related and she had visited Wilson's home less than two months before the murder and maybe also after that, he must of course have been so well aware of who she was as not to confuse her with somebody else, even if they had the same name. Rather, it's the Justice of Peace, who probably was not so familiar with the family relationships in the Foster and Dula clans, that have caused the confusion - and here comes my guess: I think Wilson Foster had reported to Justice of Peace, Pickins Carter (or rather Carlton) that he suspected that Tom Dooley, Ann Pauline Melton, (Anne) Pauline Dula and her brother were involved in the disappearance of his daughter. In this case Wilson may have used the Dula name that the Foster family went by in the local community, and maybe he didn't mention the name of Pauline's brother. The justice of peace may have asked someone about the name of the brother at a later time, maybe when writing the arrest warrant, and if he just asked for the name of Ann Pauline Dula's brother, his source may have misunderstood him and thought he meant the woman who was in fact named, Ann Pauline Dula, not the one, who was just known as Dula, but, in fact, was named Foster. Knowing that this woman had a brother named Granville the source may have told the justice of peace so, and this would explain the use of his name in the warrant. Both Ann and Granville Dula were actually arrested and presented to the justice of peace the day after the arrest warrant was released, but he immediately released both of them again, which could indicate that he at that time had been made aware of the mistaken identities.
I lack one relationship, the one between Pauline Foster and Ann Foster Melton. I will get back to this in a revised article about Lotty Foster, but I think that Lotty, Anne's mother, had been married to a Foster, probably a cousin or a second cousin of Laura Foster's father. If this is a correct assumption, Pauline and Ann were actually distant cousins, as Pauline mentioned in her testimony.
In the 1850 census, the Hughes/Foster family was living in Watauga County, in 1860 they lived in Caldwell County and in 1870 they were back in Watauga County. This suggests that the family may have moved to Caldwell in the late 1850s or early in 1860, before the census was taken in August, when Pauline were between 12 and 14 years old, perhaps for Levi to be closer to his father who apparently recognized him as his son, even though he hadn't been married to Levi's mother. Then the Civil War came and they remained where they were until it was over in 1865. Pauline testified in court that she had visited Laura Foster on March 1, 1866 and got a job with Ann and James Melton a few days later. She may have visited her distant relatives, to see if they could get her job so that she could make enough money to pay for her syphilis treatment. If Pauline arrived in Wilkes County from Watauga County in March 1866, the family must have left Caldwell soon after the end of the war. If the family only stayed in Caldwell County for about five years during the Civil War, that may explain why Pauline testified that she had never met Tom Dooley until she came to live with Ann and James. On the other hand, if she lived in Caldwell County, near the county line for almost two years before Tom joined the army, it is hard to believe that Tom's family never paid a visit to uncle Jack Dula while she was there.
We don't know either when she returned to Watauga if at all, after the arrest of Tom Dooley and Ann Melton. Historian Allan Poe believed that she was still in Wilkes County during Tom's trial, but that is unlikely. Witnesses in the case were paid 5 cents for every mile they were traveling from their home to Statesville, and from the receipts appears that most were paid for trips of about 100 miles back and forth. Lotty Foster was paid for 92 miles and so were her sons Thomas and Samuel; Celia Scott was paid for 96 miles; the unidentifiable Temperance Pilkerton for 100 miles; George Washington Anderson for 96 miles and so on. Pauline Foster on the other hand was paid for a 200 miles travel, which means she lived twice as far away from Statesville, as the other witnesses. Now it is not clear from the receipts that are found in the records, which way everyone was travelling, but I assume that it was the shortest distance possible. From Statesville there are about 40 miles to Elkville as the crow flows and approximately 50 miles by today's roads, so it's most likely that the roads of 1866 was also at least 50 miles. Some researchers believe that Pauline lived in a small town, Foscoe (possibly partly named after her father) in Watauga County, between Boone and Banner Elk in Avery County. Alongh present day roads there are around 75 miles from Foscoe to Statesville and by the considerably more winding roads through the mountains of 1866, it may very well have been the 100 miles, she was paid for, not least because many of the roads that exist today simply did not exist at that time. On the other hand, I wonder why she walked all the way to Elkville to seek out Dr. Carter, as there were several doctors in the much closer town of Boone. But maybe she did not want to visit a doctor who knew her parents. Or maybe there wasn't any possibilities to earn money to pay for the treatment closer to home.
If she was infected with syphilis after returning to Watauga County, as she explained in her testimony, or if she contracted the disease before the family returned to Watauga, it is impossible to say. One source suggested to me during my visit to the area in 2017 that she may have contracted the disease because she had been raped during the war, which is certainly a possibility, but in that case she must have contracted the disease while still in Caldwell County. But we also know that Pauline wasn't exactly holding back on her favors to men. As she apparently did not die from the disease, she must either belong to the fairly large percentage that actually survives syphilis, or her treatment was actually effective. If it is correct, as some sources will know, that she was alive, at least as late as 1900, 34 or 35 years had passed since she was infected, and even if third stage syphilis do not "arrive" for many years, that is a bit too many. And the medication, primarily consisting of mercury, was actually working rather well. That is if you survived the treatment!
In January 1866, a "marriage bond was recorded for a marriage between Anna P. Foster and John Scott. However, they did not get married right away. Dr. John E. Fletcher believes that they waited for Pauline to be cured of her syphilis, but there may also have been other reasons. In 1870, John and Anna Scott were neighbors of Levi and Anna Foster in Watauga County, which clearly indicates that it is the right Pauline (Anna), and when the New York Herald wrote that she was married after the murder but before the execution, the couple probably married sometime in 1867. Pauline however, was still called Foster during the last trial in 1868, but perhaps it was not to cause any confusion as she was called Foster during the first trial. John was, by the way, somewhat older than Pauline. One census says 10 years, another says 20. The North Carolina Death Records, tells us that John Scott died of a heart attack in 1880, and according to the census of that same year, Pauline Scott lived alone with two children, James and Anney, in Patterson in the western part of Happy Valley with a woman, Martha Baldwin, 58, who wasn't related. John Hawkins supposes that the may have worked together at the Patterson Mill. The son, James, was born in 1868 (which suits the information in the paper that she had a child after the trial but before Tom's execution. It is not mentioned in the records that he was black, or mulatto, so he probably was white. This is not the same as to say that John Scott was actually the father, but it still underlines my assumption that the New York Herald reporter tried to put the women in a bad light. The marriage records tell us that a Pauline Scott, aged 30 (rather 34 or 35), in 1881 married an older man, Elisha Cloer, 70 years old. Cloer does not exist in any later records so he may have died after a only a few years of marriage, which would not be unlikely, considering the average lifespan of the time. Unfortunately, it is impossible to identify Pauline in later records as well, neither under the name Scott nor the name Cloer (or Foster for that matter), but she may have married once more.
The census in 1900 mentions a woman named Pauline Scott, 52, living with her husband John Scott, 56 years in Wentworth, Rockingham County. If this is Pauline, she could not have been married to Elisha Cloer, but since this Pauline and especially John seems to be too young for this to be the right couple, it may be someone else, and Rockingham is well away from both Watauga, Caldwell and Wilkes, where Pauline had otherwise lived. One legend tells, that as a girl from the mountains, she expressed a dislike for the lowlands of Wilkes and eastern Caldwell counties when she arrived in 1866, and Rockingham is even more lowland – but this is of course only an unconfirmed legend.
- Return to Tom Dooley page -
- Return to English Pages -