Tom Dooley
Thomas C. Dula is better known as Tom Dooley. The change in his last name was caused by the pronunciation in the local dialect in western North Carolina and the habit of the times of spelling names as they were heard. An "a" in the end of a name was often pronounced as "ee", "ey" or "ie", thus Dula became Dooley. Same goes for Laura Foster, whose first name was pronounced locally as "Laurie" and Tom's sister who sometimes are called Anna, but more often Annie og Anny. The name Dula was misspelled on some official papers as well, like his release form from Prisoner of War Camp after The Civil War. When the "Dooley" spelling was used in songs, it became the "official" spelling, and the one I will use most in these articles, though I will use "Dula" in some connections, primarily in quotations. Tom was a member of the very large Dula familiy, who lived in and around Happy Valley, a part of the Yadkin Valley in western North Carolina. Except for Tom I will use the spelling Dula for other members of the family.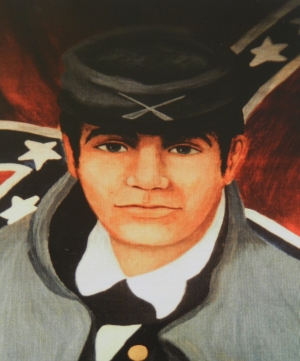 The painting to the left depicts Tom Dooley in his Confederate uniform, as Edith F. Carter imagined him. The original picture is in the Tom Dooley Art Museum at Whippoorwill Academy and Village in Ferguson, North Carolina and is reproduced here with permission from the artist.
The fa
miliy
It will probably lead me too far astray if I try to go through all members of the family on this occasion, so this is just a brief overview of some of the family members.
The family were of Irish ancestry, but had lived in Virginia for many years. The first Dula to arrive in Happy Valley was a woman by the name of Judith Dula, who married a Thomas Hall. Exactly when she moved from Virginia to North Carolina is not known, but it must have been near the end or right after The Revolutionary War. Shortly after her two older brothers, William and John moved to Happy Valley as well, and a little bit later, her younger brother, Bennett, also arrived. Maybe she asked them to come?
John married Susannah Brown and they had at least three children, but none of these played any part in the Dooley case, so no more about them. Judith and Thomas Hall had children as well, who didn't play any part, but one of their grandchildren, Rufus Dula Hall did. He was an important witness in Tom's trial. Rufus was one of three children, that Judith's daughter, also named Judith, had before her marriage, and he was Tom's second cousin. Who the father of Rufus was, is not known. It may have been her later husband, but it's not likely, as he kept his mothers name, even after she was married.
William Dula had been a captain in the militia during The Revolutionary War, and was know as Captain William for the rest of his life. While still in Virginia, he met Theodocia Beasley McMullen. For some reason the two of them eloped; maybe his or her parents was not happy abouth the relationship. After eloping the two of them had four children before the finally married and had two more children. Captain William bought what developed into what was known as the largest and best plantation in the valley. The six children married children of other well-to-do plantation owners in the valley, and when Captain William died in 1835, his plantation was divided between his children. Several of Captain William's grandchildren were witnesses at the trial, or otherwise involved. All of them of course were Tom's second cousins.
The last, and youngest brother was Bennett Dula. When he came to Happy Valley, he bought land divided between the fertile valley and the not so fertile hills surrounding it. When he arrived in the valley, he brought with him a young boy, William Lee Maguire Dula. It's not known today if this was his own son, or a son of another Dula. William Lee is not mentioned in Bennetts will, even if he was very much alive, when Bennett passed away. Bennett married Anna Stowe (Stoe in some records), and the two of them had nine children, so even if his land was not that fertile, he himself definitely were. And now we are closing in on Tom.
The oldest child of Bennett and Anna was a daughter called Judith. She later married Lewis Waters and moved to Tennessee. In connection with either her marriage or moving she was granted in advance an heritage of $ 400 and some movable property. The second child was a son, Thomas P. Dula who married Mary Keaton from Virginia. She was a daugher of Clifton Keaton and Sara Parr. Beside these two children there were seven more. Sara, John (called Jack), Mary (called Polly), Jefferson, Mary Eliza, and Bennett Jr. Some of the children of especially Jack and Bennett played a part in Tom's trial. A lot of these grandchildren intermarried, that is they got married to first cousins, and three of Bennett's children (Tom's uncles and aunts) married three Ferguson siblings.
Thomas P. and his wife, Mary got married in 1822, and had at least seven children. The years when these children were born are only approximations, as no years are given in official sources. The oldest was Angeline Eveline Dula, called Anny, born around 1826. She later married Micajah Hendrix, and it was the two of them, who brought Tom's body back to Elkville after the execution. William L. (the Lenny of the legends) was born around 1828. He later married Lucinda Walsh. Selina Dula, born around 1830 but after the census that year, as she was not mentioned here, married James Kendall in 1848 and moved to Georgia. Sarah was born around 1832. She married and moved to Lenoir in Caldwell County, but I haven't so far been able to find the name of her husband. John R., was born around 1834 and Eliza was born in 1838. Finally Thomas C. Dula (our Tom) was born in 1844 or 1845 (see below). None of the three youngest children were ever married. John and Tom died before they could get married, and Eliza apparently suffered from some kind of handicap, that kept her at home.
I will get back to the family relations in later articles. The relations are rather complicated, as most of the people involved in the case, were related, either by blood or by marriage. Rufus D. Hall, mentioned above was Tom second cousin. Both Tom's eager pursuer, James Isbell, and Dr. Carter, who treated his syphilis, were married to two other of Tom's second cousins.
Tom Dooley
Tom C[aleb] Dula (Tom Dooley) was born on June 20th 1844 or 1845. When Caleb is in brackets it's because his middle name is never mentioned in any official records, but most sources agree on Caleb. As goes for his date of bith the sources don't agree. The English Wikipedia has June 22nd 1845 as the date of birth, but as his mother during the trial testified that he was born on June 20th, we must believe that this is the correct date, as she should know if any. The year is more open to discussion. In her testimony Mrs. Dula says that Tom had turned 22 "last June." It is not certain when she made that statement. It may have been during the hearing for the Grand Jury in October 1866. In that case "last June" was probably June 1866, which means that Tom was born in 1844. Others claim that the testimony of Mrs. Dula wasn't from the Grand Jury hearing in Wilkes County in October 1866 or the trial in Statesville that same month, but from her testimony at the second trial in Statesville in January 1868 and the "last June" therefore must refer to June 1867, which means that Tom Dooley was born in 1845. His military papers are of no use in this case, as he lied about his age to become a soldier. In the census records from August 1860 he is recorded as being 15 years old, thus indicating a birth in 1845. The census records from the period are notoriously unreliable when it comes to indication of age, but the census from 1860 is mostly correct in this aspect. Personally I believe that 1845 is correct. In March 1862 Tom joined the Confederate army, and if he was one year and some months too young, it sounds reasonable that he had to lie himself older in order to get into the army.

When Tom's grandfather, Bennett, died, more than 20 years before Tom was born, his father, Thomas P, was appointed as executor of the estate, and he himself inherited quite a bit of property although he had to share the inhertance with his siblings, and nothing was to be divided among them as long as his mother was alive. Sometime around 1829, Thomas P. ran into some bad times, and he had to sell a large portion of his property, like part of his real estate, some farm animals and five slaves, that he had inherited. Records show, that in 1840 he still owned one slave, a young girl, but she is not mentioned in any later records.
This next part is pure speculation on my part, but I find it reasonable anyway. Many legends will know, that Tom was buried "under the appletree next to his home on a sunny hill, overlooking the Yadkin River". This is definitely not true, as his grave is a mile as the crow flows from where he lived with his mother - and on the other side of Yadkin River. But I have an idea, that might explain how the legend came to be. Bennett Dula died in 1822, shortly after Thomas P. and Mary got married and as mentioned above Thomas P was appointed executor of the will, but nothing was to be divided among the children until Anna died. My theory is, that when his father died, Thomas P stayed at or moved back to his childhood home, to take care of his mother and younger siblings. I think he stayed there until his death in 1854, while his siblings and his own older children left the place when they grew up and got married. When he died, Mary and the three remaining children moved to the cabin, where they lived in 1866 when the events in the Dooley case took place. Some years after Tom's execution Mary sold the cabin to Dr. Carter, and moved in with her oldest daughter, Anna, and her husband together with Eliza. In the 1870 census Mary is registered as a "tailoress". She probably had to make a living after her husband died. Some years later (in 1880) Eliza is registered as a "seamstress", which fits well with her mothers occupation.
In the 1860 census, Bennett Jr., Bennett's youngest son, lived with his wife and children, of which he finally had seven and his mother at the old homestead, and it was on his land, Tom was finally buried. The two oldest children of Bennett, Ann Pauline and Granville, were mentioned in the arrest warrant, that also included Tom and Ann Melton. By the way, Bennett's youngest daughter had the impressive name Queen Victoria Dula!
The census records from 1860 show that Mary Dula owned quite a large tract of land, maybe as much as 2,000 acres, but most of it were hills and woods and only a small part could be cultivated. She also owned "cows" in plural and my feeling is that it was more than two. The cabin had at least three rooms, which were many for the hill people of the time as many lived in one room cabins, so Mary wasn't as poor as legends will know. Some years later, the Carter familiy tore down the the cabin, but two things are left. Ther door to the cabin is now used as a door in the home of Margaret Carter Martine, who runs Whippoorwill Academy and Village in Ferguson after the death of her mother, Edith Marie Ferguson Carter in 2014. The door handle is in the Tom Dooley museum at The Village.
Legends will know that when Tom heard that his two brothers had died in the war, he too joined the confederate army. As so much of the legendary details, this is pure fiction. William L. joined the army on March 15th 1862, the same day as Tom and the two of them both served as privates in Company K of the 42nd North Carolina Infantry. John joined the army in August of 1862, just before conscription was introduced. He was enrolled in another regiment and never served with his brothers. In december 1862 he got ill with pneumonia and was transferred between a lot of field hospitals until he died in late January 1863. A record shows that he wrote his will on December 30th 1862, but the will itself is not known. During the course of the war Tom was hospitalized twice with what is only recorded as "recurring fever". It very well could have been typhoid that killed a lot of soldiers on both sides of the war. Once he was hospitalized after being wounded during the siege of Petersburg in June 1864. In January 1864 he had been promoted to musician (drummer). According to his comrades of war, he fought bravely in the battles he took part in, and he was respected for his courage and his fighting spirit. After the execution a New York newspaper wrote that some of his fellow soldiers had told the reporter that during the regiment's stay in Wilmington, Tom had killed a man who discovered him in bed with the man's wife. This may be true, but it may also be an invention from the reporter to make the story more exciting. I have not been able to confirm this story in any other sources from the time.
At the Battle of Wyse Fork near New Bern on March 10th 1865, most of the 42nd regiment was taken prisoners including Tom and his brother William, Alexander Melton and several others. They were all transferred to Camp Hammond on Point Lookout in Maryland. This was one of the worst Union POW camps in the Civil War. The camp was opened after The Battle of Gettysburg and built to house around 10,000 prisoners, but at any time, between 12,000 and 20,000 prisoners were in the camp. Food was sparse and the prisoners had to eat gulls and rats if the could catch any. Many died, official records has around 4,000 but other sources claim numbers up to 14,000. Among these were Alexander Melton, brother in law of Ann Melton, and in the beginning of June 1865, Toms brother William died of typhoid fever, just a few days before Tom was relased, so it was probably Tom, who had to bring the news to his mother. On June 15th Tom signed an Oath of Allegiance (with an x) and was released. Also Ann Melton's husband, James Melton, was in the camp, but as he was in the camp infirmery it's doubtful if Tom and he met. James was released two weeks after Tom. When Tom was released his release form described him as 5'9", brown, curly hair and blue eyes. At the trial a reporter described him as "five feet eleven inches high, dark eyes, dark curly hair, and though not handsome, might be called good-looking".
Tom returned to Elkville and tried to return to civil life. Some later claimed that the war had made him a bitter and evil man, but none of the comtempory sources mentions anything about that. From what heppend he seem as happy-go-lucky as before the war. At the time of Laura's murder Tom stayed at home with his mother and his sister Eliza. No occupation was mentioned during trial, but he probably helped his mother run the farm, and maybe made a little extra playing his fiddle at parties. No official records mentions him playing the banjo, while the fiddle is mentioned several times. Later traditions have made Tom a lazy do-no-gooder, but no records from the time mentions anything like that, and he was at least not too lazy to walk 5 or 6 miles on several occasions to visit Laura Foster and others and he often entertained others by playing the fiddle.
Tom was, what we probably today will call a womanizer. He had an affair with Ann Foster, later Melton, from they were very young, an affair that continued after her marriage, and also continued after the war. He also had affairs with Laura Foster and Pauline Foster (all at the same time as his affair with Ann were going on). During testimonies it was also mentioned, that he and Ann had an argument about his relationship with one Caroline Barnes, and there may have been others as well. As mentioned earlier Tom contracted syphilis (as many of the persons involved) and sought help for the disease from the local physician, Dr. George N. Carter.
So much about Tom. The next article will be about the victim, Laura Foster.