Dr. George N. Carter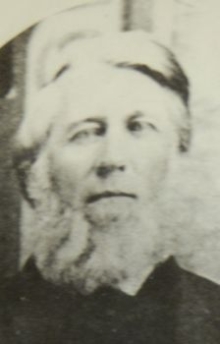 The image to the left depicts Dr. George N. Carter some years after the Dooley case. The original picture is in the Tom Dooley Art Museum at Whippoorwill Academy and Village in Ferguson, North Carolina and is reproduced here with permission from the founder of the museum, Mrs. Edith F. Carter.
Dr. George Nicholas Carter, born 1822, was the local doctor and the only doctor in the area at the time of the murder. According to one source, his mother was cousin of Robert E. Lee's mother, Ann Hill Carter, but that's not correct. In fact it was his father who was a cousin of Ann Hill Carter, so General Robert E. Lee and Dr. Carter were actually second cousins, but even so General Lee had nothing to do with the Dooley case!

At the census in 1850, George N. Carter had left his childhood home in Shelton, Virginia, and lived in the household of one Josiah Cowley (a census misspelling of Josiah Cowles) in Hamptonville in Surry County, North Carolina. Josiah Cowles was the father of Calvin Cowles who had opened the local store in Elkville in 1846 and owned it until 1858, when he moved to Wilkesboro. The store was taken over by Phineas Horton, one of the trial witnesses, but although it was no longer owned by Calvin Cowles, it was still known as Cowles' Store. This may be the reason why some researchers believe that Calvin Cowles was still present in Elkville at the time of the murder. The Cowles household had several members as Josiah had 10 children from two different marriages even though some of the children had left home in 1850. Among children, still at home was Abel Cowles, a son from Josiah's first marriage. Like George Carter, Abel Cowles was a physician. One source claims that during a visit to Richmond, Virginia, Josiah Cowles met George N. Carter and persuaded him to come to North Carolina. This explanation is certainly possible, but maybe Dr. Carter knew Dr. Cowles and was simply visiting him for a longer period. Anyway George N. Carter lived with Josiah Cowles and his family in 1850.


In 1851, Dr. Carter moved further west to Happy Valley, and in 1852 he married Juliet Josephine Jones, daughter of one of Happy Valley's rich landowners, Catlett Jones*. Juliet's mother was Ann Nancy Dula, daughter of Captain William Dula and a cousin of Tom Dooley's father, Thomas P. Dula. Juliet Carter was thus Tom Dooley's second cousin. At the time of the murder, both Juliet Carter's parents has died, Ann Dula Jones in 1846 and Catlett Jones in 1856. Juliet was born in 1827 and 5 years younger than her husband. Her father, Catlett Jones and Calvin Cowles were political like-minded, and I imagine (but I know this is pure speculation) that George Carter might have met Juliet already while living in Hamptonville. Perhaps her father visited Josiah Cowles? But, of course, it is also possible that George Carter moved to Happy Valley for other reasons, and first met her after his arrival in Caldwell County. One of Juliet's brothers, Squire Catlett Jones, testified in Tom Dooley's trial, but his testimony is not known today.
* Thomas W. Ferguson wrote in an undated pamphlet from around 1960, "Tom Dooley", that the victim, Laura Foster's father, Wilson, was a sharecropper on land belonging to Catlett Jones. If so, the Carter family must have known Wilson and his family rather well, but this was not mentioned during the trial.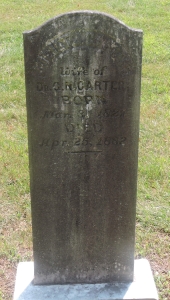 The image to the left shows the stone on Juliet Carter's grave on Mariah Chapel Cemetery on Grandin Road in Caldwell County close to present day North Carolina Route 268.
Juliet and George Carter had three children: Ann M. Carter, born in 1853, George Hill Carter, born in 1855, and Julia Carter, born in 1857. Julia died the same year she was born, barely 7 months old and she is buried in the Dula-Horton Cemetery in Caldwell County – a cemetery founded by her great-grandfather, Captain William Dula. Julia Carter's gtavestone is still to be found at the cemetery. George Hill Carter later became a physician and replaced his father as the physician of the area, and acted as such for 46 years. Together, father and son were doctors in the area for more than 80 years.
At one time Juliet Carter had an accident falling from a ladder which left her disabled, and she died in 1872, only 45 years old.

The doctor lived on a fairly large plantation (the census records give the real estate value as $ 4,000) in Caldwell County not far from the local justice of the peace, James Isbell (one mile as the crow flows). James Isbell's wife, Sarah Louise Horton Isbell was the daughter of David Eagles Horton and Sarah Dula, known as Sallie, another daughter of Captain William Dula, thus Sarah Louise Isbell's and the doctor's wife were second cousins.

Dr. Carter died in 1889 and both he and his wife are buried at the cemetery at Mariah's Chapel on Grandin Road in Caldwell County, where also George Hill Carter and his wife are buried.
Some of Dr. Carter's descendants still live in Happy Valley.