James Isbell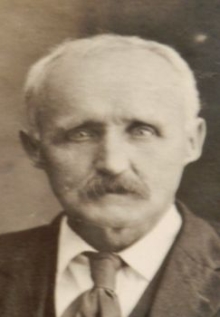 The image to the left depicts James Isbell in his old age. The original picture is in the Tom Dooley Art Museum at Whippoorwill Academy and Village in Ferguson, North Carolina and is reproduced here with permission from owner of the museum, Mrs. Edith F. Carter.
Let me conclude this review of the main characters with a man who played a very important role in the search for Laura Foster when she disappeared, and later an equally important role in the case itself. Although he played such an important part in the case, he is not mentioned in any of the songs and only in very few versions of the legend that are still told. In fact, neither Bob Grayson/Cummings nor JW Winkler, as some legends claim, was the man behind the search for Laura, that man was James Isbell. Maybe he was also the man behind Tom's arrest and last but not least, he played a major role in getting Tom Dooley convicted.
James M. Isbell lived near the small river Kings Creek in Caldwell County, not far from where the now disappeared timber village, Grandin was founded after the turn of the century and not far from Elkville in Wilkes County. Some sources believe that Laura Foster and her father and siblings earned a living as sharecroppers on land belonging to James Isbell, but although this is possible, it cannot be confirmed today and there are several other suggestions for whom they may have worked, eg Welborn German or Larkin Horton, where at least Wilson's oldest son, James, worked a few years later in the early 1870s. Also the large farmers Catlett Jones, Manly Barnes and Reese Triplett have been suggested as employers of the Foster-family.
James was born in 1838 or 40, the different census records doesn't agree here. James's father was Thomas M. Isbell and his mother was Lucinda Petty. His grandfather, also called Thmoas Isbell, was married to Descretion Howard. She was the daughter of Benjamin Howard, the owner of "The Largest and Best Plantation in Happy Valley," as he is mentioned. Grandfather Isbell died in 1819 many years before James was born while he knew his grandmother, who lived until 1847. An interesting "connection" between the Dula's and the Isbell's is the fact, that on November 28th, 1796, Thomas Isbell got into a fight with John Dula, a brother of Tom Dooley's grandfather. The fight ended with John Dula biting off one of Thomas Isbell's earlobes.
Thomas Isbell Sr. had several siblings, of whom the sister Elizabeth married Jonathan Land in 1779. In 1788, they had a son, Thomas Land, who later wrote the poem about Tom Dooley that formed the basis of later songs. Thomas Land and James Isbell were thus first cousins once removed. This first Thomas Isbell owned a large plantation, which his son, the scond Thomas and his siblings inherited. From the will of Thomas Isbell Sr. it appears that he had five sons and four daughters. The five sons shared the land between them, but the two youngest sons, Thomas and James however, should not receive their share until their mother died. The four girls received $ 200 each, a very large sum at the time, and each of the children inherited one named slave; however, James would only get his slave when he became an adult. The remaining slaves and other property (yes, slaves were considered to be movable property) went to his wife and had to be shared equally between all the children when she passed away. One son, Benjamin, later traveled to Tennessee and gave his land in North Carolina to the younger brother Thomas, and the same was apparently the case for another son, Livingston. It is not clear if Thomas paid his brothers anything for the land, but he probably did. Yet another brother, John, had died earlier and had testified all his property to his siblings.
The plantation that Benjamin Howard had founded was no longer owned by the Howard family. After Benjamin Howard's death, it had been bought by General William Horton, and at the time of the murder, it was divided among descendants of the general, and the house where both the Howard family and later the general and his family had lived, was now occupied by the general's son, Rufus Dula Horton, who testified at Tom's trial.
In the census of 1860, Thomas Jr. (James M. Isbell's father) was recorded as owner of real estate worth $ 10,500 and he owned personal property to a value of $ 8,000. That same year, James Isbell himself owned real estate worth $ 100 and $ 500 worth of personal property. In the next census, ten years later, the value of James' real estate had grown to $ 2,500 while his personal property was still worth $ 500. The increase in real estate value was not due to James having inherited a part of his father's plantation, because despite the really large amount of both land and personal property he owned in 1860, the father got into debt and when he died, the property had to be sold to pay this debt. The land property was sold to a certain James Steele, who was an "outsider", thus not living in the valley until he bought the Isbell property, which was quite unheard of in Happy Valley at the time. The Steele family was not related to any of the other families in the Valley - even more unheard of. At the time of the murder, it the former Isbell farm was owned by John Steele, a son of James Steele. The property of approximately 200 acres, where James Isbell lived, had been his mother's dowry when she married Thomas Isbell. The house was located not far from the current Grandin Baptist Church, built many years later at the site of the Isbell family cemetery. The house itself is long gone.
John Foster West claimed (The Ballad of Tom Dula, p. 87) that James, on his mother's side, was the grandson of Captain William Dula. However, this is not likely since none of the captain's children were called Lucinda, and neither could he have been her great grandfather as none of Captain William's daughters got married to a man named Petty. Unfortunately, I have not been able to find out who her parents might have been. In the census of 1850 she is registered as "mulatto", and the same goes for the rest of the family, including her husband and children. This must be a mistake by the census taker, who has probably written to many "repeat marks" in the record, because in all other sources, including later census records, the family and the descendant are registered as "white" and it is not likely that James Isbell would have been elected as a colonel in a southern state militia, had he actually been a mulatto.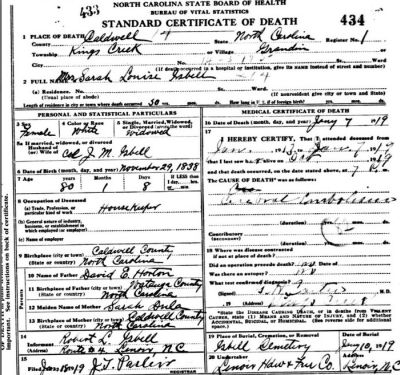 The death certificate of Sarah Louise Isbell. The certificate shows, that she was a widow and her husband was Colonel James Isbell.
On March 1st 1857, James Isbell married Sarah Louise Dula Horton, daughter of David E. Horton and cousin of Rufus Dula Horton. Sarah Dula Horton was actually the grandchild of William Dula, and thus she was Tom Dooley's second cousin. This could have influenced James Isbell's interest in the case, but I will get back to this issur in a later article.
At the time of the murder, James and his wife Sarah (27 years old) had four children (8, 5, 4 and 2 years old) and later the couple had another three children. James Isbell died sometime after 1910, probably in 1913, as that year is given on his, admittedly later erected, tombstone. In the census from 1910, you can see that two of James and Sarah's daughters, Mary, age 48, and Sarah Frances, age 35, lived at home with their parents, and so did a grandson, Hugh Isbell , 16. Mary had never been married while Frances had been married to a JW Thomas so she was either widowed, or more likely divorced. She worked as a school teacher. Another daughter, named Sarah Louise as her mother, was later married to a man named Gordon Setzer. The oldest son John Beasley, born 1858, was a civil engineer and land surveyor. The name Beasley also appears as the middle name of some of the members of the Dula family, such as Thomas Beasley Dula and William Beasley Dula, both sons of William Dula, apparently from Williams's wife Theodocia Beasley Dula.
Another son, Robert Lee Isbell, was born in 1872, six years after the murder, but as a source, he is perhaps the most important of Isbell's children, because he later wrote his childhood memories in a series of articles called The World of My Childhood, in the still existing Lenoir newspaper The News-Topic. Here he briefly (but wrongly) reports the events around Laura's death, but the articles that were later collected published as a book in 1955, are nevertheless a very good source to daily life especially among the upper class in Happy Valley in the 1870s. James Isbell's youngest son, James Horton Isbell, was born in 1880, 14 years after the murder and he died in 1947, while his older sister, Sarah Frances lived until 1964.
That family relations were close is also proven by the fact that James Isbells sister, Martha Louisa Isbell, was married to Larkin Horton, brother of James Isbell's wife, Sarah Horton. Another sister of Jamses' Cordelia married Lafayette Greer, and they were neighbors of James and Sarah Louise Isbell. Sarah Louise Isbells sister, Adelaide Horton was married to one of the other witnesses at the trial, the wealthy farmer CP Jones.

Before the Civil War, James Isbell was elected as colonel in a local militia regiment in the Kings Creek community. When the war broke out he joined the Confederate army and received the rank of second lieutenant in the 22nd North Carolina Infantry Regiment, Company A. On May 1st 1862 he was promoted to lieutenant and on May 31st 1862 he was promoted once again, this time to captain. The very next day, on June 1st, he took command of the company. The 22nd North Carolina regiment later became part of Scale's Brigade in Pender's Division, Hill's Corps. The first commanding officer was Colonel (later Brigadier General) JJ Pettigrew. Company A ("The Rough and Readies") were all recruited in Caldwell County and was first commanded by Captain W. Jones. Later, Captain Jones was replaced by another captain Jones, namely Captain Thomas Jones and in June 1862 the latter was replaced by the newly promoted Captain James Isbell. At the beginning of the war the regiment acted as support for gun batteries in Evanston, Virginia after a short stay in Richmond. The batteries were involved in skirmishes with Union gunboats on the Potomac River, but apart from that, the regiment saw little action in the first year of the war. In March 1862, the regiment was transferred to Fredericksburg and fought in the Battle of Seven Pines on May 31st and June 1st 1862. The regiment lost a lot of men in that battle, which may have been the reason for James' quick promotion. Later the regiment participated in The Seven Days Battle and in August the regiment was involved in The Battle of Cedar Mountain. Later the regiment fought again at Harpers Ferry and at Sharpsburg (Antietam) in September 17th. Soon after this battle, James Isbell left the army apparently because he had been injured during the battle, although his military papers don't mention any hospitalization. In 1863 he was elected to the North Carolina Congress, where he first served a year as a Representative and then a year as Senator. He represented Burke, Caldwell and McDowell counties, but unfortunately I have not been able to figure out which party he represented in Congress. After the civil war, he returned to Caldwell County, where he served as a justice of peace in the Kings Creek commuynity. The rest of his life he was known under his rank from the militia, and was called Colonel Isbell, which is proven by his wife's death certificate above.
When Laura Foster disappeared, James Isbell was one of the driving forces behind the search for her, and it was Isbell and his father-in-law, David Horton, who eventually found Laura's grave. Unconfirmed rumors say that it was at his request that the justice of the peace in Elkville, Pickins Carlton, issued arrest warrants against Tom Dooley and his alleged accomplices. A fact is that James Isbell paid the assistants to the prosecutor at the trial of Tom Dooley, he testified so himself at the witness stand.
Why did he show so much interest in the matter? Nobody knows for sure. Some think it was because Laura and her family lived on his land. Others think it was simply because she lived in Caldwell County just like he did, and several other reasons have been suggested. Even John Foster West, who otherwise had answers for almost everything, was wondering and could only suggest that Isbell was interested in the matter because Laura had lived close to his own residence. The documents from the trial show that his wife was also summoned as a witness in the case, but if she did indeed testify, is not known today, and if she did, there is no referral to what she said.