Rufus Dula Horton
Rufus Dula Horton was born in 1835 or 1838, the sources disagree about the year of his birth. He was the son of General William Horton and Mildred Dula, daughter of Captain William Dula. Rufus had 10 siblings, all of whom were older than he. At the time of the murder he owned part of what was called "the best plantation in Happy Valley". It originally belonged to Benjamin Howard (James Isbell's grandfather), one of the first whites who settled in the area, but at the time of his death, it had been sold to General William Horton, who died in 1845, after which his property was divided among his children. Among Rufus' brothers was Colonel James C. Horton, a very important person in Karen Wheeling Reynold's novel about the events "Tom Dooley - The Story Behind the Ballad", but in reality, James Horton apparently played only a minor role in the case.
Rufus D. Horton had only inherited part of his father's estate, but he lived in his childhood home. The estate had been divided between the sons of the general, while the daughters apparently had inherited money. Rufus Horton's plantation was located north of the Yadkin River, a little east of the confluence of Elk Creek and Yadkin River. His neighbor to the west was his uncle, David E. Horton, who discovered Lauras's grave together with his son-in-law, James Isbell. Rufus Horton's neighbors to the north was the Witherspoon family, several of whom were also summoned as witnesses in the case. From Horton's plantation, there was only a few miles to where Tom Dooley lived with his mother and sister.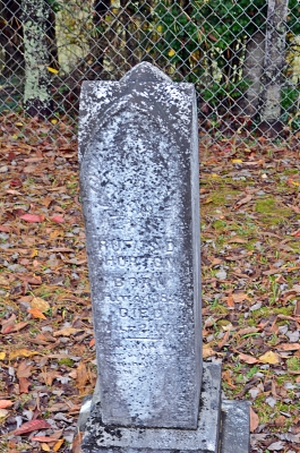 Rufus Dula Horton's gravestone on the Dula-Horton Cemetery near NC 268 in Caldwell County.
Rufus D. participated in the Civil War as a second lieutenant in the same regiment and company, where also James Melton served as a private, namely 26. North Carolina Infantry, Company C. However, Rufus did not join the Confederate Army until December 1862 and on January 14, 1865 he left the army, even though the war had not yet ended. On source tells that Rufus D. Horton died on July 3rd, 1863 during the Battle of Gettysburg. It would undeniably have made it very difficult for him to testify as a witness in Tom Dooley's trial three years later, had it been true, but it wasn't. He was badly wounded in the stomach (and maybe his liver was hurt as well) during Pickett's Charge, but survived. Another source tells that he died in 1915 at the age of 80*, which seems realistic. In 1863 he was hospitalized in Richmond because of chronic diarrhea and jaundice. Most likely the diseases were caused by his wounds. There is strange letter in the military archives, in which he writes Secretary of War James Seddon, asking to for a transfer from the infantry to the 1st North Carolina Cavalry Regiment in Barringers Brigade. As a reason, he states that he can no longer march but that his commanding officer will confirm that he is able to get on his horse. The strange thing is that the letter is dated July 29, 1865, and at that time the was over, Rufus D. had been dismissed in January 1865 and Seddon had resigned as Secretary of War in February 1865 - but perhaps Rufus simply dated the letter wrongly, so it's actually from July 1864. The letter can be found on fold3.com, which has military records available.
* It was not uncommon for soldiers to be declared dead in one source, but to be shown in other sources as being alive. This is true, for example, for the witness, George Washington Anderson, who, in a company roll, was reported death during the war, even if he, like Rufus, testified at the trial.
In the household of Rufus (32 years) old lived in 1870 also his 39 year old sister Sarah, his 41 year old brother Phineas, a colored farm laborer named John Horton (probably a freed slave now employed by the family) and an 18-year-old white maid named Sarah Holder, who was the daughter of William Holder, another witness and tennant farmer who lived near Rufus Horton. It is also interesting to notice that the Rufus' real estate was recorded at a value of $2,500, which is far above what most other farmers in the valley owned. His personal estate was $600. No less surprising is the fact that his sister owned personal estate to a value of $800. It was rare for women to have their own wealth unless they owned land, but here it has probably been her inheritance after the general. Even more surprising is that his "lodging" brother, who apparently was a miller and grocer **, owned land for $5,200 and had a personal fortune of $3,200. When, despite their wealth, the two siblings lived with their brother in their childhood home, it was probably because they were both unmarried and remained so all of their lives.

** It was Phineas Horton, who took over Cowles' Store in Elkville when Calvin Cowles moved to Wilkesboro in 1858.
Some colored farm workers lived on the property as well, but in their own households. They have probably been "sharecroppers", hardly "tenant farmers" ***, as that would require money, that they most likely would not be able to provide.
*** A "tenant farmer" lived on land owned by another. He leased the land from the landowner, either against cash payment or occasionally against a share of what was produced. The tenant farmer would typically provide the necessary tools and livestock himself. A "sharecropper" also lived on a landowner's land but cultivated the land on behalf of the landowner and as payment for his work, he was typically allowed to cultivate a small piece of land to support his family. In the case of sharecropping, it was typically the landowner who provided equipment, animals, manure and so on. Immediately after the Civil War, it was common for freed slaves who did not have the money to buy or rent land, to work as sharecroppers, sometimes with the same landowners for whom they had previously been slaves, but also many poor white people, had to resort to this solution during the reconstruction period.
We do not know exactly what Rufus Horton testified about. The only part of his testimony that still exists just states that he testified that Mary Dula (Tom's mother), known to be "truthful and honest," while on the other hand Jesse Gilbert, another witness was known "for stealing and lying".

Rufus was married once (possibly twice), but had no children in his marriage(s). He had a child in 1880 though, when he was almost 50, and it was with another of the trial witnesses, George Washington Anderson's younger sister, Eliza Anderson. Eliza never got married but still had three children, the youngest, James Gaither Anderson, was the son of Rufus D. Horton. This is proven by James G. Anderson's death certificate. I initally received this information from Mrs. Charlotte Frye, a descendant of James G. Anderson, and later I found the death certificate via ancestry.com. As mentioned Rufus and Eliza never got married, but apparently they lived together for some years. Eliza also had another son, Avery Simpson (born 1873) and a daughter, Alberty (born 1877). Who the father of her daughter was, is not known today, but Avery Simpson's father was one of the main characters of the case, James Isbell with whom she had the son in 1873. Isbell had his son Robert Lee with his wife in 1872, and the two women must have been pregnant almost at the same time. ****
**** Much of the information about family relations may appear undocumented, but they all appear in one or more censuses and other official papers that can be found online. I have chosen not to refer to each individual report separately, as it is still necessary for interested parties to search the relevant pages which you are welcome to do. Family Search.com, ancestry.com and fold3.com er good places to start and also findagrave.com can be useful from time to time.
- Return to Tom Dooley page -
- Return to English Pages -