Family Ties
About eighty witnesses testified before the Grand Jury and during the Dooley trials. Apparently most of these as well as other people mentioned in the records were related to one another somehow. Some through blood and some through marriage. Maybe the relationships did not have any influence on the case - on the other hand it may very well have had, so let me digress momentarily and take a closer look at some of the relationships.
I have already mentioned some of these relationships rather briefly but let me look further into them. This article may seem a bit confusing, and believe me, it was to me too at first, when I started digging into the relationships and it actually still is, when I write this.
Results of new research has been incorporated in this article. An new addition about Eliza Anderson is marked with italics.
The Dula Family
Let me start with the Dula family. At the time of the trial, there were a lot of members of that family in the area, and they descended from three brothers William C., John and Bennett Dula and one sister, Judith Dula. There were other brothers and sisters, but their descendants didn't play any part in the Dooley case.
William had two sons, Thomas B. and William B. and four daughters, Elizabeth, Ann Nancy, Mildred and Sarah. These children were all born between 1782 (Thomas B.) and 1794 (Sarah). Bennett had six sons and four daughters. The sons were William Lee Maguire, Thomas P (father of Tom Dooley), John, Jefferson, Riley and Bennett J. Jr. The daughters were Judith, Sarah, Mary and Mary! The first Mary was called Polly, and the second was christened Mary Eliza, so she may have been called Eliza. Bennets children were born between 1785 (William) and 1815 (Bennett Jr.).
Most of the above had a bunch of children themselves. Bennett's daughter Sarah married William Ferguson and the two of them had 11 children. Thomas B. Dula, son of William Dula married Elizabeth Hulme, and they had eight children. The same goes for the other siblings. To add to the confusion, Bennett, having two daughters named Mary was not the only time, this happened in this and other families. Thomas B, had two sons, both by the name of James, James Alfred and James Wesley and his brother William B also had a son called James. Thomas P., Tom Dooleys father had at least six children,m three sons: John, William L (Lenny), and Thomas C. (Tom), and three daughters: Anna E., Sarah and Eliza. There may have been another daughter, see the article Tom Dooley - An update III.
Not only were siblings christened with the same name, but they also married happily to relatives. As told above, Bennet's daughter Sarah married William Ferguson. Among their 11 children were William Jr. In his second marriage he married Ann Dula, daughter of John Dula, another son of Bennett, making William and Ann first cousins. A son of this John Dula and his wife Mary Privett, was James Horton Dula. He married Orilla Dula. Orilla was the daughter of Harrison Harvey Dula, and Harrison was the son of Johns brother William Lee Maguire thus making James an Orilla first counsins once removed. Marriages across generations like this was quite normal at the time due to the big age difference between siblings. In this case William Lee Maguire and his brother John was separated by 15 years. Harrison was Williams oldest son, born in 1817 and James was Johns youngest son, born in 1843 a difference of 26 years between the cousins. Orilla was born in 1856 and she was only 13 years younger than her husband.
On with the case: The witnesses Thomas Maguire Dula and William Carson Dula* were sons of respectively William Lee Maguire Dula and Williams son Harrison Harvey Dula, making them Toms first cousin and 1st cousin, once removed respectively. Rufus D. Horton (D stands for Dula) the character witness in favor of Mary Dula, was the son of William Horton and Mildred Dula, mentioned above. She was the daughter of Captain William Dula, the first Dula to settle in Happy Valley. So Rufus D. Horton was Tom's second cousin. Rufus had two uncles, that testifed at the trial. One was Phineas Horton, a merchant. The other was David E. Horton. He was a brother of General William Horton, and he married the sister of his brothers wife, Sarah Dula, called Sallie. One of their daughters was Sarah Louise, who married Tom Dooley's main antagonist, James Isbell. Thereby Isbell was married to Tom's second cousin. John Foster West claims that Isbell himself was a grandson of William Dula on his mother's side (The Ballad of Tom Dooley, p. 87). I haven't been able to confirm this though, and I don't think it's correct. One source claims that Isbell's mother was Descretion Howard, daughter of Benjamin Howard and another source claims, that Descretion was his grandmother, and that his mothers name was Lucinda Petty and none of the known daughters of William Dula was called Lucinda. But one of James Isbell's sons were called John Beasley Isbell, and Beasley was the maiden name of Captain William Dula's wife. By the way, this family illustrates something else, that was quite normal in the area at that time, namely the "double marriage" between siblings from different families. Sarah Horton's brother, Larkin was married to James Isbells sister, Marie Louise. '
* With great help from Ms. Rachel Anders, a descendant of William Carson Dula, I have discovered that this part of the family was for years known as the "Maguire Dula's" and that the Carson Maguire, mentioned several times during trial and appearing as a withness, was probably the same as William Carson Dula, making him, the one the got Tom the liqour the day before the murder. We know that William Carson Dula (and therefore probably also Carson Maguire) was born in 1844 and served in 42nd Regiment, Company K with Tom during the civil war. At the 1870 census William Carson was married to Cordelia (Jones) and they had two children, Calvin, age 2 years and Gaither, age 7 months, so he was probably not married in 1866 when the murder took place. In 1880 Cordelia was dead, and William was living with five sons from age 12 (Calvin) to 3 (Alphus) so Cordelia problably died somewhere between1878 and 1880.
In the warrant for arrest issued by Pickens Carter in June 1866, besides Tom, two other Dulas were mentioned. Ann Pauline Dula and Granville Dula. I have suggested elsewhere (Main Characters), that Ann Pauline Dula was actually one and the same as Pauline Foster, but of course I could be wrong. Anyway Ann Dula and Granville Dula was children of Toms uncle, Bennet J. and his wife, Minerva Adeline Brown, making them both Tom's first cousins, and connected to The Browns, another well known family in the area.
Another cousin of Tom's was George Anderson Dula. He married Mary Eliza Stennet, and they had among other a son, George Anderson Dula Jr. According to some genealogies he married Tom's sister, Eliza, and it was those two, who claimed Tom's body after the execution. Some sources have that the sister, claiming Tom's body was not Eliza, born 1846, but rather Annie or Anna, born 1835, and married to Micajah Hendrix, born 1828. In favor of this view is the census records from 1880 from Watauga County that notes, that with Annie and Micajah lived one Mary Dula, age 79 (mother in law) and one Eliza Dula (sister in law). If these were actually Toms mother and sister, Anna must have been his sister too. And in that case Eliza didn't marry Anderson Dula. Another census record indicates, that this may very well have been the case. In the 1880 records, only one Anderson Dula exist. He is 15 years old, and son of Eliza Dula. She was head of household, and lived with her four sons, and her mother Sally Stinnet. Apparently her husband had passed away. Personally I think the genalogies is wrong here. I think Mary Eliza Stennet or Stinnet married George Anderson Dula and it was her, that was alive and head of household in 1880. The Anderson Dula, that the genealogy claims was married to Tom's sister has been confused with the Anderson Dula, that was Mary Eliza's son. This is confirmed by Findagrave.com where you can see, that (George) Anderson Dula Jr. was the son of George Anderson Dula Sr. and Mary Eliza Stinnett, and that he was married, not to Eliza Dula but to Sarah Isabelle Adkins. Probably Tom's sister Eliza wasn't married at all. By the way, this Sarah Adkins was the daughter of Drewry or Drury Adkins, blacksmith and another witness at the Dooley trial.
More Dula relations
Rufus D. Hall, another witness, and the man Tom told he was going to kill the person that gave him syphilis, was an illegitimate son of one Judith Hall. Judith Hall was the daughter of Judith Dula and one Thomas Hall. Judith Dula was a sister to Captain William Dula and Toms grandfather Bennett Dula. So Rufus Hall was another second cousin of Tom Dooley. Rufus was married to Nancy Tripplett who was daughter of Lewis Tripplet, a brother of Laura Fosters grandmother. So Rufus was related to Laura Foster by marriage. Nancy Triplett's aunt, Anny Triplett, married Thomas Maguire Dula, Tom Dooley's first cousin. Nancy's sister, Cynthia married Thomas Maguire's brother Harrison Harvey Dula. Cynthia was a witness at Tom's trial. By the way, one of Anny and Thomas Maguires daughters, Ellen Dula was married to Sidney B. Walsh, another of the witnesses at the trials.
Judith Hall actually had five illegitimate children. Another one of these was Martha Hall, who married James Gilbert. They had a daughter, Louise, that was later married to James Melton as his second wife after Ann Meltons death. Louise had a daughter Ellen, born in 1861, that stayed with her mothers uncle, when her mother married James Melton. In 1880 she is still recorded as living with Rufus D.
Micajah Hendrix, another witness, was - as told above - married to Anna/Annie Eveline Dula, that was either Tom's sister or his second cousin. Another Hendrix witness, George W. Hendrix, was married to Mildred Dula. Not the one, that was also married to William Horton, but a daughter of William Beasley Dula, a cousin of Tom Dooleys father. Mildreds sister, Martha was married to George's brother James M. Hendrix. He is not to be confused with James K. Hendrix, that was married to Anna A. Dula, a daughter of Tom's cousin Harrison Harvey. The two of them had a daughter, Savannah Adline Henrix who married Thomas Dula, a son of Thomas Maguire Dula and Anny Tripplet.
Tom's first cousin, Edith Dula, daughter of William Lee Maguire Dula and Mary Ferguson married Jesse Triplett, a son of Martin Triplett and Mary Hall, so this was another connection between the Dulas and the Halls. Maybe this connection to the Hall's was the reason Tom chose the name Hall, when he allegedly changed his name after leaving Wilkes county.
Dr. George N. Carter, the doctor that treated all involved for syphilis and who examined Laura's body when it was found, was married to Juliet Josephine Jones. Juliet was the daughter of Catlett Jones and Ann Dula. This Ann was a daughter of Captain William Dula, and therefore a cousin of Tom's father, Thomas P. Dula, making Tom Dooley and Juliett Carter second cousins. Juliett Carter was also a first cousin of James Isbell's wife, Sarah Louise and of the witness Rufus Dula Horton. Dr. Carter himself was second cousin to Civil War general Robert E. Lee, but he had nothing to do with the case :-).
A lot of Fosters
The story has a lot of Fosters in it. It is rather difficult to see if and how they were related to each other, but at least some were.
The victim, Laura Foster was of course a Foster and as shown above she was related to James Meltons later wife, Louisa Gilbert through marriage. Her father was Wilson Foster, and her mother was Martha (called Patsy) Foster, born Bowman. Wilsons parents was Thomas B. Foster and Frances Tripplet. The two of them had 11 children. Wilson and Mary had eight children with Laura being the oldest. Laura had two brothers named James and one of these was a witness in the trial, probably James Thomas Foster, born in 1845. James later married Jane Adkins, a relative of the deputy, that arrested Tom Dooley. Dr. Billy Foster indicates in his book, The Foster Family of Flandern, England and America, that Ann Melton was a daughter of Wilson Foster and Mary Bowman too, being Laura's sister. Some of the legends has it but all the official records states that Ann was a daughter of Lotty Foster.
Who was Lotty Foster then? Well it's difficult to say. In the census records of 1850 she was called Lotty or Letty Triplett. She had three children, Pinkney, Angeline and Thomas. She was at that time living in the household of one James Brown. At that time she was 30 years old, so she must have been born around 1820. Ten years later her name was still Triplett, and she was head of her own household, that now also consisted of Pinkney (18), Thomas (11), Martha (6), Lina (3) and Triplett (1). In 1870 there was noone called Tripplet, so this child may have died very early, and Triplett may very well have been the last name if the child wasn't christened yet at the time of the census. Angeline (Ann) had left home, when she married James Melton on June, 22nd 1859 under the last name Foster. In 1870 Lotty has changed her name to Foster too and was living with Martha (15), Linny (12) and Marshall (7). In 1880 we may identify Lotty as the Caroline Foster, living in the household of her son Marshall (20), his wife, her own daughter Ellen and a niece of Marshall's, Betsy (9). If you wonder how Marshall, seven in 1870 can be twenty in 1880, it is quite normal to find these kind of errors in the census records of the time. I will give another example, when I get to the Scott family. It bothers me though, how Lotty could have a 16 year old daughter in 1880, that is not mentioned in 1870. So maybe it's not the same family after all.
At the trial in the late 1860s Lotty is called Foster, so somewhere between 1860 and 1870 she must have changed her name, and somewhere between 1870 and 1880 she may have changed it back again. Ann used the name Foster in 1859 even if her mother still called her self Triplett one year later. According to the Statesville American, October 1866 Ann Melton and Laura Foster was distant relatives, but the paper does not elaborate further. Faye Moran, on her homepage, suggests that Ann and Laura were fourth cousins, indicating that they had common great great great grandparents. Faye Moran suggests, that Lotty Foster was the daughter of one Martin Triplett and Nancy Brown but unfortunately she does not explain how this makes her a relative to Laura Foster. Moran also suggest that Pinkney was the same Pinkney A. Foster, that joined the 26. North Carolina Infantry in June 1861. He is buried at the Allen-Johnson-Foster cemetery near Gladys Fork Road. Contrary to Tom Dooley, Pinkney Foster actually served in 26th North Carolina Regiment, Company C, and he was wounded three times. Pinkney married Lucinda Walsh and he died in 1910.
As I have already shown, there was Tripletts married into the Dula family as well. Was Ann Triplett Foster Melton's ancestors among those? And what about the Fosters? Tom Dooley's father, Thomas P. Dula, had a brother, mentioned earlier, William Lee Maguire Dula and a sister Sarah Dula. The two siblings were married to respectively Mary Ferguson and William Ferguson, another pair of siblings. The mother of the two Ferguson children were Edith Foster, who was Laura Fosters great aunt. By the way, three of William Lee and Sarah's children married Tripletts. Another one of Thomas P.'s brothers was Jefferson Dula. His daughter Sarah was married to a John Foster. Tom's cousin Harrison Harvey, had a son, William Carson Dula (testified at the case), and a daughter Pernina Dula. These two children were married to another sister/brother couple, Cordelia Jones and Joseph Jones. Their mother was Rebecca Foster. It is not clear if these Fosters were related to Ann or Lauras families, but it may very well have been the case.
In the case appears a few other Fosters. One was James Foster and we know that he was Laura's younger brother. Thomas Foster was Ann Meltons younger brother, and he may have been the Thomas A. Foster, that died in Wilkes County on January 11th 1923. Who was Samuel Foster and Tiny Foster? Both testified during trial. We know that Samuel Foster went with Ann Melton to talk Pauline into returning to Elkville after she had left for Watauga with her brother. If my hypothesis about Ann Pauline Foster being the same as Ann Pauline Dula, her brother may have been Granville Dula and Sam Foster may have been her then future husband. If Ann P. Dula and Ann P. Foster was not one and the same, Samuel Foster may have been the grandfather, she was visiting in Elkville. I suppose Tiny Foster may have been one of Lotty Fosters children, maybe her son Marshall, at the time around 7 years old. It may also have been Lotty's 9 year old daughter Lina (short for Carolina?) as her daughter Martha (13) also testified.
I won't venture further into Pauline Foster. She stated during trial, that she was a distant relative of Ann Melton but Pauline didn't state how they were related. Nothing of a eventual relationship between Pauline and Tom Dooley are recorded today, so if she actually was Tom's cousin, it is omitted from the records. A contemporary newspaper article states that she is an illegitimate cousin of Laura, but doesn't elaborate further. Her relationship with Laura Foster was as probable as not. From her own statement we know, that she knew Laura and visited her, before moving to Elkville in the spring of 1866.
Andersons, Scotts and Witherspoons
George Washington Anderson, Tom's friend from the army, was a brother of Mrs. James Scott. What her first name was is a little difficult to say. In the census records from 1870 she is called Selia. In 1880 she is recorded as Seale. In the trial records she is mostly called Mrs. James Scott, but once she is called Celia. So her name has probably been Cecila or Selia or maybe Cecilia. She was married to James Scott and both in 1870 and the 1880 censuses, they were recorded as living with one son, James P. born in 1862, therefore being 4 at the time of the murder. James Scott did not testify during trial, only his wife did.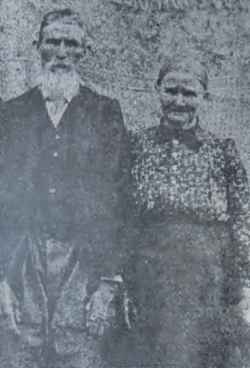 The image to the left shows Celia and James Scott many years after the murder. The original picture is in the Tom Dooley Art Museum at Whippoorwill Academy and Village in Ferguson, North Carolina and is reproduced here with permission from owner of the museum, Mrs. Edith F. Carter.
Mrs. Scott had several siblings, among those Eliza Anderson and Rebecca Anderson, that both were witnesses at the trial along with another brother, James. Their mother was Sarah Anderson, called Sallie. The father is unknown. In 1870 Sarah was recorded as "Keeping House", but no Head of Household was recorded. In 1880 George Wasington Anderson was head of household and his mother lived with him. At that time George had apparently not married yet, but later he married one Mary Brown. The two of them had at least seven children, and one of these, Roxie Anderson Triplett died as late as 1984, 99 years old.
The Andersons/Scotts is another example of age differences. In 1870 George is recorded as being 25, but in 1880 he was only 32. A sister Selena was 17 in 1870 but only 23 in 1880. The mother, Sarah was 50 in 1870 but 70 in 1880! Eliza was 19 and 26 and Rebecca was 30 and 45 respectively. Celia or Selia herself was 35 in 1870 and 42 in 1880. Her husband, James Scott was 26 in 1870 and 47 in 1880! For some peculiar reason, the son, James actually got 10 years older from 1870 to 1880, and another brother or Mrs. Scott, Sidney Anderson aged from 9 to 19. Therefore we have to read the records carefully as they are definately not precise.
Ms. Charlotte Frye of Winston-Salem has pointed my attention to an interesting fact, concerning the Andersons, or rather Eliza Anderson. Ms Fry is a descendant of one James G. Anderson, who was the son of Eliza Anderson. From records it appears, that Eliza was never married, but nevertheless had three children. The oldest, a son Avery Simpson was born in 1873, a daughter Alberty was born in 1877 and the last, James Gaither, was born as late as 1884. All three children were born long after the Dula case took place, but they are interesting anyway, at least the two sons. The father of the duaghter is unknown today, but the father of the oldest son, Avery is given in the records as James Isbell. This is interesting because at the time of Avery's birth, James Isbell was (maybe not so) happily married to his wife, Louisa who must have been pregnant at the same time, as the son of James and Louisa, Robert Lee Isbell was born in 1872 . Also the father of the youngest son was involved in the case if only as a witness. The father of James G. was Rufus D. Horton, who had been married once (maybe twice), but had no children. He was single (presumably a widower) when he at the age of 50 had a son with Eliza Anderson.
There were two more Scott's involved in the case. Elizabeth "Betsy" Scott and Angeline P. Scott (another Ann Pauline maybe?). Angeline owned a home near the river in Caldwell County, and it was on the road near her house that Betsy Scott claimed to have met and spoken to Laura on the day she disappeared. Elizabeth (Betsy) Scott was a neighbor to Wilson Foster. She was a mulatto and had two children, one was a daughter called Laura.
At the trial in Wilkes, W. H. Witherspoon was recorded as being Deputy Sheriff. Among the witnesses were Lucinda Witherspoon, Alfred Witherspoon and Theodocia Witherspoon. W. H. may have been the same W. H. Witherspoon that lived in Ashe County in 1880 with his wife Clarissa and their seven children. In the household was also William P. and Nancy Witherspoon, William H.'s parents.
Lucinda Witherspoon was 37 in 1870, mulatto and lived in Caldwell County as well. A former slave of the familly? Also Alfred Witherspoon could be a former slave. In the trial records he is registered as a man of color, probably also a mulatto. Theodocia was the 15 year old daughter of the Witherspoon family, and lived near Elk Creek at the time of the murder. Later it was told that she had seen Laura on her horse on the morning of the murder, so that may be why she served as a witness. This Witherspoon family was probably related to W.H. Witherspoon, but I have not been able to document this. The familily lived in the valley, between the homes of David Horton and R. D. Horton. Some Witherspoons were marrried into the Dula family. One of Captain William Dula's daughters, Elizabeth Dula married Captain John Witherspoon. Captain Dula's grandson, William Hulme Dula, son of Thomas Beasley Dula, married Sarah Howard Witherspoon, daughter of Elizabeth and John, and therefore his first cousin.
The Meltons
I guess I may have have convinced everybody, that a lot of the people involved in the case were related to each other somehow. So let me just conclude this by mentioning the Meltons. James G., Ann's husband and his brother Alexander, testified at the trial. The third brother, Francis, did not give testimony for some reason, even if he was more involved than Alexander. Alexander is not mentioned once in the existing testimonies, while Francis is mentioned a couple of times. It was at his house that Wilson Foster stayed on the first day after Laura's disappearance and it was near his house that the search party dragged a mudhole and found trakcs leading to the Yadkin River according to James Isbell. Both James with his new familiy and Francis with his, moved to Caldwell County sometime between 1870 and 1880. Two of Francis' children, Julius and Almeda married to siblings, Julia and John Barlow, and an older sister, Sarah Melton, married the Barlow siblings uncle, John Barlow. The Barlows was by marriage related to the Bowmans, and thus also to Laura Foster who's mother was Mary Bowman. Alexander Melton is lost in oblivion as some sources claims that he died during the civil war, but that would have made it difficult for him to appear during trial. But maybe he was killed, and trial records has him mixed up with his brother Francis.
James Melton and his first wife, Ann Foster, had two daughters as mentioned in the article about Ann, Martha Jane born in 1861 and Ida, born 10 years later in 1871, after the trial and execution of Tom. But maybe it's the youngest, that is closest to the story after all.

Martha Jane is rumored to be the daughter of Tom Dula, not James Melton, but there is no proof of that. She was born on January 19th, 1861, well before James joined the army, so he may very well be the father. We don't know much about her childhood, but as she was not mentioned at all during trial, and Pauline told a lot about how the beds in the house were used, we must suppose that she lived elsewhere, probably with her grandmother Lotty Foster, but even here she is not mentioned and she might have lived with someone, not mentioned during trial, like her paternal grandmother Elizabeth Melton.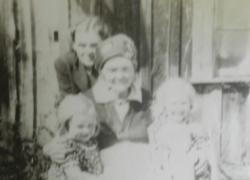 The image to the left shows Martha Jane Melton with three of her granddaughters, The original picture is in the Tom Dooley Art Museum at Whippoorwill Academy and Village in Ferguson, North Carolina and is reproduced here with permission from owner of the museum, Mrs. Edith F. Carter.
Martha Jane married Edmond Columbus Allen, whose mother was a Hendrix, and they moved to Watauga County, to the small settlement Meat Camp, not far from Trade, Tennessee. I have not been able to discover exactly when they got married, but their oldest child was born in 1878, so they may have married and even had children before that, probably around the time James married Louisa Gilbert. Martha Jane and Edmond had at least eight, maybe nine children. In 1910 they had returned to Wilkes County, with five children still living at home, but in 1920 only the youngest daughter was still at home. In 1930 they were still living in Elk Creek in Wilkes County, now with two grandchildren, Lisette and Lavila Martin. In 1944 both Edmond and Martha Jane passed away. Edmond died on March 31st, 88 years old and was buried on April 2nd, while Martha Jane had already died on February 17th, 82 years of age and two days before her 83rd birthday. Both spouses were buried at Elk Creek Baptist Church Cemetery in Ferguson.

The youngest daughter, Ida, lived with her father and his new wife, while Louisa's daughter out of wedlock, Ellen Gilbert, stayed with Louisa's uncle, Rufus Dula Hall, who was also Tom's second cousin. Louisa herself had lived here until her marriage, with James probably in 1874 or 1875. The first child of James and Louisa was born in 1875.
Ida was married to Rufus L. Winkler on January 13th 1891 and she moved to his home in Caldwell County. They had two children, Augustus, who was born in December of that same year and Rufus who was born in October 1893. This marriage was so shortlived that the couple is not recorded in any census as living together. Rufus Winkler died only 30 years old in September 1893, after only two and half years of marriage, although a later erected tombstone says September 1892 - but that would have made it a little difficult for him to be the father of a child who was born in October 1893, unless his wife was pregnant for a very long time. Rufus is buried at Belview Cemetery in Lenoir in Caldwell County with his mother Mary.
On 25th of December 1896 Ida remarried, this time with John W. Minish, who also lived in Caldwell County. The two of them apparently had no children, but her children from her first marriage stayed with them. This marriage didn't last long either, as John died in 1908, 34 years old. He was buried in Fairfield Cemetery also in Lenoir. After his death, Ida moved to Oklahoma, where she died in Carnegie, May 1918, 47 years old. Both of her sons served in the U.S. Army during Wold War I. Although all census records agree that she was born in February 1871, findagrave.com to insists on letting her be born in February 1868, which is rather impossible unless her mother had become pregnant and given birth while she was in prison as she wasn't released until Fall Term of the Superior Court in 1868.

Ida's first husband, Rufus Winkler was probably the son of JW Winkler and his wife Mary. JW had at least one son, by the name of Rufus, who matched Ida's husband in age and this family lived in Caldwell County as well. JW Winkler, 38 at the time of Laura's disappearance, (Rufus was 4), was one of the persons that participated very actively in the search for Laura Foster and also helped to identify the corpse. According to some sources, he was somehow related to Laura, and this is of course possible but it can't be proven for certain today, even if I'm still looking into it. However, it is an interesting twist of faith if Ida was indeed married to a son of the man who had helped to put her mother (and her lover) in prison.
More of the witnesses were probably related to one another; J. W. Winkler was a brother of Wiley Winker, that married Lucinda Dula, a daughter of William Beasley Dula and so on, but I better stop here, before it gets out of hand :-)
Soldiers
In the New York Herald article from May 2nd, 1868, it was mentioned that "many of of the condemned man's former companions in the army from the mountain region in which he lived, appeared upon the streets." At the trial only George Washington Anderson is mentioned as being on of Tom's army companions, but if we look further into the records of North Carolina 42nd Infantry Regiment, where Tom served, we can see that a lot of other people from the area, some of them involved in the trial, also served in Company K, and more served in other companies in the same regiment. Among these were William Hix, the sheriff of Wilkes County. He served as a sergent in Company K Tom's first cousin, William Leander Dula, son of William Lee Maguire Dula, served as well, as did his first cousin once removed, William Carson Dula. Two of the tree Melton brothers, Francis and Alexander*) also served in Company K. So did Gay Hendrix and Leander Hendrix, two of the state's witnesses against Tom. Another two witnesses Jesse Gilbert and Hezekiah Kendall also served with Tom. Also James Scott, Laura's oldest brother, William P. Hall, a brother of Rufus D. Hall, several other Fosters, Kendalls, Hendrixes, Gilberts, Scotts and Tripletts served in company K as well.
New research shows, that one of Tom's older brothers served in company K as well, and that he wasn't dead, when Tom joined as the two brothers joined on the same day.
* James G. Melton, Anns husband, joined the army about one year before the 42nd regiment was mustered and Tom volunteered. James served in 26th North Carolina Infantry, Company C, in the beginning of the war commanded by Toms later defense attorney, Zebulon Vance. James was wounded at on the first day at Gettysburg and once more later in the war. He finished the war in the same POW camp on Point Lokout, Maryland, as Tom did, and was released two weeks after Tom.