How I plan a road trip (written before the trip)
On my Danish travel pages I have a couple of times told about the planning of a road trip, but I have never done so on my English travel pages, so I will make up for that with this article, and I will use the road trip I have been planning with my son for our coming road trip in the summer of 2018 as an example, even if we have made a few more changes to our original plan than we usually do. The plan is now as complete as it will ever be, though we know that some things will probably change when we get underway.
For this years trip we have made 9 changes to out original plan since we started our planning right after returning to Denmark from our 2016 trip. And this is how it went.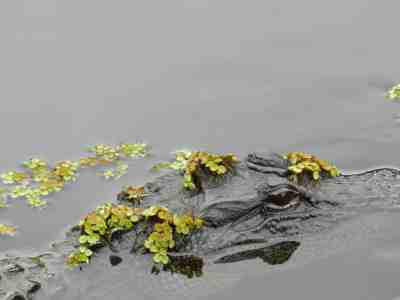 Nice camo-gator
Plan 1: The first plan was made in September 2016, and it would take us from Seattle to New York City, like we did in 2012, but following a different, more northern route. The major stops were Wallace (Idaho), Glacier National Park (Montana), Sturgis (South Dakota), Bismarck (North Dakota), Grand Rapids (Minnesota), Ann Arbor (Michigan), Niagara Falls (New York), Lancaster (New Hampshire), Acadia National Park (Maine), Providence (Rhode Island) and finally New York City. Of course there would be several other stops along the way, just to shorten each of the driving stints, and there would be the usual detours like going to Mount Rushmore, and visiting Lake Itasca to see the headwaters of the Mississippi River and so on. That plan didn't last long though.
Plan 2: About one month later, we changed the route for the first time. We would still begin in Seattle, and New York City would still be the eastern terminus of the trip, and we would still visit Glacier National Park, Niagara Falls and Acadia National Park, but we removed South Dakota from the list and also some other places to add Great Falls (Montana), Green Bay (Wisconsin), Chicago (Illinois), Lake George (New York) and Montpelier (Vermont) to our route.
Plan 3: In December 2016 we made a major change to this plan, as my son, Tim, wanted to visit a friend along the way. Therefore the starting point was changed to Los Angeles (California) and from there the route would include Phoenix (Arizona), Monument Valley and Moab (Utah), Casper (Wyoming), Bismarck and Fargo (North Dakota), Minneapolis (Minnesota), Gary (Indiana), Toledo (Ohio), and then also Niagara Falls and the New England states although with some different stops, including Boston. This plan lasted until January 2017. Then we made some more changes.
Plan 4: Los Angeles and Phoenix was still included, but now we included Santa Fe (New Mexico), Dallas (Texas), Lafayette (Louisiana), Little Rock (Arkansas), Joplin (Missouri), Cedar Rapids (Iowa) and Madison (Wisconsin). From there to Toledo (Ohio) and continuing as in Plan 3. The whole idea of these first plans were to give me the opportunity to visit some of the few states in the center of the United States, I have yet to visit, and to give Tim the opportunity to see more of New England. This plan lasted until June, when Tim returned after having visited friends in Arizona.
Plan 5: In this plan we completely skipped the midwestern states and New England. We kept Los Angeles as the starting point, but decided to return home from Miami (Florida) instead, and now the major fix points was Los Angeles, Phoenix, Gallup and Santa Fe (New Mexico), Dodge City (Kansas), Talequah (Oklahoma), Little Rock, Lafayette, Bayou La Batre (Alabama) and Lake City, Ormond Beach, Tampa and Miami (Florida).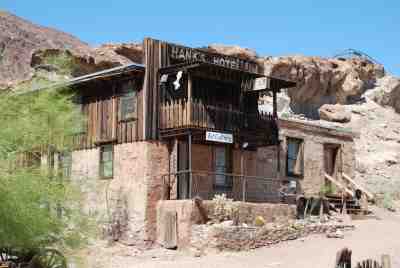 Nice old hotel
Plan 6: This plan was made in July 2017, but only included a few changes. From Santa Fe we would include Witchita Falls (Texas) before Dallas, and Bayou La Batre was changed to Huntsville (Alabama) and also Lexington (Kentucky) was included. From Lexington we would go south to Elizabethton (Tennessee) and then spend the rest of the vacation different places in my favorite part of USA, Western North Carolina. And finally we planned to fly back home from Charlotte (North Carolina). Most of these changes, except for the WNC part was due to Tim wanting to visit more friends around the country, like Phoenix, Dallas and Lexington.
Plan 7 only included one change to Plan 6. In stead of beginning the road trip in Los Angeles, we would fly to Phoenix and start there.
Plan 8 introduced another major change. This plan called for us to split up in the last part of the trip. We would also skip Lexington and put Florida back on the map. From Lafayette we would in stead go to Tallahassee (Florida) and from here to Flagler Beach (also Florida). Here I would drop Tim of at yet another friend of his, and then he would stay there, while I would go north to WNC and visit my friends there. I would spend three or four days there, than go back to Flagler Beach, pick up Tim and we would return to Denmark from Orlando (Florida).
Plan 9 (made in November 2017) didn't change much except skipping the planned New Mexico and Texas stops and just have stop overs in El Paso and Kerrville (Texas) on our way from Phoenix to Lafayette. This was supposed to be our final plan - until we started looking for plane tickets, Then we discovered it would be much cheaper to fly to Los Angeles anyway and drive from there to Phoenix and also to fly back to Denmark from Miami instead of Orlando. So the resulting plan from January 2018 is like this:
Plan 10: Los Angeles to Phoenix with a stop over in Joshua Tree National Park (California). Tim will be visiting friends in Phoenix! From Phoenix to Fort Worth (more of Tim's friends) with stop overs in Las Cruces (New Mexico) and Abilene (Texas). From Fort Worth to New Iberia closer to Avery Island (our actual Louisiana destination), than Lafayette. From New Iberia we will make a 500 miles drive to Tallahasse and then on to Flagler Beach. I drop off Tim an continue north to Western North Carolina with a stop over somewhere in South Carolina, maybe Florence or Columbia. I will spend a week in WNC, visiting towns like Spruce Pine, Lenoir, Wilkesboro and my friends in Charlotte before heading back to Florida to pick up Tim. Then we will drive to Miami, spend a night there and fly back to Denmark the next day, bringing Tim's friend along with us.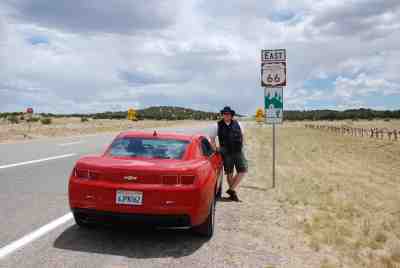 Nice car (and Tim)
Beside the route by the way, we have also discussed though not yet planned in details what we want to see along the way. Some places we are definitely going to see, but we like to improvise as well so we have left room for that. After finally getting the route on track, what's next? Well, booking of plane tickets, car rental and hotels.
First night we will spend in Yucca Valley outside Joshua Tree National Park at a hotel booked in advance. Also our hotel in Phoenix is booked. The final three pre-booked hotels are in Las Cruces, Abilene and New Iberia. We will probably also book a room in Miami, as I don't want to drive around looking for a hotel in a large city. And having learned from experience, I will have to book rooms for at least some of my stays in Western North Carolina. I just don't know where yet, but I will have to find out soon. All we are now missing is renting a car, and as usual I will probably take care of that in April, and then all we have to do is wait for June 27th to come.
So this is just a short brief on how we plan a road trip. Maybe someone else can learn from this or at least be inspired. To me the planning and changing of plans is almost half the fun of a road trip. And by the way, even if the vacation 2018 has not yet taken place, we already made the first draft for a 2020 road trip.
And how it actually went (written in 2019 after the trip)
As usual, no matter how much we plan in advance, things always go a little different. This is just a brief overlook. If you want the see the whole trip take a look at what I have called The Friendship Tour on my travel page. The name came up because we actually visited quite a few friends in the end. After compledting the planning, we did book airplane tickets with British Airways from Copenhagen via London to Los Angeles. With the help of FDM, the Danish equivalent of AAA, we booked a rental car, and we used the internet to book hotel rooms in Gilbert, Az (a Phoenix suburb), Las Cruces, Nm, Abilene, Tx and New Iberi, Laa. I booked a room at a hotel in Cherokee, Nc and also in three different B&B's in the same state. Finally we booked a room for one night in Miami, Fl, for the night before our return flight.
As planned we flew into Los Angeles, but unfortunately our flight was delayed. Actually it was the flight from Copenhagen to London that was delayed more than three hours, so we missed our flight to LA. Fortunately British Airways was able to get us on the next flight, that left London for LA about six hours later. We didn't get seats next to one another, but as we usually sleep most of the way anyway, it didn't matter. But when we finally got to LA, got through immigration, got our luggage and finally the car, we still had to drive the 140 miles or so to Yucca Valley, where we didn't arrive at the hotel until after midnight, so there was not time to visist Joshua Tree National Park as we had planned to do. Next morning we were heading for Gilbert, Arizona outside Phoenix, but we took the route through Joshua Tree State Park, so we at least experienced a bit of it, and took the time for a few walks in the park. When we got to the hotel in Gilbert that we believed we had booked in advance, we were proven wrong. The hotel had cancelled our reservation. They explained that they always reserve an amount of 1 dollar on the credit card, when receiving a booking, and as I had not opened my card for use in North America at the time I did the booking (normally it's only open for use in Denmark to prevent fraud and I only open it just before departure) so when they couldn't reserve the amount, they had cancelled the reservation and now every room was booked. They found us another hotel in the neighborhood though, and it proved to be just as good as the one we had booked, closer to the friends we were going to visit - and around $ 100 cheaper for the two nights we were staying. Besides from the day we arrived we stayed in Gilbert for another day as planned, and ended the visit with having dinner with our friends there (actually my son's friend's, but I got to know them as well), at a very interesting, local restaurant, Joe's Farm Grill. Worth a visit if you ever happen to pass through Gilbert, Arizona. While Tim was hanging out with his friends that day, I spent the day walking around Riparian Preserve at Gilbert Water Ranch with my camera and this park is also worth a visit, at least if you like birds. Only the temperature which reached 121 F in the afternoon could have been a little lower, but I put on sun screen, my hat and brought a sufficient amount of water so every thing went well, except that I was soaked when I returned to the car about three hours later.
The following two days, we stayed on plan. From Gilbert we kept to Interstate 10 for the around 375 miles to Las Cruces, New Mexico. We arrived early anough to have time to look at town and surroundings, before dinner at another recommendable restaurant, The Cattle Baron - guess what's their specialty there. The next day we continued another 500 miles on I-10 and I-20 to Abilene, Texas, with only a short stop in El Paso. That left us time for a brief sightseeing in downtown Abilene. The next day we had to deviate from our original plan, as Tim's friends in Fort Worth had moved north to Bonham, Texas so that became our next goal (we knew about their move before we left home, but hadn't changed our plan accordingly). Besides from some road work on the interstate passing through Fort Worth and Dallas which made out GPS lead us astray, the trip to Bonham only took about five hours including stops, so we had time to locate a hotel and visit Tim's friends there - friends that I got to know so well that they are now also my friends, and we are actually going to visit them once more in 2019. (Comment: We actually did, and were supposed to have visited them once more in 2020 - hadn't it been for that d..... virus).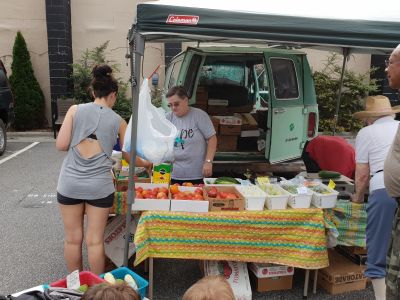 Nice vegetable stand at a farmers market in Statesville. Vegetables like cucumbers, tomatos and ocra are sold from this and other stands.
After spending a couple of days in Bonham, we headed south and east to New Iberia (once more according to plan). We did make a longer stop in Bossier City, Louisiana though, to have lunch with yet another of Tim's friends who lives there and works at a restaurant and that was where we had our lunch, a meal we actually rarely eat when on road trips. We had planned for a one day stay in New Iberia, and to repeat a swamp tour around Lake Martin, that we had also taken in 2014, and so we did. After the swamp tour we headed out to Avery Island and the Tabasco Country Store only to discover it was closed due to it being 4th of July. We therefore decided that even if we had a long drive ahead of us the next day we would go back to Avery Island and be ready when the store opened at 9 am. So we did and our shopping only took us about 15 minutes as we both knew exactly what to buy. In the article Swamping and Shopping from The Longest Bridges Trip in 2016 you can read how we once took a 330 mile afternoon trip from Slidell, La, to visit the country store - we love Tabasco J. After the visit we headed out on our 700 mile trip to Lake City, Florida. Most of the way we stayed on I-10 but from Pensacola, Fl we turned south to the coast, and followed US Route 90 and US 98. The whole trip took us - including stops - around 12 hours, though we may not have stayed within speed limits all the way. And there is actually something that we are very bad of taking into consideration when doing our planning, and that is the loss of an hour when you cross a time zone driving west to east. For some reason we always crosses from one time zone to another on our longest drives, and thus also this time which meant that it was a little after 10 pm before we arrived at our hotel in Lake City.
Next day we haded for Flagler Beach and yet another friend of Tim's. This time I knew her in advance tough, as she had actually visited Denmark a couple of times, and I had met her on those occations. I only stayed for a couple of hours before I said goodbye to Tim and Lexie and headed north towards my planned goal in South Carolina. My plan was to stop somewhere around Columbia but when I got there I found it was too early, so I postponed it to around Spartanburg but even there it was still too early, so in the end I continued into North Carolina and made my stop in Hendersonville after another 630 miles day in the car. Tim had driven the 130 mile stint from Lake City to Flagler Beach, but for the last 500 miles I was on my own, so even if I took a break now and then, asbout every other hour, I just had something to eat at a Mexican restaurant on the hotel premises and then off to bed. We stayed in the same hotel during our first ever visit to USA with the whole family and on that occasion we had dinner at the same restaurant. Nostalgia hits again!
The next day I had a fixed goal in Cherokee, with yet another hotel booked in advance, but now I only had less than 80 miles to go, so I did a bit of sightseeing on the way. The next couple of days I stuck to plan and did some sightseeing out of Cherokee and then I continued to the first B&B of the trip in Spruce Pine, Nc - just as planned. And actually the rest of my stay in North Carolina went according to what I had planned from home. One day exploring out of Spruce Pine and then on to Lenoir. I visited friends on the eastern outskirts of town, and stayed in my favorite B&B in the area (Comment: The B&B closed in 2020) while I did some sightseeing in the area, and got together with more friends in town and in neighboring Wilkesboro. Then I moved on to Statesville, where I had booked a room for the first time in yet another B&B I had been recommended by friend, that I have later visited stayed there in April 2019 and I'm going to in July as well (Comment: I did stay there in July but This B&B has also unfortunately closed in 2020 - both B&B's closed due to the ladies running the places deciding to retire). In Statesville I had more get togethers with old and new friends, and did some more sightseeing. I have to admit, that only a few new places was explored on my sightseeing trips in Western North Carolina, as I have visited this area so many times - and I keep coming back for more. I have actually visited WNC, as the area is often called, so many times, that in the spring of 2018 just before this visit I published a book: Land of Friendliness and Beauty - A Danes Guide to North Carolina (Comment: In 2020 I published an updated second edition).
The last part of the trip was planned to take me to somewhere in Georgia, but in the end I drove all the way back to Flagler Beach in one stint and paid a short visit with Lexie (Tim stayed at her place) before I checked into a hotel. The plan was to continue south to Orlando the next day, but we decided to stay for one more day in northern Florida, and re-visit St. Augustine. So two days later we continued to Miami in one stint. In Miami we had booked a room at the Conrad by Hilton, like we had on a previous visit in 2016. When we got there and had cecked in, we returned the car at the rental company's downtown office and returned to the hotel by the Metromover. As our plane was not leave until around 8 pm, we left out luggage at the hotel and spent the next day sightseeing in Miami before we returned to the hotel, got our luggage and headed for the airport in a taxi. So even if we had done meticulous planning in ten steps, we actually deviated from the plan anyway. And that is how most of our road trips end up.