One (almost) truly lousy day
The day, which actually began rather good, ended up making a very lousy impression on us! A day waisted. To express my honest opinion of the day, I will have to use words, that are not fitting on a page, that can be reached by children and other innocent souls, and I won't do that, so I better keep my mouth shut (or rather my keyboard). But believe me, it ended up being really lousy :-(.
All is well that begins well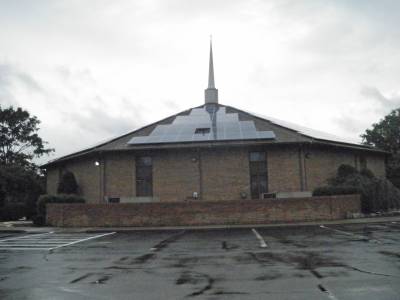 The night before we had done our homework at the hotel in Philadelphia, studying our faithful Rand McNally Road Atlas. We were going from "The City of Brotherly Love" as Philadelphisa is known, to Boston, which normally is pretty easy, as you just have to get on I-95, and then stay on that interstate all the way. Unfortunately there are a lot of toll road stretches of the interstate in Pennsylvania and we tried to avoid these. Not because we are against paying the toll, but our experiences from out last couple of roadtrips, had taught us, that a lot places, you can only pay the toll with some kind of electronic device, like an E-ZPass or other kind of electronic toll-collection system. Our rental car was not equipped with such, and we should have brought a few of them, as the same system is not used troughout the United States. In 2012 we were driving on E-470 around Denver, and almost thought that we destined to stay there forever, as all exits were non-cash and unmanned. So we didn't want to experience that again. We therefore decided to set our gps to avoid toll roads, which worked perfectly. Before leaving the hotel, we used the gps to figure out the time difference between using and not using toll roads, and it wasn't that bad. It would only take about 20 minutes longer and would be just a few miles more to go.
At 7.30 am we left the hotel, and the gps estimated an arrival time at our hotel in Boston to 3.18 pm. That suited us fine, as that would leave us some time to see parts of Boston before it got too late. We left Philadelphia without any traffical problems, even if it was rush hour, and very soon we were driving on small, scenic roads through the countryside. At a place I later discovered was called Washington Crossing, we crossed the Delaware and entered New Jersey. So did George Washington in December 1776, when he was hurrying to a surprise attack on British troops near Trenton, New Jersey. We didn't go to the state capital though, but continued north. At this time, we didn't know exactly which way the gps wanted us to go, but suddenly we were in Princeton, home of 28.000 inhabitants, including a famous Ivy League university from 1746 and it's 8.000 students amd 2.000 employees. It was here in Princeton, at an independent institution, that Albert Einstein worked from 1933 until his death in 1955. Among the alumnis of the university, your find two presidents, James Madison and Woodrow Wilson, one vice-president, Aaron Burr and one First Lady, Michelle Obama. Also actors James Steward, David Duchovny and Brooke Shields are graduates from Princeton. As we still wanted to get to Boston in good time, we didn't visit the university but passed it at a distance.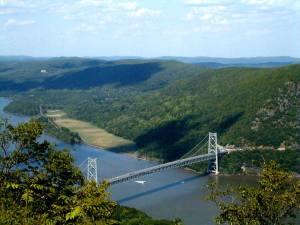 In stead we continued north on more scenic roads. 10-12 minutes after leaving Princeton we passed a police car going in the opposite direction. On the side it said "Raritan Police", which surprised us a bit, as we didn't know we were anywhere near Raritan. To understand why we found this interesting, I have to go back to our trip in 2012. One of the last days of our vacation, see the article Where is Ohio?, we were on a 600 mile drive from Wilkesboro in North Carolina and heading north to a then unknown destination. As we had started the day visiting a museum, it was rather late, when we left town, and when we got to Allentown, Pennsylvania, we decided to call it a day. Or rather we would look for a hotel, when we had passed the New Jersey state line. At this time we were on I-78, and at almost all exits before Allentown, there had as usual been signs advertising food, gas and logding. But in New Jersey all advertising of lodging disappeared. Our gps was out of order and only worked once in a while, so we were on our own here. When we got to milepost 19, we decided to take the next exit anyway, cross our fingers and hope for the best. At this time (I was driving) Tim, fiddling with the gps got it to work long enough to locate a motel, only about 14 miles further southeast, and then it broke down again. We drove in that general direction and after a while, we actually located a motel and found a room. We had dinner at a nearby restaurant, and when asked, the waitress told us, that we were in Bridgewater, New Jersey. The next morning, we discovered, that the restaurant may very well have been in Bridgewater, but the hotel just across the street was in Raritan. As we didn't know exactly where we were, we thought, that we would never see the place again, and yet the police car indicated, that Raritan couldn't be far away. And it wasn't. There are only about 17 miles from Priceton to Raritan, but we didn't know that at the time
A few miles later, we passed a church that we could recognize, and soon after we passed the hotel from two years earlier. We didn't stop though but continued north on small and even smaller roads. After another few miles, we entered New York State and soon after that we crossed the Hudson River via Bear Mountain Bridge, around 10 miles south of West Point Military Academy. The bridge was a toll bridge but fortunately we could pay cash! From here the road lead south along the river and up a low mountain. We stopped at a look-out and enjoyed the view of the river and Iona Island below us besides some bald eagles above us. When we had crossed the mountain, we stoppped to get gas (the car) and coffee (me), before continuing south to White Plains, where IBM used to have a large site, when I worked for the company, but they doesn't anymore. Also the Heineken Brewery has their American headquarters in White Plains. At Port Chester a bit further south, we finally entered I-95, on which we would stay for the rest of the way to Boston. The above may sound as if it had taken a long time, but actually it hadn't. It wasn't yet 11 am, and we had even gained some minutes, as the gps now estimated our arrival time to 3.10 pm. The picture on the left, showing Bear Mountain Bridge is not my own for once, but I have borrowed it from commons.wikimedia.org.
The day gets lousy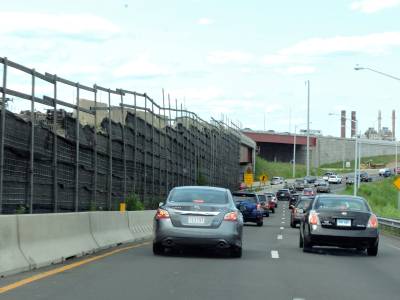 After two miles on the interstate, traffic slowed down and very soon came to a full stop. We thought that it was a traffic accident ahead that was the reason for the jam, but no such luck. After a while we started moving again, but at an extremely slow speed. Then full-stop, then slow speed and such it continued, not for a mile or two as we had hoped for, but for miles and miles. All the time we could watch the gps postpone our ETA - 3.30, 3.45, 4.10. At times our speed was so slow, that snails passed us on the shoulder of the road. The area around I-95 on this stretch is part of the megalopolis called BosWash, a row of interconnected cities stretching from Washington DC to Boston. Also in Connecticut where we now were, there are a lot of towns almost grown together. At most entrances more and more cars entered the interstate, while only a few left at the exits. At times the speed rose, to maybe 30 miles per hour, but then we stopped again. After 50 (yes fifty) miles we were in New Haven, and Tim was in dire need of a rest room. Unfortunately there were none near the interstate, so we had to leave it, and locate a gas station or something. We used the gps once more to locate nearby gas stations of wich there were none, so we had to continue for a while, and the first gas station we visited didn't have such a facility, at least not one open to customers, and neither did the next. Tim was getting desperate, but luckily we found a McDonalds restaurant. When he had done what he had to do, and we could return to the interstate, our ETA was delayed to 5.15 pm - a two our delay but it should get even worse.
Back on the interstate the stop-and-go driving continued. Around New London, the traffic finally thinned, but it was now past 6, and the ETA was 7.48! So much for sightseeing! We been on the interstate for less than 100 miles, and 95 of these in the heavy traffic, and it had taken us 7 hours! From here it eased up, and we made good speed (a little more than the limit like everyone else). Estimated time of arrival was now set at 7.58, and that came to be almost correct. We continued through Connecticut, Rhode Island and Massachusetts to Boston, where we made a short stop at a Walmart. At 8.15 we were outside the hotel. Here valet parking was included in the room price, so we just grabbed our baggage and let our car be driven away while we checked in. At the desk I told about the congestion on the interstate and the concierge told us, that this was just the ordinary Friday afternoon traffic out of New York City. We took our suitcases to the room and then immediately left for dinner as all we had had so far that day, was a sandwich at a gas station. Unfortunately we were more tired that hungry - it is actually rather tiresome to drive like that for seven hours, as even if you are moving slowly you have to be even more alert that when driving with a normal speed. Across from the hotel was a Subway, and that's where we ate. While eating we talked about the events of the day, and we agreed never to go through Connecticut on a Friday afternoon again. We had passed through six states, the most ever, except from in 2012, when we also passed through six states on one day. Around 10 pm we returned to the hotel and called it a day, as we had a lot of sightseeing to do the next day.
- Return to Big City Tour -
- Return to travel stories -