I didn't meet the boogeyman
After my stressful experience the previous day, I decided to avoid the mountains and stay in the lowlands, for my last day in North Carolina, before I had to return home the very next day. There was still a lot I hadn't seen in the piedmont area, so I wouldn't get bored. As I knew I had to pack my things in the afternoon or early evening, I decided to leave early. At 7.30 I had breakfast alone, as the two ladies I had met the previous morning, were going home and would have breakfast at a later time, and the other couple that stayed at Rose's wouldn't eat breakfast at all.
Once again I headed for NC 268. Four miles after having met this road from US 321, NC 268 makes an almost 90 degrees turn to the right, while another road heads west. I had never been on that road before in all my visits to the area, so I decided that now was the time. The road, Buffalo Cove Road, ran along a small creek, Buffalo Creek, another place where some of the people involved in the Tom Dooley case lived. Driving along, I had to come to a sudden stop as a flock of 7 or 8 wild turkeys crossed the road in front of me. Before I could get my camera ready though, they had walked into the bushes next to the road, and all I got was a picture of a roadside. I continued to a small "waterfall", where I made a stop and took some pictures before continuing across a narrow one lane bridge.
I followed Buffalo Cove Road to the end, which was at Elk Creek Darby Road, but further north on this road, that I had been before. I turned south to get back to Dooley-land, through the small village of Darby. Back in well-known territory I once more looked for a small cemetery that I have been looking for since 2012, but with no luck. Only three people seem to be interred here, so it's easy to overlook. And so I did. Back home I'm almost certain that I have now (with help from Tim) located it, so now it's on the plan for the summer of 2016. Once more I took Bill Horton Road back to NC 268, and this time I spotted sign #6 on the Tom Dooley Historical Tour, also a first time, even if I have travelled this road a dozen times. This sign was near the place where Laura Foster's body was found.
Visit to Ronda and other small towns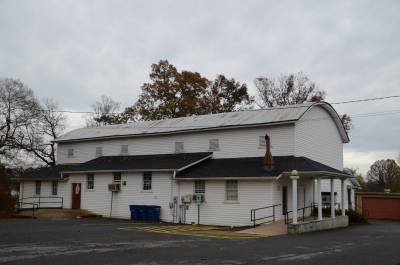 Ronda City Hall
From here I continued to Wilkesboro without further ado. In Wilkesboro I visited yet another cemetery, St. Paul's Episcopal Cemetery where civil war general James B. Gordon is buried. Of course I needed some pictures of his grave to my "gravestone collection". From Wilkesboro I continued east on US 421. Right outside town I visited the local welcome center, where I got some brochures on the wineries and vineyards in the area. Next stop was in the small town of Ronda on NC 268. This was my first time that far east on NC 268. Ronda isn't exactly a metropolis. It has less then 500 inhabitants and the city hall looks more like a storage facility, but it is actually a historic town. In my previous article I told about my visit to the Robert Cleveland Home in Wilkesboro. Robert had a famous brother, Benjamin Cleveland, who became a colonel in the American Revolution and who fought in The Battle of Kings Mountain. It was also Benjamin Cleveland who hanged a group of tories from the Tory Oak in Wilkesboro. Before the revolution Benjamin Cleveland's plantation was located a mile or so south of Ronda (which didn't exist in his time). He built his home on top of a round hill, and after this hill he named the house Roundabout. When the town was established it got this name, even if in a shortened form. I took picures of the city hall, some buildings and a historic marker, telling the story of Benjamin Cleveland.
From Ronda I continued east on NC 268 and visited other small towns like Elkin (which is actually a large town compared to other towns in the neighborhood with it's 4,000 inhabitants). Elkin is on the stateline between Wilkes and Surry Counties, and has a charming Main Street, where I of course took some pictures. South of Elkin and joined together with it is Jonesville. In spite of the proximity of Elkin, Jonesville is neither in Wilkes nor Surry County but in Yadkin. Jonesville is the oldest still existing town in this county. Jonesville has 2,000 inhabitants, making the Elkin/Jonesville area the most populated area for miles. Both of these towns are situated along Yadkin River, with Elkin on the north bank of the river and Jonesville on the southbank. Many other small towns, like Burch, Crutchfield and Rockford as well lies along the river. These towns often grew up around mills at the river. From Jonesville I crossed the I-77 and continued east to Booneville, another small town. This town has it's name from famous hunter and explorer Daniel Boone, who once operated in this area before he moved west in Yadkin Valley and later continued to Kentucky. Booneville had not much to show, but now I can claim, that I've been there! In Boooneville I turned south and headed to Yadkinville once more. Yadkinville is the county seat of Yadkin County, and has 3,000 inhabitants. Not many, but more than many other county seats in rural western North Carolina, like Bakerville in Mitchell County which has only 450! When Yadkinville was made county seat in 1850 after the county had been formed from parts of Surry County it consisted of one single house.
The boogeyman that disappeared
Yadkinville is know for it's two annual festivals, The Harvest Festival and The Grape Festival. As it wasn't time for either, I will have to come and experience them another time. I would have loved to visit the first courthouse, built of handmade bricks, but it has long been gone. The first settlement in the county, Huntsville, is now a part of Yadkinville, and I been through old Huntsville on my first visit to the area a few days earlier. At this time I went looking for the last ghost of this Tour de Macabre vacation. A little northwest of town in direction of Center there was once a swamp. which was feared by the locals. Partly because is was swampy, and you had to know the way to get safely through the swamp, but mostly because of the swamp monster, the booker, the boogeyman, and other names it was known by. The booger seems to have been some kind of specter or other monster, that lived in the swamp. This "thing" led wayfarers astray and did something to them; nobody knows exactly what it did to people, but those who met the monster were never seen again! How anybody could know then that someone had met the monster, if they were never seen again, is beyond my comprehension :-). Anyway the swamp has ben drained, houses have been built and a road leads through the former swamp. All that is left is a small, very narrow creek and the name of the road "Booger Swamp Road". I took the road that takes of from Old Highway 421 next to Harmony Grove Friends Church and ends on NC State Road 1331 near Peace Haven Baptist Church. I met a turkey vulture on the road eating som roadkill, but that was the most scary thing I encountered. The swamp itself used to be near the place where Dewitt Road meets Booger Swamp Road. In the old days the road from Yadkinville to Center was a narrow dirt road, rather lonesone and bordered by a dark forest, so it's understandable why supersticious people of old days, could get scared. Some may even have disappeared along the way, nurturing even more superstition. Strange sounds, strange lights and distant sightings of the monster was reported, but not for many years. Maybe it's the proximity of the churches that has scared away the boogeyman, or maybe it's the fact that the swamp has gone, so it has no place to hide any longer.
From Yadkinville I headed west to Hamptonville, a village that is so small, that it is not counted separately but only as part of a zip-code area. It is named after a colonel from the revolution who bought land here in order to found a town. I crossed I-77 once more and headed north on small roads like Swan Creek Road and Clingman Road.
A final wine tasting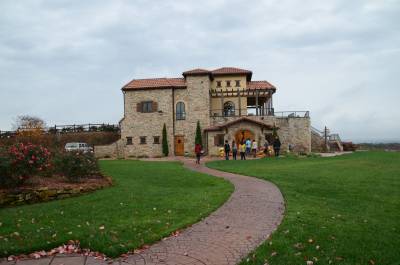 Raffaldini Winery villa
In 2004 Dorte and I visited three wineries in Swan Creek. Windy Gap doesn't exist anymore but I have visited Laurel Gray many times since then. I try to go there every time I'm in North Carolina. At our first visit to the third place, Raffaldini Winery, we signed ourself on a mailing list, and every three months since 2004 I have received their newletter, but haven't found the time for a visit. But now the time was up. In 2004 the place consisted of a low wooden building, where the office, tasting room and everything else were located. But I dare say it had changed a bit in the past 11 years. The wooden building is still there, but is now used for people on picnics. In stead is built a large house in the fashion of an Italian Villa. This may sound strange but the family that owns the place is of Italian origin and the family has been growing wine in Lombardy, Italy since the 14th century (according to their own statement). Now they are growing and making wine in North Carolina. They grow mostly Italian grapes, like montepulciano, sangiovese, vermentino and others but also a few french grapes for mixing.
The new tasting room is rather large and can accommodate a large number of people. As this was a Saturday, quite a few had found their way to the place, including me. I was greeted by a young lady who lead me to a small table, where I tasted some very good wines. I told her of my visit 11 years before, and she explained a bit about the new place. In the end I bought a couple of bottles of Montepulciano Riserva to bring home as gifts for my family. Thus ended my last experience of this vacation.
From Raffaldini I headed straight "home" to Lenoir. I made a stop at a Walmart to buy another suitcase, for all the things I had to bring home. Back at the Irish Rose I packed my stuff, except for what I would be needing the next morning, then asked Rose if she knew a good place to eat for my last evening in town. Of course she did, so I went for it. When I got to the place though it was closed! I then used my gps to find me some other restaurants, but the three that was not part of a chain, were all closed. Something must have been going on in town, as it is not usual that restaurants are closed around 7.30 pm on a Saturday night. Anyway I returned to Ruby Tuesday, where the hostess greeted me, and asked me if I wanted my "usual table". After dinner I drove back to Rose, and chatted with her for a while, then went to my room and spent the rest of the evening reading a book.
Today I saw two countable trucks. One Shneider and one J. B. Hunt. Also the previous days had offered a few trucks, so now the score was
| | |
| --- | --- |
| J. B. Hunt Transport Services | 14 |
| Swift Transportation | 13 |
| Knight Transportation | 7 |
| Werner Enterprises | 6 |
| C. R. England Inc. | 4 |
| Schneider National | 4 |