Supporting Characters
Beside the main cast, the case records refers to a lot of characters in supporting roles. Some of these we know quite a lot about, while others have disappeared into the mists of the past. More than 80 witnesses were heard during the trials, but only about 20 of their testimonies are left to this day. That doesn't mean, that the other testimonies were not important, but obviously not important enogh to be written down. Here it is necessary to understand, that in those days, testimonies were not transcribed verbatim. The county clerk wrote down, what he and the judge thought was the most important part of the testimonies, and these records were used only for appeals. Tom's case was appealed twice, and each time the judge and clerk had to make a summary of the case for the state supreme court. (The summary from the second trial in 1868 is very short, much shorter than the first, but it still add some new facts to the story. It is only these few statements that are kept until today and they are not verbatim, but edited versions of what was acutally testified.
But before getting into the details of the trial, let me look at some of the witnesses.
Bob Cummings
Mary K. Dula
Wilson Foster
George Washington Anderson
Celia Scott
Betsy Scott
Zebulon B. Vance
Bob Cummings
Let me begin the review of the supporting cast with a man, that plays an important part in most songs and legends. So why place him among the supporting cast instead of giving him a place among the main charachters? Well that will become obvoius if you continue reading.
The short answer is easy. He probably didn't exist at all. This is of course not necessarily true, but no person by either of the names Bob Cummings or Bob Grayson (as he is known in some of the stories) are mentioned in the official records of the trial, and if Bob Whatever actually found the body (which he did not) and was the driving force in the search for Lauras body (which he was not) and later was the one, that arrested Tom (which he was not), he should have been summoned as a witness during trial. His name is not even mentioned in any of the lists of possible witnesses. Also his name is not found in census records from 1870, neither in Wilkes, Watauga or Caldwell counties. This doesn't mean, that he did not live in the area. If he arrived after the civil war, he would not be recorded in the 1860 census, and if he left right after the murder, he would not be recorded in the 1870 census either. And maybe he didn't do anything, like buying land, getting married or other acts, that would have left a record.
The legends claims that he was either a scoolteacher or a sheriff. There was no school in Elkville at the time, but there was of course schools in some of the larger villages, like Kings Creek and Patterson or the larger towns like Lenoir and Wilkesboro, where he could have been teaching. Another possibility is, that he was a teacher but earned his living from something else. No records about this exist though.
Bob Grayson/Cummings was most definately not the sheriff of Wilkes County as told in Doc Watsons version of the story. The Wilkes County sheriff was William Hicks (or Hix). Neither was he (Bob) the sheriff that executed Tom Dooley in Stateville, Iredell County, as his name was William F. Wasson and he was sheriff from before the civil war until 1874. The Caldwell County sheriff from 1866 was Robert C. McCall and the man that preceded him was Robert Gaius Tuttle. The Watauga County sheriff was John Horton who served from 1866 to 1876. He was preceded by A. J. McBride. We therefore have to conclude tthat Bob can not have been sheriff in any county in the area. He may of couse have been a sworn deputy, but no records mention that either.
There was a Grayson involved in the case though. His name was James W. Grayson and he lived in Johnson County, Tennessee. He was neither schoolteacher nor sheriff, but a wealthy farmer/plantation owner, lawyer and member of the Tennessee legislature. He had been colonel in a Tennessee Regiment (Union) during the civil war and he was still known as Colonel Grayson. His part in the Dooley case was a small but important one, and may have been the reason for the misunderstandings about Bob Grayson/Cummings being a sheriff.
In the summer of 1866 colonel Grayson had a farm in the neighborhood of Trade, Tennessee and it was on his farm, that Tom Dooley worked after having left Wilkes County on the morning of the 26th of June, 1866. Trade was very close to the the North Carolina border in Watagua County, and Tom Dooley must have passede this county in order to get to Trade. Tom arrived at the Grayson farm around the 4th of July 1866 and stayed on the farm as a field hand until the 9th. The money he made, he invested in a pair of boots, bought in the town of Trade. On the 10th of July two sworn deputies from Wilkes county arrived af the Grayson Farm, asking for Tom Dooley. The deputies were John "Jack" Adkins and Ben Ferguson (no Cummings here either). When they heard that Tom Dooley had left the farm, they continued their search and Colonel Grayson joined them in the search. They found Tom Dooley in small settlement called Pandora about 20 miles from Trade on the road to Johnson City. Here Tom Dooley was arrested without the colonel using the gun he brought with him, as Tom surrendered peacefully. The search party stayed the night on Graysons farm, with Graysons son guarding the prisoner, and the next day Colonel Grayson helped the deputies escort Tom Dooley to Wilkesboro where he was incarcerated. I guess though that Colonel Grayson's parttaking in the arrest could have caused the legend's "idea" of him being a sheriff.
James Graysons part in the case though was so minor, that he was not requested to testify at the hearing for the Grand Jury or later at the trial. He was called to testify though in the trial of autumn 1867, but didn't show up and he was not called again in the new trial in 1868. That he should have been Laura's suitor is not likely. He lived in another state, was married and had children and there is nothing to show, that he knew neither Laura nor any other person involved in the case. Maybe the whole idea of a suitor pursuing his lover's murderer, may be based on something else, or it has just be made up to get some romance into the story.
Mary K. Dula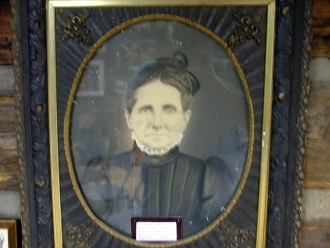 The image to the left may depict Mary K. Dula, but it's more likely that is is Tom's older sister Anna E. Dula Hendricks. The original picture is in the Tom Dooley Art Museum at Whippoorwill Academy and Village in Ferguson, North Carolina and is reproduced here with permission from owner of the museum, Mrs. Edith F. Carter.
Mary Dula was Tom Dooleys mother. Her maiden name was Mary Keaton and most sources believes that she was born around 1800. In 1822 Mary Dula was married to Toms father, Thomas P. Dula, but he had passed away in 1854. Before his death the two of them had at least six, maybe seven children. Tom was the youngest, and besides him there were two sons, John and William and three girls, Anna, Sarah and Eliza. There may have been more children, that dies young, but in that case, they are uŽnknown today.
At the time of the trial, she had one daughter, Eliza living at home with her and Tom was her last son alive. From testimonies at the trial, we know, that Eliza was also living at home at the time of the murder. The legends know (wrongly) that Tom Dooley was arrested along with one Jack Keaton. This name appears nowhere in trial records, and Tom was definately alone, when he was arrested. No trace of any Jack Keaton is found in the records from Wilkes, Watauga or Caldwell County from the time of the murder, but he might have been a relative of Mary Dula who lived somewhere else, and just visited. Why legends has made him part of the case I don't know. In articles in The Record, a Wilkes County Online Newspaper, from 2001 or 2002 the name Jack Keaton is mentioned as one of those taking part in the party at the Melton place on the Friday when Laura disappeared, but none of the witnesses, that were present at the event, mentioned his name.
Wilson Foster
Wilson Foster was Laura's father. He lived in the German's Hill community just across the county line from Wilkes. His wife, Mary (Bowman) had died at the time of the murder, probably around 1864. Laura was the eldest child, and as she lived at home, it is believed that his five or seven other children lived at home as well. Only one of his sons, James Foster, is mentioned during trial. In 1880 he lived with his oldest remaing child, James T. Foster at King's Creek in Caldwell County, so maybe the family was still living in the same cabin as 14 years earlier when his daughter was murdered.
He is presumed to have been a farm laborer on one of the large plantations in the valley. Some think that both he and Laura (and maybe the oldest son, James) was working for James Isbell, while others find it more likely, that he worked for Welborn German, from who the area was named. The trial records gives reason to believe, that the family was rather poor. It was mentioned for instance, that Laura normally wore shoes with holes in them, because they could not afford new ones. He was the proud owner of a horse though, the one the Laura took when she left her home.
When Laura disappeared he was the first to start looking for her, and he followed the trail of the horse to Bates Place where he lost it. He never found Laura nor the horse at that time.
George Washington Anderson
Washington Anderson had served in the army with Tom Dooley. They were both privates in 42nd North Carolina Infantry, Company K - and so were a lot of other men, mentioned in the case. George Washington Anderson was born in 1846 or 1847 and he joined the army a couple of years after Tom. In 1870 he was a farm laborer, but lived at home with his mother, Sarah Anderson and five siblings between the age of 9 and 30 years. He was the brother of Celia Scott and he admitted during trial to have been "together with Tom and Pauline Foster in the woods".
Strange is it, that in on3 copy of the Company K roster, that is found on the Internet, it is stated that George Washinton Anderson was killed during the civil war. That may have been another Anderson though, or maybe the roster is wrong here. In some cases "casualties" have been intyerpreted as "dead", when the victims were only wounded. Also James Meltons brother, alexander, was reported dead during the war, but even so testified at the trial.
Celia Scott
Celia Scott was the wife of James Scott. As mentioned she was the older sister of George W. Anderson. She was the neighbor of the Meltons, and it was at her place that a fight between An Melton and Pauline Foster took place, sometime after the murder. On this occasion the two girls accused each other of knowing something about Laura's disappearance. James and Celia Scott had one son, James P., who was four years old in 1866, not 12 as he later claimed.
Betsy Scott
Betsy Scott was one of the most important witnesses for the prosecution. It seems that she was not closely related to the other Scott's involved or mentioned in the case. She was a neighbor of Laura and her father and she made herself a living as a washerwoman. She apparrently met Laura on the morning of her disappearance and talked with her about her running away with Tom. In 1880 there was nonoby by that name in neither Wilkes, Watauga nor Caldwell counties. She may have died, or moved away. There was one Betsy Scott, age 50, living alone near Spartanburg, South Carolina, so maybe this the relevant Betsy Scott, but it's not likely.
Zebulon Vance
Zebulon B. Vance was not actually part of the case, but he defended Tom Dooley in all the trials against him. The problem is, that nobody knows why.
Zebulon Vance came out of a wealthy family, who owned 18 slaves before the civil war. 12 years old he was send to Washington College in Tennessee to study, but already two years later he had to leave the college again when his fahter died. Seven years later he resumed his study at the University of North Carolina, where he studied law. In 1852 he established himself as a lawyer in Asheville, North Carolina and one year later, in 1853 he was elected county solicitor (prosecuting attorney) for Buncombe County. In 1854 he was elected as a representative to the North Carolina Legislature, and served a single term. In 1856 he ran a state senatorial campaign, but lost the election. In 1858 though he was elected a United States Representative, at 28 becoming the youngest member of the U.S. Congress. Vance was a strong supporter of state's rights, but was opposed to secession. In the beginning of 1861, when North Carolina discussed secession, he left the congress, returned home and joined the local militia. In May when North Cartolina finally seceeded, he became the captain of "The Rough and Ready Guard" of the 14th North Carolina Infantry Regiment. In August 1861 he was elected colonel of the 26th North Carolina Infantry Regiment and served as it's commanding officer until August 1862 when he left the Army, just two months before James Isbell left his regiment also to become a politician. In September 1862 Vance was elected Governor of North Carolina and he was re-elected i 1864.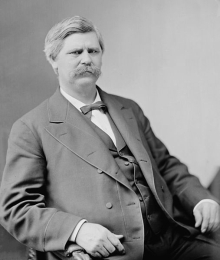 The image to the left depicts Zebulon Vance when he was a U.S. Senator, around 1880, 12 years after the case. The picture is from The L:ibrary of Congress, here reproduced from commons.wikimedia.org.
After the end of the war, he was arrested in May 1865 and imprisoned in Washington DC. He was released on parole shortly after though in July 1865, and returned to North Carolina, where he established himself as a lawyer in Charlotte, opening office in March 1866. Even later he was elected Govenor of North Carolina once more (1876) and in 1879 he was elected to United States Senate, where he served until his death in 1894.
All this to show, that the man defending Tom Dooley was not a nobody. But why did he offer to defend him then? After the war Vance had no money and the newly established law office didn't earn him much. Tom was insolvent, and could not pay for his own defense. This is stated several times in the official records from the trials. Vance was not hired as a Public Defender, and he was not paid by the county or the state. Why then should a penniless lawyer take a pro bono case, that looked like "a certain looser" as one of his first cases? John Foster West in "Lift Up Your Head, Tom Dooley" suggests that he might have done it for political reasons. The Prosecution Team were all Republicans while Vance and the rest of the defense team were Democrates at this time (Vance had earlier been a Whig and a member of "The American Party"). But would a newly established lawyer and trained politician have taken a case like this, just to spite his political opponents? I think not. It would be very difficult (as it proved to be) for Vance to win the case, thereby gaining a political victory.
In 2004 I met a descendant of Zebulon Vance. She told me, that the story that was told in the family was, that Vance owed somebody a favour, and that this "somebody" had called in the favor by asking him to defend Tom Dooley and paying him for it. Unfortunately she didn't know who this "somebody" was. One version of the legend knows this story as well, and this legend even know, that the man, that Vance owed the favor, was Tom Dooley's cousin, Colonel James Dula. Tom Dooley had a lot of cousins, and some of these were actually named James. Among the cousins were James A. Dula and James W. Dula, both sons of Thomas B. Dula and Tom's second cousins. James E. Dula was the son of William B. Dula and also a second cousin of Tom. James H. Dula was the son of John Dula and Tom's first cousin. The first three belonged to the wealthy upper class, descending from Captain William Dula, and presumably had no reason to help Tom. The last one belonged to the poor lower class and had no money to pay Zebulon Vance. And for good measure, none of the above James Dulas were colonels neither during the civil war nor after.
In another version of the legend, the man who talked Vance into defending Tom Dooley was called James Horton. James H. Dula mentioned above was actually called Horton as a middle name, but I have already ruled him out. There was a colonel James C. Horton, but he was the son of General William Horton and a first cousin of James Isbell's wife. His mother was a cousin of Tom Doley's father, making this James Horton Tom's second cousin, so maybe he was the one, that recruited Vance? I doubt it though as there was no close relationship between the two branches of the family.
Do you think there is a lot of close and distant family members involved in the case? Just wait and see when I get into family relations in a future article.
- To the top -
- Return to Tom Dooley page -
- Return to English Pages -