A warmhearted thank you
I have been meaning to write this article for quite some time, but never got around to it. After this years trip to North Carolina, it has become even more appropriate to do it. I want to thank a lot of people, that have helped in my reasearch of the Dooley-case. Some were anonymous people, who I met, and who, when they heard I was interested in the story of Tom Dooley, wanted to tell me their version of the legend, for which I'm very grateful, as it gave some insight in how a story develops from facts to legend, and why the legends differs as much as they do. But many were alsopeople who's names I know, and who knew a bit more about the story, even if some of that was legendary suff as well.
Some of these people I never met, but only corresponded with via e-mail. That goes for Mrs. Rachel Anders, who told me that Carson Maguire Dula and Wiliam Carson Dula was one and the same, and she was a descendant of Carson. Sam Mask, see below later confirmed this. Another was Jerry Kendall who drew my attention to Tom's "missing sister", the sister that was mentioned in the 1840 census and nowhere else. Jerry told me, that her name was Selena Dula, that she was born after the 1830 census and married before the 1850 census, and moved to Georgia. He also pointed me to a source that confirmed that after Tom's execution, she got condolences from people who knew she was his sister.
The first person who told me about things I didn't know already was Mrs. Madelyn Hill, who in 2004 owned and ran the Bed and Breakfast Madelyn's in the Grove in Union Grove in Iredell County, a few miles north of Statesville. She was a descendant of Tom's defense lawyer, Zebulon Vance, and she told me the family version of why Vance chose to defend a penniless Tom Dooley.
Then came Jack Steele, who was my guide on my first guided tour to Wilkes Old Jail. He told me about Tom's imprisonment in Wilkesboro, and showed me some of the records, that are kept in the museum.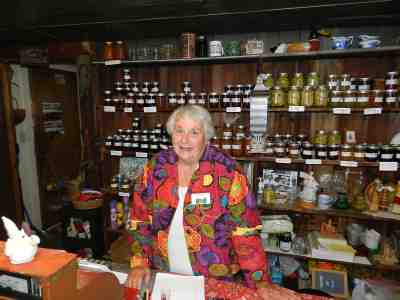 Edith Ferguson Carter behind the counter at Matt's Store at the Whippoorwil Academy and Village in October 2013.
Next was a woman, that I like to call a friend, even if we only met four or five times on my rare visits to Ferguson, the late Mrs. Edith Marie Ferguson Carter, founder and owner of Whippoorwill Academy and Village in Ferguson. Unfortunately Mrs. Carter passed away in 2014, but before that we had some nice discussions about the case, and she was the one who told me how to find the graves of Tom Dooley and Ann Melton, and also told me just to visit the places and not to mind the No Trespassing signs. Mrs. Carter was an artist and she made more than 60 drawings and paintings re-telling the legend of Tom Dooley, as she knew it from her father, her mother-in-law and other people in the area, where she lived all her life. Mrs, Carter was a descendant of Wilson Foster's aunt, Edith Foster Ferguson, and her husband, George Hill Carter was a descendant of Dr. George Nicholas Carter, the physician who examined Laura's body when it was found, and who treated the involved parties of syphilis. I didn't always agree with what Edith Carter told me, and she definately didn't always agree with my theories, which she let me know in no uncertain terms, but we always discussed friendly, which was how she was. A really nice lady, and I do miss our talks. On my visit in 2012 Edith Carter gave me permission to use photos of her drawings, paintings and other items from the museum as illustrations on these pages.
Through my homepage I got in touch with Mrs. Charlotte Winters Frye, who is a descendant of Rufus Dula Horton, one of Tom's wealthy relatives and a witness at the trial and Eliza Anderson, another witness and sister of Toms friend, George Washington Anderson. We have corresponded online for a couple of years, trying in vain to meet face to face during some of my visits to the area, but in 2017 we finally managed to get together, and she has given me some very interesting and important informations about her part of the family and guided me to where I could find the documentation myself.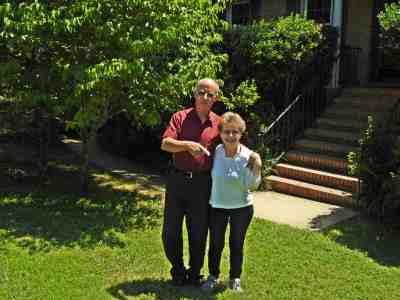 Charlotte and Bill Barnes outside their home in Matthews, North Carolina, July 2017.
On my visit to North Carolina in 2016 I bought a then recently published book, "The Tom Dooley Files - My search for the Truth behind the legend" by Charlotte Corbin Barnes. I don't remember when I actually first contacted her by mail, but it was sometime in November 2016, soon after I had finished reading her very interesting book, that is a must read for all "Dooley fans". So far the best book on the subject that I have read. In the course of our correspondance I also got to exhange mails with her husband Bill Barnes, video producer, and we arranged to meet on my trip to North Carolina in 2017. In the end Charlotte and Bill invited me to stay with them, which I will always remember and be thankful for.They arranged for me to meet quite a lot of other people who were very knowledgeable about the case and local history in general. The also took me to a concert with singer/songwriter Rob McHale and his band and introduced me to him. He gave me two of his cd's that I'm listening to with joy.
Because of the friendliness of Charlotte and Bill, I met with Zelotese Walsh, 93 years old, Gatherer and Keeper of Family History from Ferguson. Hopefully I will meet him again on my next visit as he promised to take me around to the places where the events took place. Also sisters Caroline Keller and Faye Bell, descendants of W. H. Anderson, a brother of George Washington Anderson and Eliza Anderson. They kindly showed me an unpublished book that their uncle had written about the family history with a lot of pictures in it. Our meeting took place in the Tom Dooley Art Museum at the Whippoorwill Academy and Village. At that time I was also introduced to Margaret Carter Martine, who runs the open air museum after her mother, Edith Ferguson Carters death. Unfortunately she was rather busy as she was hosting a Ferguson family reunion, but I got a long chat with her on my visit to the "Academy" a week later. She even wrote an article about my visit in the local paper in Wilkesboro. I also met her cousin whose name I have unfortunately forgotten, as my tablet, where I wrote it down, broke down during the last part of my stay in North Carolina.
Charlotte and Bill also introduced me to Sam Mask, a decendant of Carson Dula, Tom's cousin. Sam has also promised to help me in my research if he can, but unfortunately I haven't had the time to get back to him at this time. Even before I met Charlotte and Bill for the first time, they sent me an introduction to John Hawkins, the former head of Caldwell Heritage Museum in Lenoir, and the two of us had dinner together. We talked about a lot of things, but found time to talk about the case as well, and the next time we met he brought me some written information, that I can definitely use in my ongoing research. Finally they took me to Statesville Historical Collection where I was introduced to author and reporter O. C. Stonestreet, but even more so to Steve Hill who has founded and runs the collection, today together with other members of the non-profit organisation Perservation Statesville. In the collection Steve has a large number of Tom Dooley memorablia, including 46 different recordings of The ballad of Tom Dooley, including a Danish version. He also exhibits "The rope used to hang Tom Dooley's horse", but that is meant as a joke, as Tom didn't own a horse. Steve has asked people to send him things connected to the case, and the rope was sent from a bar in Colorado. Steve showed me on an aerial photo where Tom was hanged, and I learned that my second guess was better than my first and third. Steve also donated me a wonderful T-shirt with the text "Hang around Statesville - Tom Dooley did".
Besides introducing me to all these wonderful and helpful people, Charlotte and Bill showed me around Statesville, and together we located the grave of William Wasson, the sheriff that executed Tom, and the house he lived in just north of Statesville. Back in their home in Matthews Charlotte, Bill and I had some nice chats about this and that, but mostly about the case, and before I left the gave me some videos with the interviews that Charlotte did with different people during the research for her book. I can't express my gratitude for what they did for me, and I'm so looking forward to my next visit, hopefully in 2018.
Once again, thank you everyone.