The local folklore in Wilkes County has many interpretations of the drama.

Since it would lead too far to retell all the different stories, I will just tell one version here.

Along the way, I will also mention (in parentheses) some of the significant discrepancies between different versions of the legend.

So here goes the story as I read it some time around 2002, before really digging into the matter.



Tom Dooley was born in the small town of Elkville in Wilkes County, North Carolina in the mid 1800's.

When he grew up, he was dating a local girl, Ann Foster, but then the civil war broke out.

Tom's two older brothers enlisted in the war on the Confederate side, and a year later Tom himself joined, although he had to lie himself older, as he was only 17 at the time.

Towards the end of the war he was captured and he spent the rest of the war in a Union prison camp.

In 1865, when the war was over, he was released and returned to Elkville.

Back home he learne

d that both his brothers had died during the war, and that Ann Foster had married an older man, James Melton.

Tom began to take an interest in Laura Foster, Ann's cousin (in some versions of the legend, Ann and Laura are sisters).

Some thought that Tom only faked interest in Laura to make Ann jealous, while others were convinced that he meant his courting seriously.

Laura had other admirers, among other the schoolteacher (in some versions the local sheriff) Bob Cummings (in a couple of versions called Bob Grayson), a Yankee who had come to town after the war. (In at least one version of the legend, Cummings (Grayson) wooed Ann Foster Melton as well as Laura, and in one version, one of Laura's other suitors is none other than James Melton, Ann Foster Melton's husband.)



Laura and Tom agreed, despite the many suitors that the two of them would run away from home and marry.

(According to some versions of the story Laura was pregnant, and one version even knows that she was three months pregnant.) One night Laura packed all the clothes she could carry along on horseback and left her home on her fathers horse, and she was never seen again alive.

The family searched for her but without success, and people in the neighborhood were convinced that she had eloped with Tom.

Some days (in some versions up to three weeks) after her disappearance the horse returned with a broken bridle. A renewed search was launched, especially at the behest of Bob Cummings, and they found a place in the woods where her horse had apparently been tied up. But they didn't find any trace of Laura.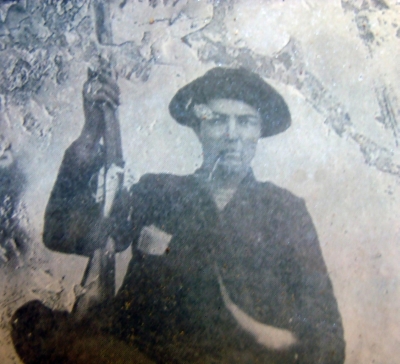 The photo to the left was found in a box of military papers of the Dulas. It may be Tom himself, but it could also be his older brother, John. The original is kept at the Tom Dooley Art Museum at Whippoorwill Academy and Village in Ferguson, North Carolina and is shown with permission from Mrs. Edith F. Carter, owner of the museum.
Now a rumor began to circulate among the locals that Laura had been murdered and her body thrown into the Yadkin River that ran through the area. Shortly after Ann Melton had a quarrel with her cousin Pauline Foster. (In some versions Pauline is Ann's sister, and her name is occasionally written as Perline or Purline. The latter two forms, are reflecting the way the name was pronounced in the local dialect.) Witnesses heard Pauline say to Ann that she would tell what she knew about Laura's disappearance, and Ann had replied that she and Pauline were equally guilty. The authorities questioned the two girls, and Pauline broke down and explained that Tom Dooley had murdered Laura, and that Ann had helped him dispose of the corpse.

Pauline now showed a new search team to the spot where the body was buried. Joining this search team were Ann's husband, James Melton and Bob Cummings, both of which was in love with Laura. When a horse stepped in some loose soil in a thicket, they started digging on the spot, and actually found the body of Laura Foster. The grave was very short, so her legs were broken. She had been stabbed in the chest with a knife, and in the tomb was a bag containing her clothes, so there was no doubt that it was Laura. Her body was taken to German's Hill, the township where she lived, and here she was buried on a hill, now called Laura Foster Hill.

The investigation of the murder began. Bob Cummings claimed he had found a handkerchief belonging to Ann Melton in the grave, and therefore an arrest warrant against both Ann and Tom was issued. Everybody who knew Laura, however, was under suspicion, and many of those who had known her fled the state, including Tom Dooley and Pauline Foster. Tom Dooley went to Tennessee, where he was working under the name Tom Hall, and he worked for four days on a farm, where he earned money for a pair of boots. Then he fled again, but shortly after he was caught by a search team led by Bob Cummings. He was brought back to Elkville together with a Jack Keaton, who had been arrested along with him. Bob Cummings told the authorities that Tom Dooley had killed Laura Foster and Jack Keaton and Ann Melton had helped him. Keaton, however, could provide an alibi and was released while Ann Melton was arrested.

The well known attorney and former Civil War governor of North Carolina, Zebulon Vance, under whom Tom had served during the Civil War, offered to defend him. At the trial the prosecutor proved that Tom had had an affair with Ann Melton, and the jury was convinced that he also had had an affair with Laura Foster. Bob Cummings came forth with a witness, Betsy Scott, who explained that she had heard from Laura that she (Laura) would run away with Tom, and Vance could not get her to change this story. Tom was found guilty, and in 1868 he was hanged. On the way to the gallows Tom rode on a cart, where he sat on his own coffin, playng tunes on his banjo, while he joked with the sheriff, "Had I known that you would use such a new, fine rope, I would have washed my neck." Later, when he stood on the gallows he said "Can you see this hand? Can you see it tremble? Can you see it shake? I want everybody to know that I did not harm a single hair on that girl's head." Then the trapdoor was released and Tom was hanged.
After the execution the body was claimed by Toms sister and brother in law and taken home to be buried on family land.

Later Vance also defended Ann Melton, and unlike Tom, she was acquitted of murder. While she was in prison, she said: "There will not be put a rope around this beautiful neck" and she was right. Rumors of her involvement in the murder followed her for the rest of her life though. Some years later Ann Melton died after being chrushed under a cart that rolled over, and on her deathbed, she said that she could see hell's fire at the end of the bed and that black cats crawled up and down the walls, and that she could hear noises like hot glowing stone that was thrown into water.
In a few versions of the legend Bob Cummings married Ann after the trial. According to some versions, the murderer was the jealous Bob Cummings, sometimes in conspiracy with Ann. In one of the versions in which Ann and Cummings married, she revealed on her deathbed that it was she who had murdered Laura and Tom had nothing to do with it. This shook Cummings so much that he left the state and settled in Tennessee. Some stories has Pauline as the murderer (sometimes jointly with Ann) and a single version simply knows that Laura was killed by a stranger.
Famous guitarplayer and folksinger Athel "Doc" Watson has a version of the story, that differs in parts from the other versions I have read. It has more details for some parts, and quite a different story for other parts. Maybe this story is from a later time because it knows, what later became a local truth, that it was Ann Melton who actually killed Laura Foster out of jealousy and Tom Dooley just helped her cover it up. In this story it's not Ann that hears the sounds, but Betsy Watson, Doc's great grand mother, who lived in the area and was present when Ann Melton died. Doc Watsons story is one of those, that claims that Sheriff Grayson married Ann Melton after Toms execution. The story also contains this sentence: "Local legend tells that both Laura Foster and Annie Melton were in love with Tom, and further that Sheriff Grayson, the man who took him in custody and also drove the horses from beneath him when he was hanged, was jealous of Tom"