The story until the disappearance
This is the story about Tom Dooley, not as the legend and songs tell it, but as it can be told from articles in contemporary newspapers, from the few trial records, that remains, and from other public records. More than 100 witnesses gave testimony before the Grand Jury and during two trials against Tom Dooley but only about twenty of these are remaining today. Besides that, resumes of the case made by two judges, statements written by the prosecution and the defense is the official records, that this story is based on. This is thus not the whole story, and probably not even the true story, as I will get back to in a later article, as some of the testemonies are dubious at best, if not plain lies. Some of the testimonies are contradicting each other, and therefore can not all be true. This first part gives the background and tells the story up to the day before Laura Foster disappeared.
Background
The story unfolds in the area around the small settlement Elkville (near todays Ferguson) in Wilkes County, in the western part of North Carolina. Elkville was situated about 15 miles east of the county seat in Wilkesboro. Yadkin River runs through the area, and the part of the Yadkin River Valley between Ferguson and Patterson was known as Happy Valley. Wilkes County was founded in 1777 and when the first Dulas came to Happy Valley from Virginia, a few years after the American Revolutionary War, they settled along the Yadkin River and in the hills around the valley. In 1841 parts of the county, where most of the Dula's lived was detached from Wilkes County and added to parts of Burke county to form a new county, called Caldwell County. Eight years later, in 1849, more parts of Wilkes County together with parts of newly established Caldwell County, Ashe County and Yancey County were put together to form Watauga County. This meant, that people involved in the case, lived in three different counties, Wilkes, Watauga and Caldwell, even if they had never moved!
In 1866, when the events took place, contemporary papers claim, the inhabitants of Happy Valley was divided into two distinct and separate classes. In the bottom of the Valley, close to the river lived the rich plantationers or farmers, with large plantations, and lots of employees. Before the civil war, slave labor was used on the large plantations, but after the war, in stead they employed people from the other class in the area. These were poor, and lived in the hills around the valley. The New York Herald put it this way in an article brought on the 2nd of May 1868, the day after Tom Dooley's execution:
"The community in the vicinity of this tragegy is divided into two entirely separate and distinct classes. The one occupying the fertile lands adjacent to Yadkin River and its tributaries, is educated and intelligent, and the other, living on the spurs and ridges of the mountains, is ignorant, poor and depraved. A state of immorality unexampled in the history of any country exists among these people, and such a general system of freelovism prevails that it is "a wise child that knows its father".
The report seems to have been just a tiny bit biased, and as it is correct, that there actually was two classes of people in the area, those were not as distinct and separate as suggested. I am also certain that some of the educated people have been immoral and that some of the poor people have been intelligent and so on.
One of the Dulas that had settled in the area, was Captain William Dula, a revolutionary war officer. His land was in the rich land in the valley. His brother Bennett also settled in the area, and claimed a little land in the valley, but most of his land was acutally in the hills. From these two brothers both the poor Dulas in the hills and the rich Dulas in the valley descended. Tom Dooley was Bennett Dula's grandson while his tenacious pursuer, James Isbell may have been a grandson of William Dula, making the two of them second cousins. Isbell was about 5 or 6 years older than Tom.
The beginning:
Tom Dooley and Ann Triplett, grew up about half a mile from each other on the banks of Reedy Branch (not far from and almost parallel with present day Bill Horton Road), a small tributary of the Yadkin River. Ann grew up with her unmarrried mother (and siblings) and Tom with both his parents (and his siblings). In 1854 when Tom was about 10 years old, his father died. Tom and Ann did not just knew each other, but from an early age knew each other even very well and they problably had a sexual relationship from the age of 13 or 14 (Ann being one year older than Tom). In 1859, at the age of 15 or 16, Ann Triplett (at that time using the last name Foster), married the 20 or 21 year old James Melton. In the beginning of the marriage, she probably still lived with her mother. During trial, her mother, Carlotta or Lotty Triplett (or Foster), testified, hat she had found Ann and Tom in bed together two years before the war, but after Ann's marriage to James. So the marriage did not stop the relationship between Ann and Tom. James apparrently didn't care, or dared not say anything to Ann about it.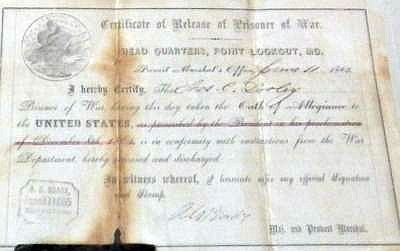 The image to the left depicts the release form that says that Tom Dooley has been released from prisoner of war camp. The form can be found among the Tom Dooley papers which are exhibited in Wilkes Heritage Museum (actually in Old Wilkes Jail) in Wilkesboro, North Carolina. The image has been edited with image improvement software.
In May 1861 North Carolina joined the Confederacy and a lot of men from Wilkes and neighboring counties, joined the army. So did Tom's two brothers, John and Lenny. Neither of them survived the war, and it is supposed that they both died in 1862. Wether Tom knew that when he himself joined the army in March 1862 is not known today. He had to lie himself older, but was enrolled in 42nd North Carolina Infantry Regiment, Company K as a private. In this particular company also served a lot of other men from Wilkes County, that later would be involved in the Dula case. From the trial records we only learn that George Washinton Anderson, one of the witnesses, had served with Tom in the army, but there were many others. Among these were James Melton and his two brothers, Francis and Alexander and James Scott (husband of witness Celia Scott). William Hix, the sheriff of Wilkes County who was responsible for Tom's arrest and incarceration served as a sergent in the same company. Tom's 1st cousin, William Leander Dula, Tom's 2nd cousin, William Carson Dula, Gay Hendricks, Leander Hendricks, Hezekiah Kendall and Jesse Gilbert; all witnesses for the Prosecution also served with Tom in Company K. One James Foster that may very well have been the oldest brother of victim Laura Foster, also served in company K, as did several other Hendrixes, Griffins, Gilberts, Halls, Scotts, Kendalls and Tripletts all of them living in the area around Happy Valley. Most of them were privates but Hix was a sergent and James Scott ended the war as corporal. Tom himself was promoted to musician (drummer) and according to war records served bravely until he was taken prisoner at The Battle of Wyse's Fork) on March 10th, 1865. He spent the rest of the war in Camp Hammond, a Union POW camp at Point Lookout, Maryland. On June 15th he made an Oath of Allegiance to the Union and was released. We don't know for sure today, but it is supposed, that he returned to Elkville immediately after his release.
Soon after his return, Tom and Ann resumed their relationship. They still lived rather close to each other, and as neither of them worked, they had a lot of opportunities to meet outside, which they did, but they probably also slept together in Ann Meltons home wether James was there or not. On the 1st of March 1866 Pauline Foster visited Laura Foster. We don't know why, but she mentioned it in her testimony. Maybe they were related as I mention in Main Characters, but that they knew each other was a fact. And at a later date, Laura even sent a message to Pauline by a negro boy. This happened after Pauline had arrived in Elkville, and been hired for the summer by Ann and James Melton for $ 21 to help James in the fields. Pauline arrived in Elkville early March but we don't know exactly when. Officially she was visiting her grandfather, but during trial, she admitted, that she had come to Elkville, to be treated for syphilis, a disease she had contracted while at home in Watauga County. According to her own testimony she didn't know Tom Dooley before she came to Elkville. She testified though, that after her arrival, Tom came to visit Ann almost every day, and that she and James each slept in one of the three beds in the house, while Tom and Ann shared the last bed. Sometimes she shared a bed with Ann and Tom as well. When guests visited the Melton home, they often found Pauline in Tom's lap, and sometimes they disappeared into the barn together. During her testimony she claimed, that she had only done this as a front for Tom and Ann. Other witnessses suggested though, that Pauline did not need any encouragement to be with either Tom or other men, and George Washington Anderson testified that she had "been together with" both him and Tom Dooley in the woods at least at one occasion.
From end March to May 24th
In the last part of March Tom started visiting Laura Foster according to her father's testimony. He surprised them on more occasions in bed together. Some sources claims that Tom and Laura got together already in January, but no testimony supports that. Tom must have stopped visiting soon after though, as Wilson Foster in another testimony states, that Tom hadn't visited for two months, before his visit on Sunday March 20th; see below. In the beginning of April 1866, Tom looked up Dr. G. Carter to be treated for syphilis in the first state. He told the doctor, that he had contracted the disease from Laura Foster. Soon after also Ann Melton started receiving treatments. During trial, Tom's contraction of syphilis from Laura Foster and giving it to Ann, was the main motif for the murder, according to Prosecution. John Foster West (Lift Up Your Head, Tom Dooley) tried to prove, that Tom couldn't have contracted the disease from Laura Foster, but must have contracted it from Pauline Foster and later spread it to both Laura and Ann. If this is true, he would have no motif for killing Laura. According to West the time from Pauline came to Elkville until Tom looked up Dr. Carter, fit the normal incubation time, if you allow one week from her arrival to her and Tom beginning a sexual relationship. And if he didn't start having sex with Laura til the end of March, it actually cannot have been Laura that gave him the disease. There wasn't time enough for the disease to break out between the end of March and Tom looking up Dr. Carter in the beginning of April. Unfortunately it does not weakens Toms motif, if he still believed it was Laura who gave him the disease. So whether Tom contracted his disease from Laura, Pauline or another woman doesn't matter. What matters is who he believed he got it from.
On May 13th 1866 Tom visited a neighor, Rufus D. Hall, an uncle of James Meltons then future wife, Louisa Gilbert. Hall testified, that Tom had told him that he would kill the one, that gave him the disease and Hall had warned him not to do it. One week later, on Sunday 20th Tom visited Laura and spoke with her for about an hour according to her father and three days later, Wednesday 23rd, he visited her again. Wilson Foster (Laura's father) was not at home when Tom arrived, but he found them close together in front of the fireplace. One witness (Betsy Scott) testified, that she saw Tom Dooley that Wednesday on foot about three miles from Wilson Fosters house. Why the judge and clerk of the case have found this statement significant is not clear. Wilson had already tesitifed, that Tom was visiting his daugther, and even if not, placing Tom three miles from the victims home, was acutally placing him closer to his own home, and he could have been coming from anywhere.
The next day (Thursday 24th of May) Ann Melton told Pauline Foster that she (Ann) had contracted syphilis from Tom and that her husband James also had the disease. She would fool James into believing, that he had given it to her. She would kill Laura Foster, and if Pauline told this to anybody, she would kill her too. Unfortunately this conversation is only mentioned in Pauline's own testimony, and is not confirmed by anyone else. Later that same day, Tom Dooley visited Ann Meltons mother to borrow a mattock. He would use this to improve the path leading from his house to the Foster place, according to one witness "to make it more safe to walk at night". Later Laura's body was found a few hundred yards from where Tom had worked the path. In court this was taken as evidence of Tom using the roadwork as a sham, while he was actually using the mattock for digging Laura's grave. This was accentuated by testimony from James Isbell, that he had seen traces of a mattock in the side of the grave when the body was discovered. One witness testified, that she had seen Tom digging (skelping) on the path, where he said he did. Another witness said that there had been made no improvement to the path while Mary Dula testified, that the path had been improved, but she didn't know who had done it. Lotty Foster, Ann's mother testified that "a little digging" had been done in two places on the path between her house and the Dula place. Surprisingly enough, Rufus D. Horton, one of the rich plantation owners from the valley, served as a character witness for Mrs. Dula, testifying that she was known as an honest and truthful person.
Later the same day, Ann left her house with a canteen filled with liquor (moonshine), delivered earlier by Carson Dula by request of Tom. He had borrowed the canteen from Pauline Foster, and he had given it to Carson Dula for him to fill, indicating that Carson Dula must have been present too. Ann took the canteen to her mothers house, where she asked "A little girl" (maybe one of her younger sisters) go down to Mary Dula's house and tell Tom about the liquor. She was not to tell though, if his sister, Eliza was present. In that case she should pull his sleeve or step on his foot or something and tell him, that Ann's mother wanted to see him. The little girl went to the Dula cabin, but didn't find Tom. He arrived at Lotty Foster's later in the afternoon. He talked for a while with Ann and got the liquor. Tom and Ann then left the cabin in opposite directions. This was about 3PM, and Ann did not return to her own house, until early next morning an hour before dawn. She took of her clothes, and Pauline Foster noticed that her shoes and the bottom of her dress were wet. Ann told Pauline, that she, Tom Dula and her mother had laid out all night, emptying the canteen of liqour. Later the canteen was found under a tree, where Ann had said they left it.