Tourist in Dooley Country
This new article is a replacement and expanded verison of the last part of the article North Carolina, Wilkes County, Elkville - history, nature, geography. Visiting the Tom Dooley sites. The part "Visiting the Tom Dooley sites" has been removed from that article. This new article has more places to visit and more detailed information on how to get to them. If it's to detailed, just don' read the descriptions. Included in this article are a few places, that has absolutely nothing to do with the Tom Dooley story, but is worth a visit anyway, and many more could have been included, as this part of North Carolina have a lot of exciting places.
Introduction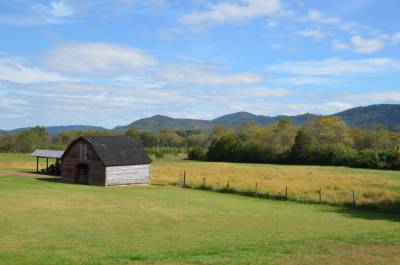 The photo on the left shows the Yadkin River Valley, seen from NC Highway 268 near the small village of Happy Valley.
Through the Yadkin River Valley runs North Carolina Route 268. It begins at U.S. Route 321 near the small settlement of Happy Valley outside Lenoir and continues east for 90 miles to it's eastern terminus at North Carolina Route 89 near Moores Spring. It was within a distance of less than two miles of this modern road, that the events of the Tom Dooley case evolved, and that most of the involved lived. A trip along NC 268 from Lenoir to Ferguson with a few detours, is a good way to explore the area, where Tom Dooley, Laura Foster, Ann Melton and all the other involved hung out before, during and after The American Civil War.
I will begin this tourist tour in Lenoir, as it is closest to the interesting places, but I might as well have started in Wilkesboro. In both towns are plenty of rooms to get, but book in advance. At one time, all rooms were occupied, when we got there! I have to admit, that I have only stayed in Wilkesboro though, not in Lenoir. Also Boone in Watauga County is a possible place to stay and here are even more hotels than in Wilkesboro and Lenoir. It's a bit farther away from the area though. But let's get started.
The Dooley area
Take U.S. 321 north from Lenoir. Starting at NC 18 in central Lenoir, you go north for around 5.7 miles to NC 268. Turn right here. After half a mile, the road turns sharply left, and after another half mile, you have to turn right to stay on 268. If you continue straight ahead, you will be on NC 1560 heading for Patterson (also home of some Dula's but none related to the story. When you turn right, you cross the Yadkin River for the first, but definately not for the last time. On the corner of 1560 and 268 is a North Carolina Historical Marker. This marker tells that the old home of General William Lenoir is found 4,5 miles east, along NC 268. About 2.5 miles further on, you'll find another historical marker. This one telling you about civil war general Collett Leventhorpe, who is buried in the cemetery of a small chapel, The Chapel of Rest, on the left hand side of the road. The chapel is no longer used as such, but is open to the public, and the cemetery also contains graves of members of the Lenoir, Cowles and Jones families. By the way, if your're interested in paranormal stuff, the chapel is supposed to be haunted. The story goes, that a preacher caught his wife cheating and hung himself from a rafter in the chapel.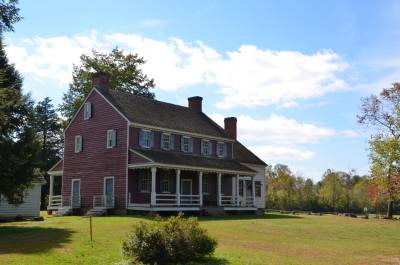 The photo on the left shows Fort Defiance, the old home of General William Lenoir.
The part of the river valley from Patterson to Ferguson is what is known as Happy Valley. If you continue east for 2 miles from the Leventhorpe marker, you will get to Fort Defiance Drive on your right. This is a small gravel road. If you follow it as far as it goes (0.2 miles), you will get to the old home of General William Lenoir, revolutionary war officer, militia general and founder of Wilkesboro. He had nothing to do with the Dooley story, but the place is interesting nonetheless. Behind the small office building, you find the Lenoir Familiy Cemetery, where the general himself, his son in law, general Edmund Jones and several other family members are buried. The cemetery is still in use and on my visit in 2013, the latest burial had taken place in 2000. The house is from 1792, and where it now stands, used to be a palisade, called Fort Defiance, where colonists could take hiding in case of attacks from hostile indians. General Lenoir named his house the same in memory of the fort. The house is a good example of how the wealthy plantation owners of the area lived around 1800 and the years that followed.
From Fort Defiance Drive continue east on NC 268 for 3.7 miles. On your left you will see a small road, leading up to the hills. This is Germans Hill Place. Laura and her father lived somewhere beyond the end of the small road, probably closer to Laytown Road, but don't waste your time; there is nothing to see up there. 380 yards after Germans Hill Place is a short cul-de-sac, not more than 60 feet long or so. Here you find a low column with a historical marker, telling the story of Laura Foster. Unfortunately the date of the murder is wrong. 300 feet further along NC 268 you see a small white fence in a field on your right hand side. This is Laura Foster's grave. The grave is on private property, and an electrical fence surrounds the field where cows often are grassing. You can get a good view of the grave from the road though. Park you car on the cul-de-sac and walk the distance to the grave. There is access to the grave once a year during the local fiddler's convention that takes place in the Labour Day weekend on the very same field. Today the field is owned by a descendant of the Jones familiy, but at the time of Laura's burial, it was owned by J. W. Winkler, one of the witnesses from the trial. By the way, the year of the murder mentioned on the stone is wrong.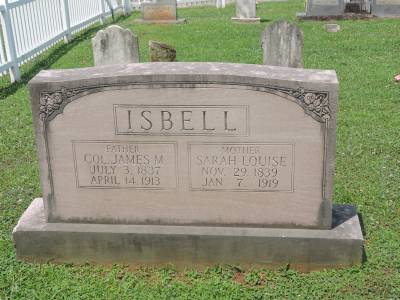 The photo on the left shows the memorial stone for James Isbell and his wife, Sarah Louise on Grandin Baptist Church Cemetery.
Continue 1.3 miles to Grandin Road on your right. Along the way you have passed the homes, or rather the home sites of quite a few of the witnesses. Unfortunately all the buildings are long gone. Turn right on Grandin Road. 0.3 miles later you cross Yadkin River once more. Continue another 1.4 miles to Howell Farm Road on the right. Turn right here and drive 500 feet to Grandin Baptist Church. On the cemetery to the left of the church, you find a memorial for James and Sarah Louise Isbell, Tom's eager pursuer and his wife. They are both buried here, but apparently with no separate gravemarkers. Also the graves of many other members of the Isbell family, like some of James' children, his parents, grandparents, and his sister, Cornelia Greer and her husband., Lafayette. Also two members of the Dula family are buried here, though they were only small kids at the time of the trial. The two Dula's in question are John and Savannah Hendrix Dula. This John was son of Tom's first cousin Thomas Maguire Dula and was born in 1863.
Return to Grandin Road after the visit at the cemetery and turn north towards NC 268. After 0.4 miles your get to Coppage Farm Road on your right. Around where this road ends, Dr. Carter's home once stood, but there is nothing to see today, so just continue 0.9 miles to a small church on the top of a low hill on your right hand side. This is historic Mariah's Chapel, the first religious building to be built in Happy Valley in 1879. The church is on the National Register of Historic Places. The chapel was financed by Moriah Ernest, a granddaughter of Captain William Dula, and is named after her. On the cemetery of the chapel you can visit the graves of Dr. George Carter, his wife, son and daughter in law. Also James Melton's brother, Francis and his wife, Mary, and some of their many children and grandchildren are buried here. Also a few Dula's are buried here, a.o. William Lee, a son of Tom's cousin George Anderson Dula. Also (Martha) Moriah Ernest, who had the chapel built is interred here, almost within eyesight of her old home.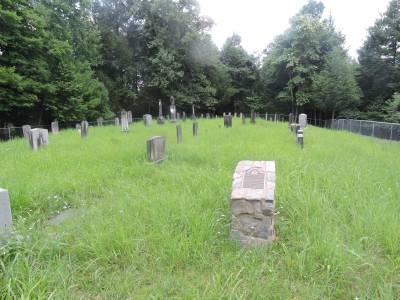 The photo on the left shows the Dula-Horton Cemetery on Concil Farm Drive.
Let's continue to yet another cemetery! As everyone involved in the case are dead, cemeteries where they are buried, are the best you can get! Return to NC 268 and turn right (east). Continue east for 1.3 miles to Counsil Farm Drive (by the way many members of the Counsil family are interred on Mariahs Chapel Methodist Church Cemetery as the full name of the above cemetery is). Turn right on Counsil Farm Drive. Continue 0,2 miles down the cul-de-sac to where the road stops. Walk from here 200 feet on a small path to the Dula-Horton Cemetery. Also this cemetery is on the National Register of Historic Places. This small cemetery (only 74 interred in all) was founded by Captain William Dula, brother of Toms grandfather. He, his wife and a lot of their descendants are buried here. Among these are Thomas and William Beasley Dula, cousins of Tom's father. You can also visit the grave of David Horton, James Isbell's father in law, who found Laura's body together with James. Also interred here are, Isbell's brother in law, Larkin Horton, General William Horton and his wife, witnesses Phineas and Rufus Dula Horton, witnesses C. C. and C. P. Jones, Dr. Carters father in law and brother in law and other members of the Jones family. Also Dr. Carters daughter, Julia who only lived for a few months in 1857 are buried here, as Mariah Chapel didn't exist at the time of her death.
Return to NC 268. I can promise you, that we will only visit two more cemeteries on this tourist tour through the area. On your way back to the highway you pass a modern residence. At this place, Captain William Dula built his house after The Revolutionary War, where later his son in law Major David E. Horton lived with his familiy. The old house burned down in 1949. More houses are to be built in this area, but the cemetery will survive. Turn east on the highway and go on for 3.2 miles to the present day county line; nothing much to see here though. 500 yards further down the road you pass Elk Creek, that was the county line at the time of the murder. Another 300 feet further on, Elk Creek Darby Road leads north. On your right hand side is a parking lot next to Eller's Store. This is a good place to take a break and maybe visit the store. Across the road from the store is an open field. This is where Cowles' Store used to be. You will also see a signpost, stating that this is Elkville. Return to you car and head north on Elk Creek Darby Road. Along this road (and creek) other of the witnesses lived. After 1.3 mile you pass another church with a cemetery. This is Elk Creek Baptist Church. There is no reason to stop here, even if Ann Melton's oldest daughter, Martha Jane and her husband, Edmund Allen is buried here. Instead continue another 400 yards to Glady's Fork Road on your right.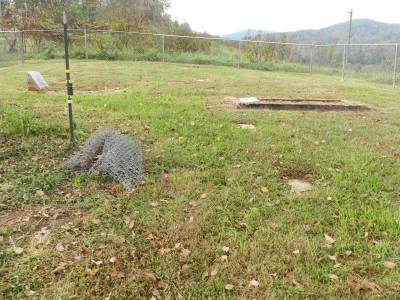 The photo on the left shows the Melton Family Cemetery near Gladys Fork Road. The headstone to the left is on Ann Melton's grave while the framed area on the right is the grave of Sarah Melton Walsh.
Turn right on Gladys Fork Road. As you move on, you wll pass valleys and ridges, where many of the people involved in the case, lived, like James and Celia Scott, Carson Maguire Dula and others. After 0.9 mile you reach a small road on your left. It has no name and apparently just leads up to a house on the ridge. Drive up the road anyway. 250 feet up the road is another small cemetery on your right. You should be able to park the car so not to bother other pepole going up or down the road, which I have never experienced so far. The is the Melton Family Cemetery. About 20 people are interred here, but only two graves has stones, the other just markers. The ones with stones are Ann Melton and her sister in law, Sarah Ann Melton Walsh. Ann's mother, Lotty Foster had her cabin on the ridge, where the modern house now stands, and Ann and James lived further up the ridge. From the small road, continue 500 feet further east to a gravel road on your right hand side.
Between the two roads you pass a small creek, that is Reedy Branch. Turn right on the gravel road, Bill Horton Road. It almost parallels Reedy Branch going south. Around 550 yards down this road, up on the ridge on your left hand side, is where Laura Foster's body was found. Nobody knows the exact place today, and the hillside is rather inaccessible, so don't try to climb it. It's private property by the way. 0.9 miles from Gladys Fork Road, you will pass a modern house on your left hand side. This is where Tom used to live with his mother and sister, though the cabin is long gone. On your right Reedy Branch is normally rather visisble around here, at least in the spring and fall, when it's not covered in foliage or snow. Continue on Bill Horton Road until you are back on NC 268.
Leaving the Dooley area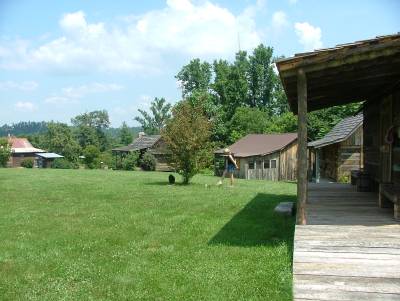 The photo on the left shows part of the Whipoorwill Academy and Village in Ferguson. The building on the near left houses The Tom Dooley Art Museum.
Turn left on the highway. Continue 1.5 miles past Ferguson. You are nown leaving Happy Valley. Right after you have crossed Yadkin River once more, State Road 1164, named Tom Dula Road takes off to the left, but we will leave that for now. Instead continue another half a mile. On your left hand side will be a road leading up to Whippoorwill Academy and Village, a small open air museum, that until her death in May 2014 was run by Mrs. Edith Ferguson Carter, a descendant of Laura Foster's paternal aunt. Today the museum is run by her family. Mrs. Carter was an artist, and besides the old houses and replicas of old houses, one of these houses serves as a Tom Dooley museum, with a lot of artwork done by Mrs. Carter, giving her version of the Tom Dooley story. The museum also has a lot of papers, pictures and other memorabilia connected to the case. You can also see the field stones that were originally placed on Tom Dooleys and Ann Meltons graves. The museum is only open Saturday and Sunday from 1 to 5 pm or by appointment. Remember to visit the small store at the museum. Here you can buy marmelade, pickled bamboo and other edibles, and of course some stuff related to the Dooley case.
After the visit to the museum, it's time to relax for a while while driving the 12 or 13 miles to Wilkesboro. When you get to town NC 268 intersects with U.S. 421 but just continue straight ahead. From the intersection continue 1.3 miles to N. Bridge Street and turn left here. On the corner of NC 268, here called W. North Street and Bridge Street is an old courthouse from 1902. It's on the site, where the even older courthouse, where Tom's case was first put to trial, once stood. The building now houses the Wilkes Heritage Museum. It's well worth a visit, if for nothing else, then to arrange a visit to Old Wilkes Jail behind the courthouse. Here you can see the cells that once housed Tom Dooley and Ann Melton, the jailers home and so on. The tour includes a visit to the Robert Cleveland house behind the jail. It has nothing to do with the case, but is a good example of how a rather wealthy famility of two adults and 13 children lived in the late 17- and early 18-hundreds.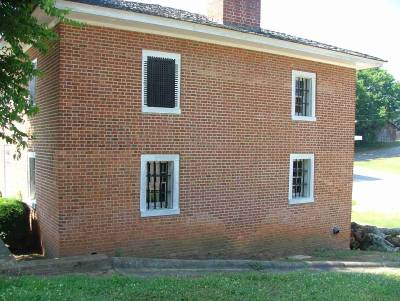 The photo on the left shows The Old Wilkes Jail. Tom Dooley was incarcerated in the upper left cell, and Ann Melton in the neighbor cell to the right.
From Wilkesboro you can continue around 31 miles on NC 115 to Statesville, where Tom was jailed, tried and executed. There is not much to see though, as both the courthouse and jail are long gone, and the place of execution has faded into oblivion, as the railway station used to locate it in the papers of the time has disappeared. If you dont wan't to go to Statesville, return to Ferguson the same way you came, and pick up my lead from the header Tom's grave below. If you are going anyway, head back to W. North Street and turn right. Continue for half a mile to S. Cherry Street. After another 0,7 miles, you are at the U.S.421 entrance. Take 421 east for around 3 miles then take the exit to NC Route 115 (Exit 282). Stay on 115 to and through Statesville. Just before Statesville you will cross I-40 and from here the road is named Center Street, here N. Center Street. After Broad Street it changes name to S. Center Street. 2 miles from I-40 Center Street splits in two. S. Center Street leads to the left but keep right on Shelton Avenue for 400 yards, then turn left on Depot Lane. Here you find the Old Railway Depot from 1906; which is no longer a train station, but houses the Statesville Housing Authorities.The execution took place on the other side of the tracks from this building, where the railway depot was in 1868. The exact site of the hanging is hard to locate today, as there are no markers. It was then known as "The Circus Lot", but when trying to locate this place, I get different instructions depending on who I ask, if they know at all. In my opinon it is either near the corner of Harrison Street and Chambers Street 350 yards north east of the present building, or on the corner of Washington Street and Jefferson Street 220 yards east of the building. You can reach both places by car, but it's much easier and faster just to cross the tracks on foot. Be careful to watch out for trains though. Finally the place of execution could have been on the eastern part of where now Bartlett Milling Company resides.
Leaving town, you can go back the same way you came, or if your'e interested in more haunted places turn south on Shelton Avenue when you exit the Depot Lane. After 225 yards turn right on U.S. 70 (Garner Bagnal Boulevard). Stay on U.S. 70 for 1.3 mile, then turn left on Buffalo Shoals Road (SR 1004). Continue for 1.4 miles to a bridge across a hollow, right after a large waste disposal site. Stop near the bridge and look right. In the distance (500 feet away) you see a railway viaduct. This is Bostian Bridge crossing Third Creek which runs through the hollow you stand above. On August 27 1891, 23 people were killed in a railway accident on this bridge. I may tell this story at another time, but let me for now just add, that the bridge is supposed to be haunted by the people who were killed in the accident. Return to U.S. 70 and turn left. Soon U.S. 70 will be come U.S. 64l. Continue for 20 miles to Taylorsville. Turn right on Liledown Road which will become NC 16, and continue for 14.5 mile to the intersection between NC 16 and NC 18 in Moravian Falls. Turn left and take NC Route 18 west. If you want to take a detour to see the acual falls, turn left on Falls Road half a mile down 18. The falls are another half a mile down Falls Road. Return to NC 18 and continue 5.3 miles to Boomer. Turn right on SR 1114. After just 2.8 miles, you are back on NC Route 268. Turn left and head back towards Ferguson.
Tom's grave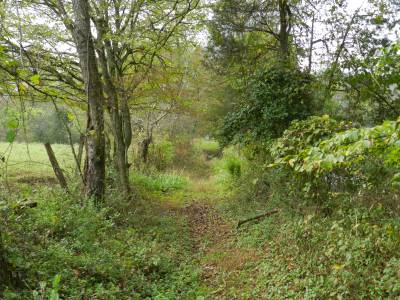 The photo on the left shows the path leading to Tom's grave. The stone on the grave can be spotted in the background of the picture.
Just before Ferguson you'll get to SR 1134 or 1164 on the left. The signpost on the corner has SR 1164 and Google Maps and Google Earth have 1134. Anyway this is Tom Dula Road and you should turn left here. Go down this road for almost 1.1. mile, not 1.5 mile as the historic marker on NC 268 claims. You should now be at a small, muddy road on you left hand side, leading up to a closed and locked gate. Find a place to park the car if you can. Walk up the muddy road or entrance or whatever, to the gate, if you can ignore the postings, that tries to warn you off. Just before the gate a narrow, overgrown path leads to the right. Follow this path for 500 feet, and you are at the Dula Family Cemetery. 20 or 30 people are interred here, but the only stone is Tom's. He has a footstone as well as the headstone, which unfortunately has been vandalized by souvenir hunting tourists - thus the scare offs. By the way, Laura Foster's ghost is aid to visit Tom's grave from time to time, but I have never seen her myself.
After your visit, return to your car and continue west on Tom Dula Road. Around two miles later you cross the county line and is back in Caldwell County. Here the road becomes unpaved but continue anyway. The road has changed it's number to SR 1510 but is still called Tom Dula Road. The small creek that parallels the road (or the other way around) for some time is Kings Creek. Another two miles later you are back on Grandin Road, just south of Grandin Baptist Church. Turn right and head north for 0.7 miles. Then turn left on Zacks Ford Road. Near this road lived a few of the wealthy landowners of Happy Valley, among them Welborn German, who had given his name to Germans Hill, where Laura and her father lived. 11 or 12 miles later, you are back in Lenoir, where you started.
This tour may be too much for one day, if you will spent time at some or all of the sites. You can of course split it as you like. I have spent about a week exploring the sites myself, but I was doing a lot of research along the way.
Other places of interest around the area
There are so many interesting places in western North Carolina, that several books could be or has already been written about them, so I will only pick out three, that I find interesting.Two west of Lenoir and one east of Wilkesboro. One of the things that I don't mention heree is the Blue Ridge Parkway, wich is worth a story of its own. My first site, Blowing Rock, is very close to the parkway though, so if you are there anyway...
Blowing Rock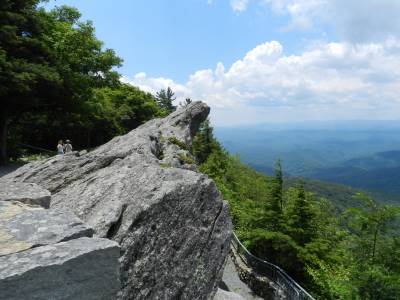 The photo on the left shows Blowing Rock in Watauga County.
Blowing Rock is only 21 miles north of Lenoir on U.S. 321. It's a small town of less than 1,200 people, 3,500 feet above sea level in Watauga County in the eastern Blue Ridge Mountains. Some of the legends, and later sources of the Dooley story like to think that Pauline Foster lived in the Blowing Rock area, before moving to Elkville to seek treatment for her decease. I find it unlikely though, as Blowing Rock is less than 7 miles by road from the county seat of Boone, where they were a selection of physicians at the time, while there were 15 miles to Elkville as the crow flies, and at least 25 miles by road. I still find it more likely that she lived in Stony Fork, Elk Creek, Deep Gap, Triplett or another of the small settlements just north of Elkville.
But what is there to see in Blowing Rock? Well what I like to visit is the Blowing Rock, the rock that has given the time it's name. The rock is towering over a gorge, and the prevailing winds blows from the gorge up the steep slopes gorge and past the rock, so you can observe snow "falling up" in winter, and leaves doing the same in the fall. A Cherokee legend tells about a young warrior who wasn't allowed to have his Catawba loved one, and therefore in despair jumped from the rock. Tyhe young maidenm paryed for him to come back, and the wind carried him back to the rock, where his loved one waited for him. And they lived happily ever after - or something like that. Thats of course not the whole romantic legend, but enough to explain the name.
The rock itself is on private property, but the entrance fee is reasonably low ($ 7 per adult and $ 2 per child in 2014). Shortly after you entered Blowing Rock on NC 321 and a few feet before Green Park Inn, signs will direct you left to Blowing Rock Park. Turn left on The Roc k Road and follwo it 0.3 miles to the park.
An outlook on NC Highway 181
The next place west of Lenoir is completely free of charge, and the chance, that you will see absolutely nothing are verfy good! The place I will take you to, is simply a rest area and mountain overlook on North Carolina Highway 181 between Morganton and Pineola. This place is best visited in October or November, or so I've been told, and at nighttime. So that was where. Now how to get there, and finally I will tell you why you should go.
Once again we will start at the intersection between U.S. 321 and NC 18. This time though, go west on Harper Avenue for 1.3 mile. Here the Harper Avenue intersects with West Avenue coming from you right. Continue west on Harper Avenue 0.8 miles to Creekway Drive. Turn left and immediately after (0,1 mile) turn right on Abington Road (NC 1310). Stay on this road for 7.2 miles, then turn left on Collettsville Road (NC 90). In about 0,8 miles your will be in Collettsville.Turn left on Adako Road (NC 1337). After 4.2 miles the road changes name to Brown Mountain Beach Road when you cross the county line between Caldwell and Burke counties. At the same time the road changes number from SR 1335 to SR 1405. Continue another 4.2 miles to NC 181. Turn right here, and head north for 7.7 miles. You will now be at the overlook on your right hand side. While on NC 181 look out for bikers as the road is part of NC Bicykle Route 2. If you are going for the first time, it may be a good idea to do the drive while is daylight, as the roads are narrow and winding. If you are going up there after dark, like I did on my first visit, drive slowly and use your high beam as much as possible without bothering other drivers. A lot of wildlife crossed the road, and a deer jumped out from behind a bush just 20 yards ahead of me.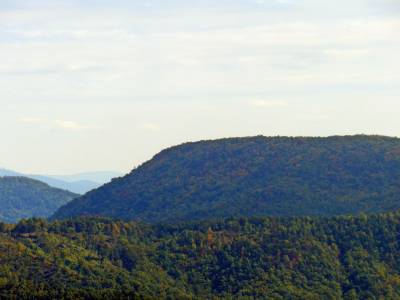 The photo on the left shows Brown Mountain at daytime. No lights can be spotted even if they are said to appear at daytime as well, but are easilier spotted in the dark.
So now you are here, but why have I brought you to this desolated place at nightime? Well first of all it's probably not that desolated. When I was there, there were 7 or 8 cars at the outlook, when I got there. Some left during my stay and other arrived. What were we doing there. Well we were all busy staring east. Some with cameras, some with binoculars and other with spotting scopes. We were hoping to see a phenomenon called The Brown Mountain Lights. These are some mysterious lights that sometimes appears on and near Brown Mountain about five miles east and a bit to the south of the outlook. The lights can be seen from other places as well like from two outlooks on the Blue Ridge Parkway (mileposts 310 and 301) but this is the best observation point. Unfortunately the lights don't appear on command, don't appear every day, and don't appear all the time, when they do appear, so you have to be patient and alert, and maybe have to return for some nights to be lucky. But you don't have anything better to do at nighttime, do you?
Anyway reportedly the lights are most often seen from September to November, and between 8 pm and 2 am, especially on a night after rain. In modern times, the lights have been reported since 1913, but the legends go back a lot further to the 1700 hundreds, and a Cherokee legend place it as early as in the 13th century. Most scientist agree, that the lights are real, but not on what causes them. Many explanations have been given, but maybe still not the right one. I like the Cherokee explantion best though, as it is quite romantic but sad. Many hundred years ago, the Cherokees fought a big battle against the Catawbas on Brown Mountain, and many warriors on both sides were killed. In the end the Cherokees won the battle, and when it was over, the Cherokee maidens went up the mountain to look for their killed loved ones. They didn't find them but are still looking, and it's the light from their lamps, you can see.
The lights are volatile and show only for a few seconds, sometimes up to ten seconds at a time, but they normally only last for 3 or 4 seconds before disappearing. Some are steady while other move. Som are low, between the trees, while some move up in the air and disappear. Some are seen on the slopes of the mountains, while other are seen over the valley to the left of the mountain ridge, where they move back and forth. I stayed up there from around 8.30 pm to 0.30 am and got to talk to a local guy, a photographer, who had studied the lights for 10 years. He showed me photographs he had taken the night before, that definately showed lights, though I can't say if they were "real". He had spend each night of that week at the lookout, armed with several cameras including an infrared ready, and had taken some convincing pictures. While we were there we saw a lot of lights. Most were not mysterious at all, but were lights from cars, one from a plane, and some from bear hunters camping in the area. Three lights though were a little different. Two was dubious according to mư expert, but one was definately a genuine Brown Mountain Light. When I left to return to my hotel in Wilkesboro, he told me, that he had planned to stay until 4 or 5 in the morning, like the first five days of the week.
If you don't want to take the narrow roads back to Lenoir, head south on NC 181 all the way to Morganton. From there take NC 18 back to Lenoir.
Swan Creek wine trail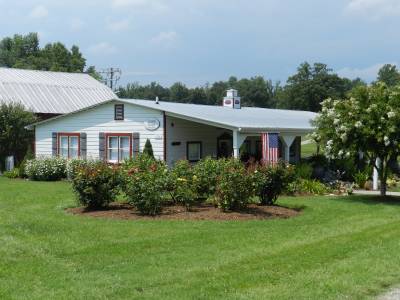 The photo on the left shows Laurel Gray Winery tasting room, near Hamptonville.
The Swan Creek winetrail is east of Wilkesboro, so you have to get there first. Today there are five vineyards in the Swan Creek area; Raffaldini near Ronda, Dobbins Creek, Shadow Springs and Windsor Runon, all near Hamptonville, and finally Laurel Gray also near Hamptonville. Check the internet for opening hours. All five places have a website, but you can also visit The Vineyards of Swan Creek homepage. All the wineries are rather new, Laurel Gray being the oldest, founded in 2000. This will be the one I'll guide you to, as it is close to the highway, and they can tell you how to find the other four. By the way Swan Creek is an AVA of its own within the Yadkin Valley AVA (AVA means American Viticultural Area).
From Wilkesboro take U.S. 421 east to to exit 267. Turn left on Windsor Road (the road the xit leads to), and drive 0.3 miles to Old Highway 421. Turn right here and drive 275 yards to the entrance to Laurel Gray Vineyards and Winery on your left. Could it be easier? I will leave up to you how to get home and how many wineries to visit.
Normally I don't recommend anybody to buy anything, but the wines are good, and I personally like the Viognier white and the Cabernet Franc red, but also the sweet blackberry wine. But what I really recommend is the BBQ sauce. It is excellent. The Vinaigrette and Chocolate Cabernet Wine Sauce are good as well, but nothing tops the BBQ (in my opinion that is) - and no, they don't pay me anything to tell you this.