Put her into Spencer on Time
My last full day in Statesville, or rather while I was based in Statesville, had arrived. The next day I would be moving northwest again to Ferguson in Wilkes County. But first I had to take a final trip out of Statesville. In fact, I was actually going to leave what I consider to be western North Carolina and head a little further east into the Piedmont area - not that far though. Of course, I had breakfast and a chat with Lori and a few other guests while we ate, but then I left the B&B. From Statesville I headed for Salisbury, located around a 45 minutes drive east of Statesville. Salisbury is the county seat of Rowan County, which is one of the oldest counties in North Carolina, and the city has been county seat since 1753. In fact, the city is the oldest inhabited place in the western part of North Carolina, but that's not why I was going there. In fact, my goal was not Salisbury itself, but the small town of Spencer east of Salisbury. Today, Spencer is almost a suburb of Salisbury, although it has its own city council. For all practical purposes, the two cities have grown together without open land between them.
So why did I want to go to Spencer? Let me begin with a brief background story. Spencer is named after a man called Samuel Spencer. He was the first president of the Southern Railway. Southern Railways' main line went between Washington DC and Atlanta, Georgia, and a workshop was needed about halfway between the two cities, and that was around Salisbury, so in 1896 the railroad opened a workshop just outside Salisbury, which went by the name The Spencer Workshops or just The Spencer Shops. In order for the employees at the workshop to have a place to live, a town was established in the area around the shops, and it was also named Spencer. The workshops were in use until about 1970, but from the 50s they were slowly phased out and in 1977 sold to the state for use as a museum, and today the North Carolina Transportation Museum is established on the site. And that was half of the reason why I wanted to visit the place. The other half is also related to the railroad, but goes back to about 1923 - in fact even back to 1903. In that year there was a terrible train wreck in Danville, Virginia, but that story is told elsewhere, so I will not repeat it. But I can say that at that time, Spencer was (besides from the workshops) also a hub on the line between DC and Atlanta, and one of the places where the railroad company was measured on whether their mail trains were delayed and the company would have to pay a fine for each minute delay, which may have contributed to the engineer driving the train too fast when approaching Danville. The fact is though, that out of this train wreck rose a song, The Wreck of the Old 97, which was first released on gramophone record in 1923. This song contains the verse: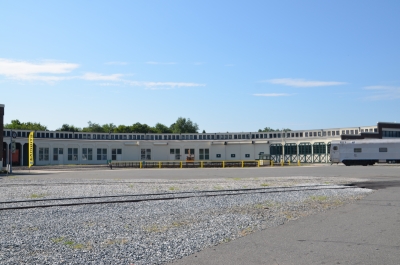 The Bob Julian Round House at North Carolina Transport Museum in Spencer.
"They gave him his orders at Monroe, Virginia,
Saying, "Stevie, you're way behind time.
This is not 38, but it's Old 97,
You must put her into Spencer on time."

So this was the last part of my reason for visiting Spencer - and the reason for the header of this article.
I found Spencer without getting lost, as it was pretty much just staying on US 70 from Statesville to Salisbury and then on US 29 the rest of the way. In Spencer, I had no trouble finding the museum either; in fact, the only problem was finding a shady spot in the large car park where I could park the car, because even at this time, around 10 am, it was already above 95 degrees. The best spot I could find was a bit of shade under a small tree with a not too dense crown, and so I went over to the ticket office. It is possible to take a tour around the museum by train, a trip of approx. 25 minutes, which would cost me $12, but I didn't want to wait for almost an hour for the train to leave the combined ticket office/station, and also, I believed that even in the heat I would survive walking around the area. I therefore only paid the $5 entrance fee with senior discount. After all, getting old has certain benefits. Had I been under 60, I would have paid one dollar more, unless I had been under 12, because then the entrance fee would only had been $4, but even if I look younger than my age, I don't look that young! After buying my ticket, I walked to the museum itself. The musem exhibits mostly trains, but there are also some cars and a few airplanes. I started with a tour of the outdoor areas, where there were several examples of both locomotives and train cars, and it was possible to enter some of them. However, I also visited a few smaller buildings, including the workshop manager's office and the so-called "flue shop", where you originally repaired pipes and chimneys (flues) and which today houses various exhibitions. I ended up at the Bob Julian Round House. A "round house" is a semicircular building, with a turntable in the open part of the semicircle. A track leads to the turntable and from this, tracks leads to workshops in the building where locomotives and cars could be worked on. The roundhouse in Spencer provides access to as many as 37 individual garages. Today, the building exhibits some engines and cars, so of course I went inside and looked at the locomotives (both steam and diesel) in addition to various train cars exhibited in here. The building is named for the workshop manager at the time it was built in 1924. Originally there were over 3,000 such round houses in the United States; today only approx. 150 are left and only eight are open and functioning, and this is the largest. The reason they had these workshops was that steam locomotives required a lot of maintenance, typically a locomotive would have to go through a two-day overhaul after every run, but eventually diesel locomotives took over and as they require much less maintenance, the roundhoses became obsolete, and instead more "normal" engine sheds were built. In addition to exhibiting train cars and locomotives, the Bob Julian Round House continues to be used to renovate and maintain the old trains. A little visitor information about the museum here. Among the carriages I visited was a mail car similar to the ones that crashed in 1903.
From The Round House I continued to the museum's largest building, The Back Shop. This building from 1905 was used to maintain the steam locomotives until The Round House was built in 1924. Today, the building, which is really large, is used for exhibiting other means of transport, not least cars but also a few small aircraft, and right now restoration of a Douglas DC 3 passenger aircraft is in progress. In addition to the planes there were also some fire trucks and other work vehicles and also some passenger cars, including a Ford T and a Ford A in addition to a Rolls Royce from around 1930. From this building I returned to my (or rather the rental company's) car, a great experience richer. From Spencer, I headed west toward a small "open-air museum" named Murray's Mill Historic District and along the way I made a pretty short stop in Salibury, but didn't get to see much, so here's a reason for coming back another time.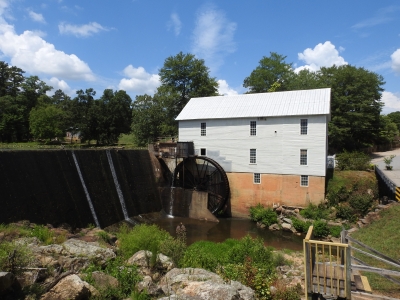 Murray's Mill, the mill and the dam beyond which is the mill pond
Murray's Mill is located just outside the small village of Catawba in - interestingly - Catawba County (not named after the village; both village and county are named after the Native American tribe who originally lived in the area). From Spencer, there are about 50 miles to the museum, at least along the route I chose. It took me about an hour to get there, and on the way I drove through the village, and I decided to take a closer look after my visit to the mill. Here, too, I had to pay the entrance fee, but I didn't actually discover how much it was, because the lady in the small General Store, who also sold tickets, asked me if I was a "veteran". I then explained that I was not an American veteran, but that I had served in The Royal Danish Navy for a number of years, which was good enough, and then I entered for free. Before I went into the mill itself, she told me that the original owner of the mill also had an alternative business of making moonshine whiskey. The still as well as the shine had been stored in the mill, which had some double walls, that were good hiding places. I walked over to the mill building. The mill was actually running and there were warning signs that you should not get too close to the moving parts. When I had seen everything there was to see in the building, I went outside to look at some of the other buildings in the area and take some pictures of the mill and mill pond. Eventually I went back to the store to hand over an information binder I had been given. On that occasion, I asked if they were still making illegal liquor? To that the lady replied with a twinkle in her eye that I was not supposed to ask questions like that!
By the time I was done at the mill, it was about 1.30 pm. My next stop was the village of Catawba, which consisted of a main street with about five houses on each side and one side street so it was quickly seen, but there was another one of the restored advertising murals that I had also seen in Mooresville the previous day. Then I headed north to North Wilkesboro to once more see if Carl White was in his studio, but he wasn't, so it was an hour's unnecessary drive, but as I had taken small roads all the way I had a lot of places, that I have never seen before, so it wasn't a waste of time. From North Wilkesboro, I then headed east, to see some of what is east of town. First and foremost the old, now abandoned and very dilapidated NASCAR racecourse. NASCAR was invented in Wilkes County, but the speedway is no longer in use. It has been put up for sale, but so far no buyers have signed up, and now it has fallen into decay. After the visit here, I headed west again on NC 268 to see if I could find a different route out to the Forest Edge Theater than the main road, as I didn't know exactly where I would be when the time for the evenings performance approached. When I reached Ferguson, I took Tom Dula Road, not because it goes in the direction of the theater, but mostly for fun. It ends in Grandin Road and here I turned right, which is north, to get back to 268. When I reached a small side road called Coppage Farm Road, all of a sudden and to my surprise I saw a small group of Texas Longhorns in a field. I've driven that road countless times and have never seen long-horned cows before. But here they were!. I stopped and took some photos of the cows, and when I showed them to Margaret, who lives just a 5-minute drive away, she had no idea that such animals existed in the area, and she had never seen them.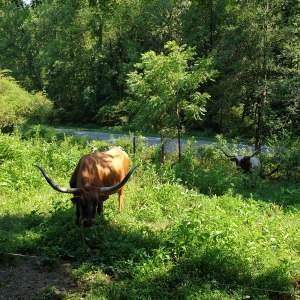 Texas longhorn cows in a field in rural Caldwell County.
After looking at the animals for a while, I continued along small country roads north until I reached US 421 some distance west of Wilkesboro and also west of the amphitheater. From Fort Hamby Park, where the theater is located, I headed east toward Wilkesboro, where I would have dinner before going to watch this year's performance of Tom Dooley - A Wilkes County legend. I parked the car near the central square, which has now been renovated after being dug up for a few years, and in one of the side streets, a temporary water park was set up where a lot of children entertained themselves. How long it had been there I don't know, but already the next day, it was gone. I had great salad with turkey at Dooley's, where I've eaten several times before, and where you eat well if you're into pub food. By the time I finished eating, the it was so late that I just decided to take the main road back to the theater, so the "research trip" I had taken in the afternoon was really wasted, but maybe it was just fate that wanted me to see cows! At the entrance to Fort Hamby Park is a small ticket office where I had to switch my advance reservation, which I had gotten by mail, for a ticket. Here I was recognized by the lady sitting there. The year before she had been in the play, but this year she took care of the ticket office and she could remember that I had been there before. Volunteers do the work, and they have different tasks from year to year. Kimberly Lewczyk, whom I had met the year before, played two roles on that occasion, but this year she was in charge of the entire administration. When I got out there, I actually met Kimberly, her husband and oldest son. They were busy getting everything ready to sell popcorn, soft drinks, T-shirts and more. The family would have to leave about half into the show, as they had to pick up another son who was retuning from a trip with the boy scouts. But Kimberly and I agreed that we should meet at Laurel Gray Vineyards when I had gotten together with Tim again. I just had to let her know on Messenger, when we would be there, then she would come too.
I also said hello to the author of the play, whom I had also met in 2018, Karen Reynolds and her husband, David, who were the director. Karen herself played the role of Martha Cowles in this year's show. I didn't talk to her that long as she was about to get ready for the stage, but before I went down to the spectator seats, I gave both her and Kimberly a copy of my novella about Tom Dooley, or rather the murder of Laura Foster. The performance was as good as it had been the first two times I've seen it, though many of the actors change from year to year. After the show I headed back to Statesville, where I arrived at my B&B around midnight, after another great day.
- Return to Summer 2019 page -
- Return to Travel page -