No more bubbles
The day had come when I was to leave Cherokee and head north to Lenoir and my favorite local B&B, The Irish Rose, where I would now stay for the sixth time. Taking the shortest route it is a trip of about 120 miles (about 190 km), but of course I did not take that. I wasn't in a hurry, so I didn't leave the hotel until around 9.15 am. Initially, I headed up to the Mountainside Theater to see how much difference in height there is between the town and the theater is, and it turned out to be about 280 feet (85 m), that I had walked up and ran down the previous evening.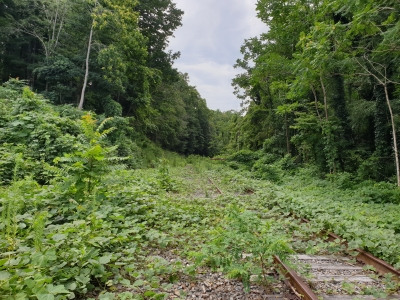 The abandoned railway line in Saluda. The pictures doesn't show how steep the grade actually is.
Next, I set off for Saluda, a place that I wanted to visit in 2018, but on that occasion their annual "Coon Dog Day Festival", held on the first Saturday in July, prevented me from entering the city (yes this small settlement with less than 800 inhabitants is actually classified as a city - not a town or a village). Finding a car park outside town proved to be impossible (see the article Sightseeing on the way to Cherokee from 2018). Me heading for Saluda meant that I left Cherokee on "the usual route," that is, U.S. Highway 19 through Maggie Valley and Lake Junaluska until I reached Interstate Highway 40. Then along the interstate a few miles to I-26 which i took south to Saluda - or rather to the exit for Saluda. This time I visited on a Sunday and it was the second weekend of the month not the first, so I managed to get into the small city, where I found a place to park in the main street. I managed a two mile walk around town, because I was looking for a store that was supposed to sell outdoor equipment (according to the internet), but where it should have been, there was instead a shop that probably sold things to use outdoors, namely a bicycle dealer, but it wasn't exactly a bike I needed - but some extra socks for my hiking boots and maybe an additional hiking hat. I didn't get anything on that visit though. On the other hand, I saw their combined town hall, police station and prison - and saw what I had actually come to see, namely their very steep railway grade; in fact, the steepest standard gauge railroad grade in the United States. The train traffic has stopped though, as there were simply too many accidents on this part of the line, so it was closed in 2001. However, the tracks are still there, although somewhat overgrown, but are otherwise physically disconnected on each side of the city. At one point, they considered opening the tracks again in order to create a short tourist trip out of the city, but it never turned into anything. Also the city's former depot, which today serves as a museum I got to see before I left the city again.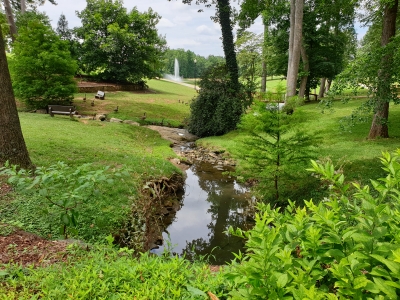 As seen in this picture there are absolutely no bubbles in the Boiling Springs spring at Gardner-Webb University.
From Saluda I headed for Boiling Springs further east. The whole trip, which is approximately 45 miles (72 km) was on US Highway 74. It goes from Chattanooga in Tennessee to Wrightsville Beach in North Carolina, an 515 mile trip, so I only drove a small portion of these; on other occasions I have driven other sections of the road. Why then would I want to go to Boiling Springs, a small town (just 6 times larger than Saluda) of 4,600 people? Well, in 2018, I visited a number of universities in western North Carolina and took pictures of these (or at least of some of the buildings each place), but I never reached Gardner-Webb University, which is in Boiling Springs, and I wanted to remedy this now. The town is named after a spring on the university grounds, but it does not boil, and in fact, it never did. It is a cold water spring, but in its time the water bubbled up from the spring. Before going to university, I visited an Ingles supermarket. Although it is a fairly widespread chain, it was actually my first visit to one, and the goal was just to re-supply some water, as I had drunk the remaining bottles of what we had originally bought, and in addition, I needed fresh ice for the cooler. Then I found a place to park near the university. Despite being a relatively small university with only about 3,600 students, it covers a fairly large area. It was a hot day (up to 105 degrees and quite humid), so I chose to wear hat and sun screen (and some clothes); grabbed the camera, and then I set out on a stroll, which ended up being about 2.5 mile on the university premises, without getting to the same place twice (except for the last 100 meters to the place where I had parked the car ). Along the way, I saw many of the university's buildings (from the outside), and the small lake with lots of ducks, geese and other waterfowl. To make it all more scenic, a fountain has been placed in the middle of the lake and a beautiful bridge built at one end of the lake. I also passed a tower with a carillon and I found the spring that has given its name to the town; but I didn't see one single bubble; the water just seeped out of the underground, and as it happened under a small pond, I couldn't even see thar. "Dad's not angry, Dad's disappointed!" (my translation of a Danish expression, "Far er ikke sur, far er skuffet", normally used when a dog disobeys a command). In fact, I was so disappointed that I chose to go back to the car (ok, I had seen what I wanted to see) and continue my journey.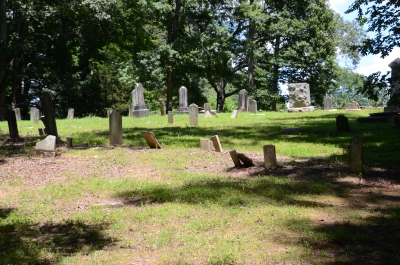 Fairfield Cemetery in Lenoir is no longer in use and veery badly maintained with gravestones broken, turned over or completely missing.
Back in the car, I fetched fresh (and now once again cold) water from the cooler, and then headed toward Lenoir about 55 miles north of Boiling Springs (I don't know why Americans love to put springs and waterfalls in plural, even if there are only one; there is only one spring in Boiling Springs, and there is only one waterfall in Moravian Falls - and many other places are named likewise). Already around 2 pm I entered the parking lot at The Irish Rose, but it turned out to be just at bit too early, as my room was not yet ready (check in time is 3 pm). Rose, who is otherwise very quick to make the rooms ready, explained that when she had not managed it this time, it was because the previous inhabitants of Lorraine's Retreat as the rooms is called, had take a long time leaving the room. So I used the opportunity to take a walk up on Beall Street, the street where the entrance to "The Rose's" parking lot is located (the address is on Harper Avenue). My purpose was to visit a cemetery - an old and now abandoned one of that kind (I have a fondness for old cemeteries). You don't have to read long on my website until you find out that I am also interested in anything that has the slightest connection to the Tom Dooley case, and one of the things I spend time on, when I'm in the area, is to visit cemeteries where people, who had something to do with the matter - even the most peripheral connection - is buried, and at Fairfield Cemetery, to which I was heading, two such persons are interred. Along Beall Street, I reached Spring Street, which I followed a short distance to the cemetery entrance on the corner of Holly Street. This (the entrance, not the street) was blocked by a chain, but I chose to climb it. In this small and now abandoned cemetery is the grave of the witness, J. W. Winkler, and also the grave of a man with even less connection to the case, is found here; a man named John Minish. Minish was married to Ida Melton (the youngest daughter of co-accused Ann Melton) and he was her second husband. Can I get farther out? But I had to see the place. The cemetery turned out to be extremely unmaintained, but it has also been taken out of service. Many tombstones were overturned or broken and many had simply disappeared. In the end I found only John Winkler's tombstone, and then one that might have belonged to John Minish, but where the text was largely illegible and where I could only identify a few letters an N, an I and an S in the right order, but whether it actually said MINISH I have no idea; it might as well have said NISSEMAND (Danish for leprechaun).
I headed back to my B&B where the room was now ready, but before I got my stuff out of the car, I chatted for about half an hour with Rose in the kitchen. It's always so nice. She told me that the house is now put up for sale, but at that time there had been only a single inquiry, but that she had rejected it, as the bid was far too low. But otherwise, when the place was sold, she would buy herself a caravan and then drive around the United States for a year before settling down again somewhere with her sister, perhaps in Savannah, Georgia as the sister didn't want to move to North Carolina and Rose didn't want to move to Florida, where her sister lives. After relaxing in the room for an hour, I headed out to get some dinner, and it ended up eating at the Ruby Tuesday where I have often eaten when I've been to Lenoir During the day I had been walking about 6.5 miles, which I thought was quite good, taking into account the temperature and humidity.