A fortune lost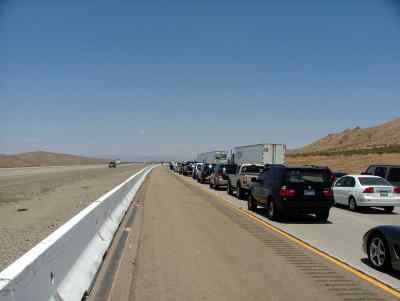 Saturday morning we were going to take our chance with the traffic bound for Las Vegas. After breakfast we left the hotel and drove north along Vermont Avenue, but for once our faithful Rand McNally Raod Map let us down, as it guided us into Griffith Park, with no way to get out, but turning back, so we did. After some time we managed to get to I-5, which we followed to California 134. Unfortunately we made a wrong turn somewhere and ended up going in the wrong direction on the freeway, but with a few more detours, we finally reached I-15, and went in direction of Las Vegas. Going through Los Angeles and suburbs we had been in heavy traffick, but when we got to the interstate it eased up. All this had taken quite a while, so when we reached Victorville it was already time for lunch, which was a snack at a gas station. Around 20 miles before Barstow traffice started to slow down, and we drove slower and slower until we finally came to a halt 15 miles south of Barstow. Here we waited for the next 90 minutes without moving an inch.
The traffic jam was because of an acciddent some ten miles further ahead, and when that was cleared, we could continue to Barstow. After Barstown we left the interstate to visit Calico Ghost Town, together with a bunch of other tourists. The town is a former mining town that was founded in 1881 when silver was discovered in the area. In 1887 there were around 500 silver mines in the area and the town had 1,200 inhabitants, a china town and a "red light district." The area was one of the richest in California, although it was the middle of the Mojave Desert. When no more silver were to be mined, and other minerals, primarily borax, ran low as well, the town was almost abandoned. Today there are only 9 permanent residents in the "town". In the mining period, silver for about $ 86 million borax for $ 45 million were mined in the area. The largest silver mines was Silver King, Odessa, Waterloo, Garfield, Oriental, Bismarck and Maggie. Maggie Silvermine is open to visitors. These and other rich silver mines pierced the mountains around the city in their search for silver, and today there are more than 30 miles of galleries in the mountains.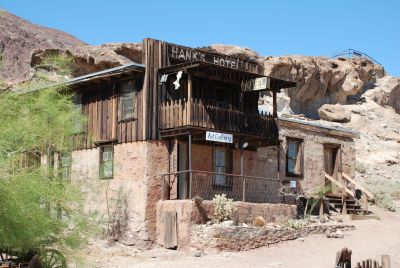 We walked around and looked at the buildings, but avoided most of the souvenir shops! Dorte was so impressed by Hank's Hotel, that a picture of it is still hanging in the living room at home. Before we left town again, we took a trip with a small converted mine train, which now takes tourists around the area. Among other things we were shown the entrance to the Silver King Mine, which still has silver in it for an estimated value of $ 6 million. Unfortunately it will cost about $ 10 million to mine it, so until the price of silver goes up, it's just waiting.

From the town we continued on the Interstate 15 into the Mojave desert heading for Las Vegas. At this time we experienced the highest temperature of the whole vacation, 120 in the shade. We later learned that in the sun the temperature would be running close to 140 and that the asphalt in the roads can get up to 195. At this temperature you can actually fry an egg on the hood of your car or on the road. We didn't try though, but continued to Las Vegas only interrupted by a short biological break, when we passed the Nevada border.

Around 5 pm, we reached out hotel, the Las Vegas Hilton on Paradise Road. And then our problems albeit of the amusing kind began. As we entered the parking lot, we saw a sign, or rather two signs. The one pointed to Valet Parking and the second was to Self Parking. We thought we would be able to park our car ourselves, so we continued to Self Parking, and also found an empty space, only a little away from the entrance to the hotel. We left our luggage in the car and walked to the hotel to check-in. Inside the entrance was a hall with shops on both sides, but no reception desk, so we walked down the corridor that led from this hall. Again there was shops and restaurants, and we started talking about where the reception was. This conversation was overheard by some other Danes who were going in the opposite direction, and they asked us if we had problems. Dorte told them, that we were looking for "our hotel". They however understood it literally, and
asked which hotel we were staying at, and when we replied that we would stay at the Hilton, they assured us that this really was the Hilton. We then had to explain that it was actually the hotel lobby we were looking for. Then they explained that the easiest way would be to leave again, get our car and drive to Valet Parking. We did as told, and had no problem locating the lobby, after the valet had driven away in our car!

We got a room on the 14th floor with a fine view over the city. In the room we relaxed for an hour or two, bathed and dressed and went then down to locate one of 14 restaurants on the premises, where we could have dinner. We decided on a Mexican restaurant. Before dinner we ordered a couple of margaritas, and that we got. They were so big, that it was all we drank during the whole meal. When we were done eating, we went outside the hotel and took the monorail to the MGM Grand Terminal. At MGM we walked around in this vast hotel where they also kept lions at the time. From MGM we walked along The Strip back to our hotel. The temperature was still above 85 at 9.30 pm, and our shoes were not exactly meant for walking, so our feet gradually became a little sore. But we enjoyed the many casinos and the many people. It was Saturday and Independence Day Weekend, so there were a lot.
We walked for a little more than two hours and we were somewhat tired and hot when we got back to the Hilton. We agreed on tgrying our luck in the casino, but as none of us are big gamblers we decided on spending only $ 50 each. This amount lastet for about 50 minutes, then we we were bankrupt. We took a drink at the bar, and brought it to our room, an experience richer - and $ 100 poorer - no surprise!. The big surprise in Las Vegas was actually the evening temperature, that was much higher, than I had expected in the desert.