Dinner for one for two
Next day we went south to Los Angeles. To get to LA in a reasonable time, we were planning on taking Interstate 5 most of the way, but first we had to get to it. Instead of doing it the easy way by crossing the Oakland Bay Bridge, we chose a slightly different approach. As our hotel in San Francisco was on Van Ness Avenue and this street was part of U.S. 101 we decided to stay on 101 for the first part of the trip.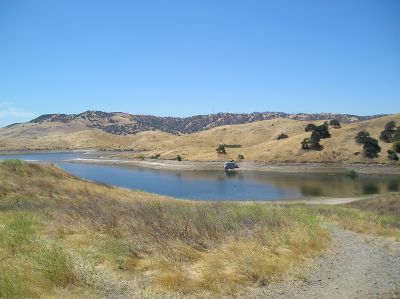 When Dorte had maneuvered the car up from the hotel's narow parking garage, we started south along Van Ness and into San Francisco's morning traffic. Most were heading to town in the opposite direction, but many were going in the same direction as us, so we didn't move particularly fast. After a while 101 turns into a freeway, but that didn't speed up the process of going south much. Not until we passed San Francisco International Airport did we pick up speed. We continued on Route 101 past Stanford University and through Silicon Valley with all its hightech companies to San Jose at the south end of the San Francisco Bay. About 10 miles south of San Jose we left the highway continued along the smaller California Road 152 east. The road leads through the the Diablo Range, and on the first part through the mountains we passed a few wineries and a lot of orchards, and virtually each and everyone of them had a stall by the roadside from where they sold their goods, especially cherries and peaches. As the road climbed higher up in the mountains, there were no more orchards and no more fruit stalls. In stead large areas of golden grass appeared. When we got to the St. Luis Reservoir at the western end of the San Joaquin Valley we made a stop and enjoyed the view of mountains, lake and the yellow grass.
From the reservoir we continued east to Interstate 5. Going south along the Interstate we from time to time crossed the Califonia Aqueduct that actually gets its water from the reservervoir. The water is then used for irrigation along the lenghth of the aqueduct. Approximately 100 miles later, we left the highway to make a short lunchbreak in Kettleman City.We found a place called Mike's Roadside Cafe where we each had a large bowl of sallad with chicken. The last part of the trip went pretty fast. Most of the time the speed limit were 75 miles per hour and then we could safely set cruise control 85 like everyone else on the road. When we arrived at Los Angeles, we had no trouble finding our hotel on Vermont Avenue in West Hollywood.

We found the hotel and parked the car in a large parking lot in the back, and here we left it until we left LA a couple of days later. We unpacked and then we rested a few hours at the hotel. Along the way we shared a bottle of white wine we had bought in Oregon. On the way south to Los Angeles, the temperature had gone up a bit from the 65 it had been in San Francisco. At 3 PM it was around 100 in the shade, the highest yet on the trip, and when we got to the hotel it was still around 90, so it was nice to have something cool to drink, and the wine that we had kept in the cooler was actually nice and cold.

Later it was time to dine. At the reception desk we asked about restaurants in the neighborhood, and were informed that if we walked north on Vermont Avenue, we would pass serveral, and they even recommended a few of them. So we left the hotel and headed north. We passed some of the restaurants that we had been recommended, but finally chose one, we had not been told about at the hotel. It was a restaurant with some tables outside on the sidewalk. I do not remember exactly what it was called, but it was a French-style place, and the waiter spoke English with a thick French accent. He got us seated at one of the outdoor tables, where we could enjoy the view of people passing by. When the waiter returned, we ordered our food, but something must have gone wrong in the communication, because instead of the two appetizers, that we thought we ordered, we got only one, or so it seemed. It was two small slices of pate of game and three green asparagus for sharing. We were not sure whether it was actually two portions (ie one slice each each) so we left it at that. When the main course arrived though, there was also just one steak, and then we became aware that something was wrong, but by then we did not bother to order another steak, so we shared the one we got. To top it all I had ordered white wine from the wine list instead of red, so it was a complete success! When we later ordered coffee, I succeeded in making the waiter understand that we wanted a cup each. And even if the portions were small, the food was good - and prizy. Even if we only had dinner for one, we paid almost twice as much as we were used to pay for a dinner for two.
However, it didn't matter much with the food as we really didn't have time to enjoy it. And for the first time, I think we only exchanged ten words during the whole meal, and only because of our neighbors and their conversations. On one side sat a young couple. They were apparently out together for the first time, but it was not clear whether they were on a date or on "business". She had just finished "law school" and now she just needed "to pass the bar," and then she was ready to earn big money as a lawyer - and she had already got a job in town, so she didn't have to return to Baltimore, where she came from. The guy also worked for the law in one way or another, but he was obviously not a lawyer. Their mutual talk, however, was not quite as exciting as the couple on the other side of us. It was somewhat difficult to follow both conversations at once, but we managed as none of them were kept in low voices. It is quite funny that when Americans hear a foreign language they speak very freely and loud with each other as if they don't expect that foreigners can understand them when they can't understand the foreigners - though at other times, some Americans expect that you understand even the most peculiar american dialects spoken very quickly. This is especially true in the South, where they can talk almost completely incomprehensible.
Anyway, this couple was clearly on a date and it was also apparent that it was their first one. It all became clear from their conversation. He told her that he was a former policeman from New York but currently he worked as a security consultant for private companies, and as advisor to the film industry. What she did, we never heard, but she told him that she was 40 years old, without children and that she did not like garlic! Her attire suggested though that she felt more like a teenager than a forty year old. I fascinated by her baseball cap with the bleached-blond ponytail pulled through the hole in the back. The guy could also tell that the waiter wore wigs, and despite his very French look with an elegant mustache, and the very French accent, he was an ordinary American. On days when he was not working at this particular restaurant, he served at another restaurant without wig or accent.

On the way back to the hotel, we bought a cup of cafe latte for Dorte in a coffeeshop, and at the hotel reception I got a decent cup of coffee, and then we went to our rooms and talked a bit about the stories we had heard and of our own succes or lack of same at the restaurant.

Bussing around LA
In Los Angeles, we had booked a guided bus tour like we did in San Francisco. So the next day we ate a very good breakfast in the hotel restaurant, and once again we met some Danes. We chatted briefly with them, but had to leave, because at 8.30 we were picked up and taken to a tour central, from where our tour would start. As in San Francisco we had to stand in line to register for the tour, The Grand Tour of Los Angeles, which took us around large parts of central Los Angeles and by choice no homes of the stars.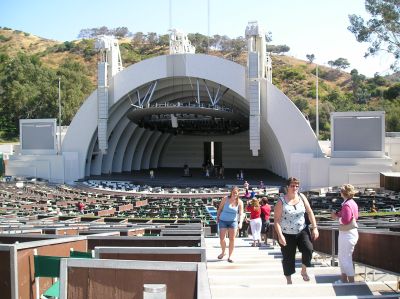 Unlike in San Francisco this tour had a driver and a guide, so Dorte was somewhat calmer this time. The guide's name was Terry, and the driver was Pedro, and he was the city's best driver. Terry told us so himself, and he did it quite a lot! When all had entered the bus we drove to our first stop at the Hollywood Bowl. Here we were let loose, and we could walk around and enjoy this fantastic music scene, mostly used for classical music, but also artists like Frank Sinatra, Judy Garland, the Beatles and Pink Floyd have performed here. The area is impressive and there is a good view of the city from up there, if you can see anything for the smog.
When everybody had seen enough, we returned to the bus and drove down to Hollywood. The next stop was at Grauman's Chinese Theater on Hollywood Boulevard. Here we were given time to enjoy the imprints of the hands, feet, noses, knees and other body parts made in cement by all the great Hollywood Stars.
When we left the bus Terry had told everyone that we should be back on the bus after 30 minutes, so Dorte and I looked at a few prints and took some pictures. We also had time to take quick look at parts of the Hollywood Walk of Fame. That is the sidewalk with stars in it, bearing the names of other stars. 2,300 stars with names in five different categories (movies, television, records, radio and theater) is located here. Among those who has a star are Mickey Mouse and Donald Duck! Most stars has been awarded to Gene Autry who has one in each of the five categories. I took some pictures of a few stars' stars, before we had to return to the bus.

Eventually, the bus got filled up, and Terry could carry out a census. At that time he discovered, that one participant was missing. Nobody missed a companion, but someone could remember that there had been a single lady from Florida who was not yet in the bus. Terry decided to give her a chance and wait a bit before we left. Eventually however, it became too much, and he phoned home to the office to announce that we now continued, but that we were one passenger short. The office asked him to wait a little longer and then they would call the theater and have them call her in the exterior speakers. It did not help, however, and eventually Terry had to call back to the office, and tell them that to keep up with schedule, we had to leave - lady present or not. But at that moment the lady in question got on the bus. She had never been to the cinema, but had taken the opportunity to visit a clothing store, had forgotten about time and as she was inside, not out, she had never hard that she was called for. This explanation made Terry give her a scolding, which could be heard throughout the bus. He might as well have turned the microphone, as nobody missed a word. Finally he told her that because of her we could not make all the stops on the tour, and that we had to make the ones we actually did, last must shorter than planned, and he kept on like that for quite a while. I'm pretty sure that the lady has not arrived late since, neither in this or any other occasion. She almost "crawled" down through the bus to her seat, which incidentally was at the back, so she had to pass all of us.

When we were finally ready, we continued to Beverly Hills, where we did not made a stop because of local laws. There is no entry for tourist- and sightseeing buses in this city within a city. Beverly Hills is a small town that is completely surrounded by Los Angeles, except on one side where it borders with West Hollywood, that is also is independent city within the city. Both cities have their own city government and Beverly Hills also has its own police force, which occasionally gives some problems with jurisdiction over the crimes being committed in the border areas between Beverly Hills and Los Angeles. As we could not stop, we took a tour through Rodeo Drive. Here are all the leading brand shops such as Louis Vuitton, Gucci, Armani, Chanel, Tiffany, Cartier, Dior, Ralph Lauren, Yves Saint-Laurent, Versace, Tommy Hilfiger, Dolce & Garbana, Vidal Sassoon and Bang & Olufsen and luxury department stores like Saks Fifth Avenue and Neimann-Marcus. There are also lesser known but even more exclusive shops such as Boulmiche, located on the corner of Rodeo Drive and Santa Monica Boulevard. This shop, which sells women's clothing became famous because it was here that Julia Roberts was dismissed as a customer of a snooty saleswoman in the film Pretty Woman. Another lesser-known store on Rodeo Drive is Bijan, which sells men's clothing. This shop is reportedly the world's most expensive clothes store and act only with the customers "by appointment". You can not just walk in off the street. In return, you can buy socks for $ 50 a pair, which is the cheapest item in the shop. Additionally you can also buy suits from $ 15,000 and up. According to our guide an average customer spends approximately $ 100,000 per visit. If they gain permission to enter, that is.

After Rodeo Drive we continued to our next stop at Wilshire Boulevard. Here is the famous La Brea Tar Pits that originally lay far outside the city, but now are almost in the center. The natives used the tar for years as adhesives and sealant for baskets and canoes. When the whites came to the area, they began to extract the tar and used it to seal the roofs of the then nearby town of Nuestra Señora la Reina de los Ángeles del Río de Porciúncula as LA was called then. Occasionally, they found bones in the tar and in 1901 a scientific excavation of the area was started.

Since then there have been found the bones of 59 species of mammals and 135 species of birds. The oldest bones are approx. 40,000 years old and the youngest are about 8,000 years. In addition, traces of insects, molluscs and plants have been found. Many of the bones belong to species still living in the area, but it has been discovered that the climate of 40,000 years ago was somewhat colder than the present climate of the Los Angeles area. This can especially be seen in the plant finds. There's also been discovered a number of animals and plants that are no longer living in the area - some are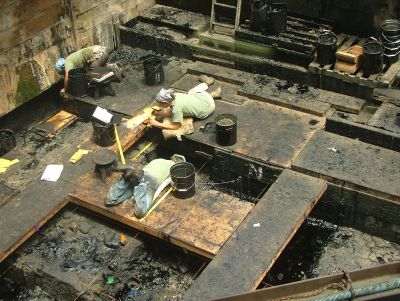 completely extinct. This applies to the original North American horses, which are now extinct. In addition, long-horned bison, camel, mammoth, mastodon, dire wolf and saber-toothed cat. Of birds have been found eagles, vultures, condors and an extinct, vulture-like bird called teratorn. The vast majority of animals that are found are carnivores and scavengers, only very few are herbivores. This is probably due to flocks of predators chasing a single prey into the tar, after which both predators and prey was caught in the tar. One single episode every 10 year or so for a period of 32,000 years is enough to explain all the bones, located in the tar.
From saber-toothed cats (Smilodon californicus) alone have been found over 2,000 skeletons, so these little kitties must have been plentiful in the neighborhood of LA. The size of the saber-toothed cats that lived in this area was slightly smaller than present days lions, about 10" shorter and about 8" lower. Yet they weighed roughly the same as the lions, so it has been well muscled cats. The canines could be up to 7 to 10 or more inches long. Fortunately there are not that many saber-toothed cats left to worry about when you walk around LA at nighttime! And the same goes for dire wolves of which species 4.000 parts of 4,000 individual skeletons have been excavated.

Here at La Brea, we discovered that Terry meant it when he had said that there was no time to make long stops. We had to hurry over to one of the excavations, where we saw some people lying on their stomachs in the smelly tar and dig for bones. Certainly an interesting job, but not exactly delicious. On the way back we just had time to look at the tar lake still above ground. Here you can also see how the gas bubbles to the surface. We didn't have time to visit the Cage museum, where some of the finds are exhibited, as the bus had to continue to the next stop, the Farmers Market. Here we made a longer stop, to give us time to get something to eat. Farmers Market was formerly a real food market, and there are still a few shops such as bakers and greengrocers and a single butcher left, but mostly the market is dominated by small eateries of various kinds. We walked around and bought a couple bottles of hot sauces in a dedicated "hot sauce shop", and some fruit from a fruit stall, and then we found a place to eat. Then it was back to the bus, where we again missed someone. This time, two Brazilian women, but they arrived so soon after that Terry did not get to warm up to the scoulding.

Next stop was a very short one at Walt Disney Concert Hall, where Terry played in the symphonie orchestra, when he was not acting as a tour guide. As it was not possible to park the bus, it only stopped long enough for us to take some picures. Then we continued to the oldest part of town, centered around Olvera Street. Here are a number of historic buildings around a small square, including the oldest church in Los Angeles. Today Olvera Street is a Mexican market, which of course we visited. In addition, we listened to the live music that was played in several places in the area, and we admired the many jacaranda trees, which were growing in the square in front of Olvera Street.

This was the last stop of the trip. From there we were just cruising around town, we drove through China Town, through the city's fashion district, past the town hall, past the Staples Center, where LA Lakers play basketball, Paramount Studios, Capitol Records building and Dodger Stadium, where the Los Angeles Dodgers play baseball, and eventually we returned to Hollywood Boulevard from where we had started in the morning.

Unlike in San Francisco, we didn't walk back to the hotel this time, as it was a distance of around 15 miles. We therefore chose to take the bus, who was part of the pre-paid tour and we certainly got value for our money. It turned out that the driver didn't quite knew the way, so we drove around the same block a few times before he managed to move on, but then he finally took us to the different hotels. Our hotel was the last on the route, so it was around 4 pm, when we finally got back. Here we relaxed until around 8 pm before we went out to get something to eat. We found a place on Hollywood Boulevard that we had missed the day before. It looked really nice from the outside and it proved to be nice as well, when we entered. It turned out that apparently it was a place where young people went to eat before they went into town. as there were many young people, probably university students, dressed up and eady to pary. The restaurnten was Spanish, and fhe food and wine was excellent. After dinner we bought coffee at the same coffee shop that we had visited the day before, and then it was back to the room and get next surprise of the trip. This was an unpleasant one though.

The surprise came when we turned on the television and saw the pictures of cars on the road to Las Vegas, the next day's goal. When planning at home we had, that is, I had not taken into account that it was Independence Day Weekend, which is one of America's major travel weekends. In TV they said that it was expected that approx. 3 million people would leave the Los Angeles area and that a large number of these people would go to Las Vegas. There was also interviews with people who sat in long lines of cars on I-15, and had been sitting there for up to 3-4 hours without moving at all. We chose to hope for the best, and believe that most were about to leave on Friday, so the roads would be more accessible the next day, Saturday, where we were going.