A short visit to Canada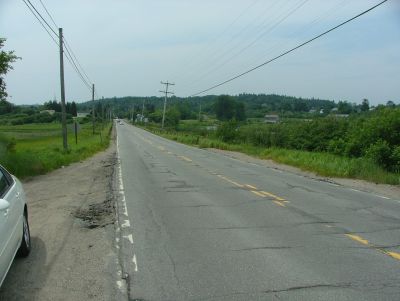 We had decided to have breakfast out on the balcony and enjoy the view over Frenchman's Bay but unfortunately, there was no view as everyting was covered in fog. In stead we left the hotel and found a diner in Bar Harbor, where we had our breakfast. Then we walked around town for a while before returning to the mainland.
From Ellsworth we took U.S. Route 1 north with a short detour to the Schoodic Peninsula, on the other side of the bay. We thought that maybe we could enjoy views of Mount Desert Island from there, but initially it was still foggy, and when the mist finally disappeared, the view was hidden behind trees, but it a was very nice drive on small roads, through towns such as Gouldsboro , Winter Harbor, Birch Harbor and Prospect Harbor.

We continued along Route 1 to the northeast of the city Whiting. Here we made a short stop before continuing alon a row of small coves. We stopped a few times to take pictures. At Robbinston we reached Passamaquoddy Bay. On the other side of this narrow gulf is Canada, and we continued the journey towards the border town of Calais / St. Stephen, and after a long stretch of road works we arrived at this town. We parked the car at the local information center, and after a short stop here, we crossed the border on foot. Here we met a Canadian border patrolman who we told that we were just visiting Canada, so we could boast of it to our friends back home. :-) He though it was a fun idea, so he gave us a stamp in our passports so we had proof of the matter when we got home.
Then we crossed the border and walked down the street in St. Stephen, as the town on the Canadian side is called. It was getting a little late in the afternoon, so we decided to have lunch on Canadian soil. We therefore found a restaurant which was located in a former chocolate factory. When we had completed our lunch, we walked back across the border. On the U.S. side we met a U.S. Customs Officer, who asked us, where we had parked our car - nobody but us apparently crossed the border on foot, and when we retold the story that we had been in Canada for about 45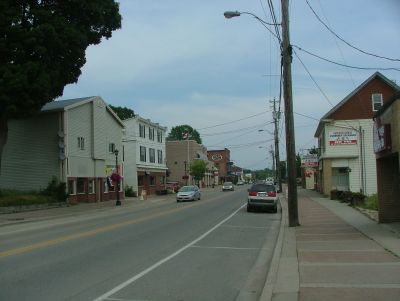 minutes to be able to boast of it at home, he thought that when we had an entry stamp from Canada, we should also have another entry stamp from USA in our passport, so you could see that we had entered the U.S. again.

We left Calais and the Canadian border again and continued north on U.S. 1 about 40 miles to the small town of Topsfield. Here we left the main road and continued noth on minor roads. The drive was quite pretty and led through small wooded mountains, along lakes and across rivers. The villages we passed along the way were relatively small, but there was quite a few of them. The standard speed limit on the road was 55 miles, but through the cities and at major intersections speed were typically reduced to 35 miles and some places even down to 25 miles per hour, so it took us a couple hours to drive the approx. 65 miles to the goal of this days trip, Millinocket.

On the last stretch to Millinocket we passed many signs with warnings of moose on the road, but we did not see any. We found a hotel where we got a room at ground level and the we relaxed for an hour while we uploaded pictures from our cameras to the PC. Then we drove off to find somewhere to eat. First we drove to the Millinocket, but we found nothing that looked interesting. Instead, we drove back to a small town just off I-95, East Millinocket, but neither here did we find an interesting looking restaurant, that was open. In return, we passed a field where some people were playing softball. Next to this fields we noticed a tank, which proved to be a part of a memorial. We parked the car and got out to look at the memorial, which was commemorating all the locals who had died in a long series of wars from the Spanish-American War and onwards. We had seen another memorial like this in Millinocket, and the next day we saw more of them in other towns.
- Return to New Enlgand and New York -
- Return to Travel Stories -