Delayed departure - and arrival
October 31st 2015 was the first day of this years fall vacation. I was going to USA via London with British Airways.The first leg would take me from Copenhagen to London, and from there to Washington Dulles. From Dulles I was going to drive to my first goal in Ferguson, North Carolina in two days. As I had to be in the airport at 5.00 am, I couldn't get anyone to take me there, so I had to take a taxi. I booked a taxi to pick me up from my home at 4.30 and set the alarm to 3.30. With no traffic it only took 15 minutes from my home to the airport. As a business class passenger (once more), I could use Fast Track, and as I had already checked in from home, it was easy getting through security, so I was in very good time. I spent the next hour and a half eating breakfast and relaxing in the lounge. 30 minutes before take-off I was at the gate, boarded the plane, which took off as scheduled and landed in London Heathrow 15 minutes ahead of time. My connection was to leave at 11.15, so once more I went to the lounge. So far, no problems. Around 10.15 I went to the gate (partly by a small train/tram and partly by walking. At 10.30 I was at the gate.
Getting delayed
From there things started to go wrong. When I got to the gate the information screen said as expected that boarding would begin at 10.45 with departure as planned. Soon after though, the text on the screen changed to "Departure delayed until 12.00", and then it really started going down hill. 11.30 the sign changed to "Gate closed" and soon after it was mentioned in the loudspeakers, that departure was delayed until further notice, and that new information would be given at 12.30. And so it was. Unfortunately it was somethin like "we still don't know when the plane will depart". And it continued like this. Around 14.30 we were handed out vouchers, so we (470 passengers around the gate) could get something to eat and drink. Unfortunately a Starbucks and a small shop were all that was to pick from near the gate, but I got a cup of coffee and a sandwich. At this time I was chatting with three american ladies all seated in my neighborhood, and we kept up our chat for the rest of the afternoon as more and more depressing messages was announced. Nothing like shared misery to make friendships. "New information in 20 minutes" and 20 minutes later "Still nothing new", "We now know what the problem is and spare parts has been ordered" and so on. Some passengers, including two of the ladies I was talking to, had to call their family and tell them not to expect them home at scheduled time. Finally, at six pm, it was announced that boarding would commence at 6.30 and take-off was scheduled to 7.10. Everybody was happy, and one of the ladies could call her husband and tell him, that she was finally coming home. The sign was changed to "Boarding at 18.30 in row number order" and most of the 470 rather annoyed passengers seemed to ease up. This euphoria lasted exactly 10 minutes. Then it was announced that the flight was cancelled all together, and that we had to go to hotels. That was when people got really annoyed. We had been waiting at the gate for more thant 8 hours at that time, and we were never told the reason for the delay and cancellation except that it was due to technical problems and that they had to repair, as they couldn't get another Airbus 380-800 or any other plane with room for everybody.
We were told to take the train/tram back to A-Gates and reclaim our baggage, then go through customs and to the check-in counters, to get vouchers for hotels, dinner, breakfast and transport to the hotels. There we would be told, when the plane would leave the next day. Everybody I spoke with was rather angry, that the airline hadn't cancelled earlier or tried to rebook every one to other flights. One of the ladies, I was talking to, checked and found out, that even if she had been rebooked on a flight to Chicago and from there to Washington, she could have been home that same evening. Before we left the gate something else was announced in the speakers that nobody could hear over the noise. What it was became apparent the next morning.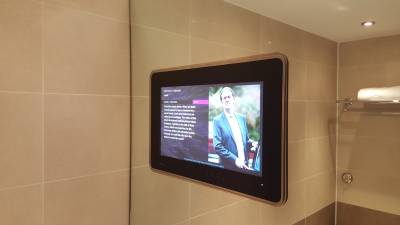 Bathroom with television in the mirror
We got our baggage, went through customs and walked to the check-in counters. Six counter were reserved for the passengers from my flight, so we didn't have to stand in line to long, but still 470 passengers had to be given vouchers so it took some time before everybody got their vouchers. When it became my turn, I was told that the plane was leaving at 10 am next morning, and we should be back at 7.30. My hotel would be Sofitel, which was connected to the airport by a tunnel, so I was not given any transport voucher. The three ladies I had been talking to, was going to another hotel, so we couldn't even continue our chat in the evening. I picked up my suitcase and followed the directions to the hotel. Along the way I met another woman, who should have been on the same plane. She had been on a business trip for some time, and her children hadn't seen her for almost a month, so she was rather unhappy. She decided to visit the hotel spa and charge her company. I had nobody to charge, so I just went to my room and refreshened a bit before going down to the restaurant to have dinner. I was a bit hungry, as I hadn't eaten anything since breakfast in Copenhagen, except for the sandwich in the airport. When I got there all tables were occupied and the hostess told me that I had to wait around 20 minutes. I spent those in the bar across from the restaurant, and had one gin and tonic. Then I went back to the restaurant, got a table and discovered that the dinner voucher covered a two course meal and a soft drink. I decided to skip the soft drink and have a glass of house red wine, that I had to pay for myself. Dinner was good though, some fish as a starter and something with chicken as the main course.
Sofitel is a five star hotel which could be seen from the room. It is the first time I have had a bathroom with a bathroom mirror with a built-in television screen. It was also clear, when I got my bill the next morning. One g&t and one glass of red wine cost me almost 39 £ or almost $ 60.
Finally getting there
Next morning I checked out of the hotel at 7 am and walked back to the airport. Three check-in counters were reserved for the passengers from the cancelled flight, and when I got there I was the only one, so it didn't take long. Then I had to go through security, but didn't have to stand in line but as I was guided to the security gate, normally reserved for flight personnel and employees of the airport. Only two guys were in front of me when I got there They had some wine with them, that were confiscated, which pissed them off quite a bit. They explained that they had bought it in the airport the previous day, but that didn't help them. They were not allowed to bring it. Also they were told, that the day before it had been announced, that if anyone had bought any fluids, it could turned over to to the airline personnel, who would then store it until departure. Apparently that was what only a few people had heard, as we were busy getting back to gates A. When I later met one of the ladies from the day before, she told me that the two bottles of cognac, that she had bought for her husband, had been confiscated as well. Luckily I hadn't bought anything so I didn't loose anything. When I got through security I went straight to the gate, and didn't visit the lounge this time.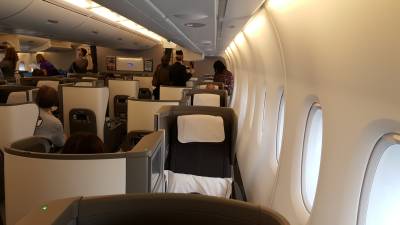 Lie-flat seats in BA Business Class - everybody seated in small compartments
At the gate a lot of people were already gathered. It was not the same gate as the day before, so there wasn't enought seating, so a lot of people were already standing in line. At 9.40 boarding started and at 10.10 the plane were finally ready to leave the gate. We taxied out to runway, but unfortunately it had been very foggy most of the morning, so quite a few planes were waiting in line, but around 11.00 am we finally took off. As usual the trip across the Atlantic was mostly boring. Due to my business class ticket and the lie-flat seat, I slept four or five hours along the way, and for the rest of the time, I just read a book. We landed an hour after scheduled time due to the delay in departure, but from then on everything went smoothly. I was the only one at the "my" immigration desk, and though the guy there looked strangely at me, when I told him that was going to Western North Carolina for a vacation, I was allowed into USA. The baggage had already arrived when I got to the carousel and so I walked to customs. Here was rather long lines at all desks, but at one desk there was nobody waiting in line, so I walked up there, only to be told that it was reserved for some special passengers that I was not one of, so I was ready to walk back and take my place in the now even longer lines for the ordinary passengers. The lady behind the counter said though "Well now that you are here, and nobody else is, I'll take care of you" and so I was allowed through.
When I got to the bus stop for the busses to the rental car companies, an Avis bus was ready, and when I had boarded, it took off even if I was the only one aboard. Normally my experience is, that they wait for more passengers, but not this time. It also meant, that when we arrived to the Avis office, I was the only one there, so I got my car in less that five minutes. It was parked right outside, so I brought my suitcase to the car. I had my satnav in my cabin luggage so I got it out together with my handfree phone connection also serving as a FM transmitter, that transmits signals to the car radio, so I could listen to some of the 1,200 songs I have stored on my phone. I changed the satnav to measure distances in miles instead of kilometers, and to avoid toll roads. Not that I mind paying, but because it has become so difficult in the US, with all those electronic devices you need. We discovered in 2014 that you can pay cash only at a few toll booths, so I decided it was better to avoid them all together. When I was ready to take off, I headed for the exit. When I did the same in 2013, it didn't go to well, see the article Heading for fall on the Alone in the fall travel page from 2013. Well two years earlier it was dark, when I left Dulles - this time it was only 3.00 pm.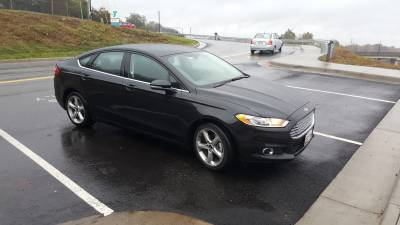 It was raining almost every day, and the first two days it was raining all day. At this time my car is still black but the color later changed to gray.
I took Virginia Route 28 to Interstate Highway 66, and when I got to Front Royal, where I stopped for the night in 2013, I took I-81 south. I decided to drive as long as I didn't feel tired, and so I did. When I approached Lexington, Virginia, it was only 6.30 pm and I considered continuing for an hour or so, but decided not to, so I left the interstate and found myself a hotel. It happened to be a Best Western with an Applebee's and a gas station next to it. I got a room, and after having settled I went to the Applebee's for dinner, and when I had eaten I bought a bottle of water for the night at the gas station. Normally we buy an ice cooler on our trips, but as I was not taking a real road trip this time, I didn't. Instead I bought cold water in stores or gas stations, whenever I needed it.
Back in my room I wrote some mails to my family back home, to tell them that I was finally in the USA. My plan had been to be in Ferguson, North Carolina at that time, and I had a non-refundable reservation, that I missed. But I sent a mail to the B&B as well, telling them, that I would arrive the next day instead and the reason for my delay. Then I set my alarm to 6.30 the next morning, and went to sleep.