End of the road
As we had gained one extra day, because we drove from Missoula to Seattle in one day inb steads of two, we decided to sleep late, and then have breakfast at a neigboring Denny's. While here we looked at some brochures, and had to choose between a 3˝ hour city tour and a 6˝ hour wine tour. On our weay from Seatac to Seattle we decided for the city tour as that would leave us time for a few more visits in Seattle.
Seattle and wine
We entered town on US 99 and began looking for a place to park the car. We found a parking garage near Pike Place and after some trouble getting a ticket, we left the car there. We then started uphill to 7th Street where we believed the City Tour would leave from. It did not though, and nobody around could tell us the real starting point. So instead of going on a guided tour, we took a walk around town on our own.
At first we went to the Barnes & Noble bookstore, we had also visited on our first visit to the city. I would like to get the second part of one of the books that I bought the first time. It turned out, however, that the second part was tin wo volumes, and they only had volume 1, which I then bought. Later I managed to find Volume 2 back in Denmark. From Barnes & Noble we walked to Pioneer Square, Seattle's oldest part, which we had not seen the first time we were here. From here you can go on an Underground Tour of Seattle. We didn't though, but I made up for that in 2012.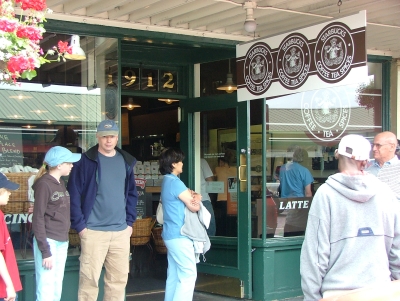 Instead we walked around and looked at some of the sights in the neighborhood of Pioneer Square, and on the square itself we listened to live music before we walked back to Pike Place Market, which we also had visited the first time we were in town. On the street Pike Place we got us a cup of coffee on the world's first Starbuck's. As mentioned someplace else, there are many Starbuck's in Seattle, but there are also many other coffee joints, and maybe Seattle has the world's highest per capita number of coffeeeshops. We agreed on skipping lunch, so instead we visited the market where there are many vegetable stands, and here we purchased some apples, which we ate on a bench outside, and some cherries which we brought along for the continued trip. We also took the opportunity to look one last time at the fish-throwing fishmongers at Pike Place Fish, and Dorte bought some creams in a stand, that also sold soap.
When we were done loking at the market, we decided that since it was too late to join the arranged wine tour, we would make our own, and I remembered from something I had read on the internet back home, that there were supposed to be some wineries in the city of Woodinville north of Seattle, so we decided to go there. We fetched the car and headed north. When we got to Woodinville, signposts directed us to several wineries. Most of them imported the grapes from other places like the Columbia Valley, and that was also the case with the winery we visited. It was called Silver Lake and beside it's own wines, two other wineries with no tasting room of their own was represented here. We tasted some excellent wine, and ended up buying a few bottles. My plan to bring home wine from all the states we visited failed, but we brought home wine from both California and Washington, and I have later brought home wine from Idaho and Utah as well.
From Woodinville we returned to the hotel through Redmond. We were back at the hotel around half past four, and relaxed to around 6. Then we dined at the same Denny's that had provided the breakfast. After dinner we started to pack our suitcases and bags, so everything was ready for Wednesday's trip home.
Mountain, hidden by rain
On our final day, our plane didn't leave until 8 pm, so we had plenty of time. We had to abandon the rooms at noon, but as we were fineshed packing we left the hotel already at 8.15 am. We had decided that we would go south for a closer look at Mount Rainier, so we took U.S. 99 south, just like the day we we left Seattle in the begninng of the vacation. Unfortunately, it was for the first time while on vacation cloudy, and the clouds hang very low and when we got within vicinity of the volcano, everything was gray and hazy, but we continued undeterred.
We turned onto I-5, but only for a short while, then we switched to Washington Route 164, as we drove through Auburn, capital of the Muckleshoot Indian Reservation. From there it went through forests and meadows to the city of Enumclaw. (The city is known for a rather special case, namely that a man in 2005 , the year previous to our visit, died after having had anal intercourse with an Arabian stallion. I must add that it was the man who offered his behind to the horse, not vice versa. The case put Enumclaw on the map, and was instrumental in the ban Washington imposed on sex between animals and humans.) In Enumclaw we bought a cup of coffee before we switched to WR 410, which would take us the last stretch to the national park. Ad we left town it started to rain, and when we reached the last "town" before the park, Green Water (91 inhabitants) it rained heavily. We paid the $ 15 entrance fee, and entered the park none the less. The rain had now subsided, but despite this and the fact that we visited two different viewing points, we never even saw the the bloody volcano. And we never managed to take one single picture either. Maybe I will have better luck this coming summer, if we find time to go to Mount Rainier.
Since we are not able to see the mountain, we decided to return to SeaTac and the airport, so we did. We took a slightly different route from Enumclaw to Seattle. From the park to Enumclaw, there is only one way. We headed for U.S. 99 somewhat south of the airport, and as it was around 1 pm we had lunch at Coco's Café and Bakery, and then continued to the airport. Here we returned the car without problems, and after short ride in a lift, we were at the terminal. As it was only 1.40 pm and the check-in counter didn't open until 3 pm we had time to change our clothes. Cherck-in was quick, and getting through security and passport control didn't take long either. Then we took a train to the terminal from where the plane would depart. American airports are not particularly exciting, but there was a small duty free, where we didn't buy anything, a combined newsstand and gift shop where we bought some smoked salmon to take home, and finally there were a few fast food restaurants, where we had a coffee and later a bite to eat.
At 6.15 pm we boarded the plane, and it took off on schedule. The flight lasted 9 hours and 30 minutes, and Dorte slept part of the way while I was content to read and watch TV. At 1.30 Danish time the next day we landed in Kastrup, where Tim picked us up after another great trip to USA.