A case of flying fish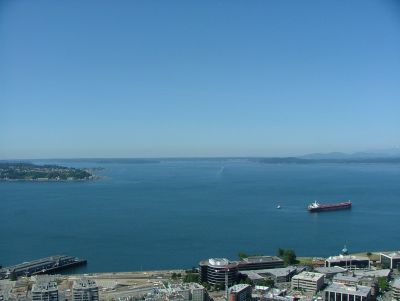 On June 22nd 2006 we boarded the plane in Copenhagen Airport (Kastrup) and 4.30 PM we took off. 9 hours later, at 5.30 PM local time we landed in Seattle. Getting through immigrations was fast, so we went to the Avis desk and got our prebooked car, and drew to our hotel, that was located right next to the airport in City of Seatac. We got our room, and unpacked some of our things. Then we walked to a nearby Denny's and had a bite to eat. When we returned to the hotel we had a cup of coffee and then went to bed even though it was only 10 PM, but we had been up and about for more than 20 hours. By the way it was at the arrival to this particular hotel, that Dorte invented her "geography quiz". When the lady at the counter, asked us where we came from, Dorte replied: "Denmark. Do you know where Denmark is?" The Hispanic lady didn't so Dorte explanied it to her. For the rest of this trip, every time someone asked where we came from Dorte replied in the same way. A few happened to know, but most didn't, so Dorte did a lot of explaning on that trip.
The next morning the vacation started for real. We left the hotel quite early and went to the Denny's for an early breakfast, then took the U.S. 99 to Seattle. We drove to Seattle Center and found a place to park the car. We the walked to the Space Needle, the 1962 World Fair landmark building of Seattle. We bought a ticket and took the elevator to the observation deck more than 500 feet above grounds. The views fron up there were spectacular, and as it was a really clear and sunny day, we actually could enjoy the views of the city, Mount Rainier in the morning haze, Cascade Range, Puget Sound with all the ferries crossing it, and also the Olympic Peninsula in the distance. Seattle definately did not live up to it's nickname, Rainy City, on this our first visit.
When we were finally done enjoying the view from the top, we took the elevator back down to the bottom of the tower and the mandatory souvenir shop. Here we bought a few bottles of water for the further tour, but that was all we bought. No souvenirs on that occasion. Our plan was to ride on the monorail to Downtown, but operations were suspended due to renovation works in progress. Instead we chose to walk to Downtown. We followed the monorail tracks above our heads, which proved to be a very good decision, because we passed some interesting places, including a small square, Tilikum Place, where a statue of indian chief Noah Sealth, for whome the city is named, is erected. From there we continued to Victor Steinbruek Park where we could once more enjoy the view of Puget Sound, but this time from the ground. Here were placed large totem poles, a tradtional northwest coast native american tradition.

Right next to the Vicor Steinbruek Park is one of the entrances to one of Seattle's major tourist attractions: the Pike Place Market. This is America's oldest Farmer's Market established in 1907. Today, 200 merchants has fixed stalls on the market, where various artists entertain, some more tolerable to listen to than others, and the traders are no longer exclusively farmers. Food of all kinds, such as meat, fish, bread and fruit are sold together with flowers and more. We entered the market here and walked past a lot of stalls, including some with some beautiful flowers for almost no money. Dorte was sorry that the flowers wouldn't keep fresh until we returned to Denmark, otherwise she probably would have bought some bouquets. Instead, we bought some nuts from a vendor who didn't sell anything but. In fact, he sold only hazelnuts from his own orchard. He explained that hazelnuts from northwestern USA were far better than the Turkish nuts, that you could buy elsewhere, partly because they were larger, and certainly not nearly as bitter. Now I'm not an expert in hazelnuts, but in my opinion they were ok, and large they were. I prefer Danish hazelnuts though, directly from the bushes in season.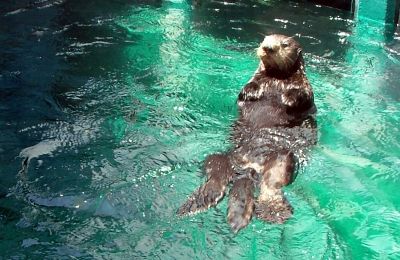 Eventually we came to the market's biggest attraction, Pike Place Fish Company. That a fishmonger has become a market attraction, is in itself an achievement, but Pike Place Fish Company (World Famous) was not content with that. Today the shop is famous all over the world and people will travel from afar for taking pictures and filming the staff and their goods. Why are they so famous? Well, they throw fish! That is not the main reason, they are famous though. The key is the company's belief that it shall be fun to go to work and that you have to do something for your customers, for example, be present, not just physically but very much also mentally. We looked at the activities and we had a tasting of a wonderful smoked Copper River salmon, and then I bought a T-shirt, so I could brag to my colleagues when I got home. We use the fish-philosophy in our teaching.
Then we visited the lower floors of the market before we ate our first American lunch on this trip at one of the restaurants in the market. After lunch we walked down to the waterfront, where we visited the city's aquarium. Here it is especially the wildlife in and around Puget Sound and the North Pacific, which is on display. We of course saw many different fish, but also seals, sea lions and sea otters. Then we returned to the market and climbed the steep staircase to the upper floors. Underway we refreshed ourselves with a glass of freshly squeezed lemonade, which was nice because the temperature at this time was around 80° in the shade and significantly warmer in the sun.

From the market we went up to the city's business district to find a bookstore that was shown on our map. Here we bought 5 or 6 books each, so we had something to read for the rest of the trip. We drank a cup of coffee at a Starbuck's, and then we returned to the car and drove back to the hotel again.