Let's go to San Francisco ...
The headline is the title of an old song with the English group Flower Pot Men from 1967 and several other songs mentioning San Francisco were recorded that year. Scott McKenzie sang "San Francisco (Be Sure To Wear Flowers In Your Hair)", and also Eric Burdon of The Animals released a song about San Francisco called "San Franciscan Nights". Now we were heading towards San Francisco for the first time.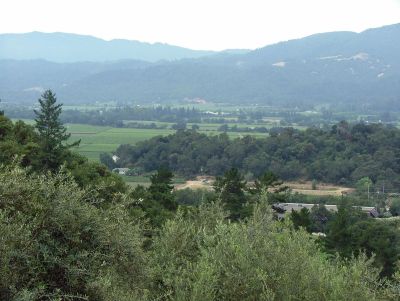 From Napa to San Francisco is only 47 miles, so of course we had to take a deotur and visit at least one of Napa Valley's many wineries. We drove north along California Route 29 and enjoyed the view of the incredible number of vineyards in the valley. We were armed with our trusty Rand McNally map, and a list of various wineries. Especially one of them sounded interesting, namely Rutherford Hill, so when we came to the town of Rutherford, we turned right and drove towards the hills to the winery. When we got inside, we ordered a tasting of course, but before we we could complete it, we joined a tour of the premises.
We were shown the cave, where the full barrels were stored, the presses, where the grapes were pressed ad the large tanks, where the wine ferments. When we were shown the press, a middleaged lady of German descent stated, that she thought the wine was pressed by being stamped on by a bunch of barefeet people. Even when the guide told her, that the grapes were pressed mechanically, and no kind of bare feet was involved, she kept on and on about how unsanitary it was to stamp the grapes like that, and that was why she never drank wine. The rest of the company didn't quite understand, why she had decided to visit a winery in the first place - unless of course it was just to get a chance to complain. At Rutherford Hill they were specializing in the Merlot grape, which represents about 70% of their production. What exactly we tasted, I don't remember in detail but I don't remember that we bought two bottles of Cabernet Franc. I have previously mentioned that I love wine from this grape, which in Europe is almost solely used to mix with other grapes.
Dorte would like to have visited several more wineries, but we as we were driving and had to get to San Francisco, we continued north! It was in the wrong direction of course, but that was just a minor detail, as we wanted to see a bit more of the valley, before turning west. When we reached Calistoga, we headed across the mountains to Santa Rosa. Here we planned to take U.S. 101 south toward San Francisco. The road through the mountains was narrow, very narrow and winding, and though the mountains were not the highest in the world, it was quite an experience, not least because we also have to enjoy the beautiful countryside with vineyards, orange and olive groves hillsides with grass, forest and so on but eventually we came to Santa Rosa. And here had one of our first surprises on the Surprise Trip. In town were signposts for a "Woodstock festival". That made me think of the music festival in 1969, held in Bethel in upstate New York. As it turned out the festival of Santa Rosa had nothing to do with Woodstock 1969. But it was a festival for Woodstock, the bird, or rather the cartoon bird from Peanuts comic strip! If anyone is interested in learning more about Woodstock I recommed you to read the Peanut strips from the early 70'es when Woodstock was sent to Snoopy by the Head Beagle as a secretary. Woodstock becomes Snoopy's best friend, although he always flies upside down. We never discovered what the festival was all about - and we didn't find time to visit the Charles M. Schultz Museum either. Tim and I did that 4 years later though, as you can read about in the article, Big Trees, Birds and Peanuts on the Father and Son travel page.
When we finally reached U.S. 101 we turned south and soon we saw signs for San Francisco and Petaluma. The latter initated a text message to our son back in Denmark, even if it was rather late back home. "We are going to Petaluma, and we don't even have a globe!". The only reply we got, was "Petaluma?" which confused Dorte a bit, but she is not a Peanut aficionado like Tim and me. If she had been, she would have understood. In a series of strips from around 1970 Snoopy is going to Petaluma to participate in the Armwrestling World Championships, and he doesn't know how to get there. In stead of giving him a map, Charlie Brown equips him with a globe. In these strips, every time Charlie, Linus, Lucy or other of the characters mentions the name Petaluma, Snoopys just wonders "Petaluma?".

Being on U.S. Highway 101 had two advantages - first, our hotel was actually on 101, and second we would arrive in San Francisco via the Golden Gate Bridge. Unfortunately, when we reached the bridge we could not see a thing, neither of the bridge nor the city, as it was all hidden in a fog so dense that we actually didn't see the pylons until we passed them. Fortunately we had booked a de luxe room with bridge view at the hotel (for an extra fee of course), so as soon as the fog diasappeared, we would have a magnificent view of the Golden Gate Bridge from our room. Unfortunately, the fog didn't disappear at all during our stay, so we could have saved the extra fee.

After checking in at the hotel, we went out to take a look at the city. We walked down the hill from the hotel facing the bay and harbor. If you don't already know, hills are plentiful in San Francisco. Rome boasts of being built on seven hills, but it's nothing compared to San Francisco, that is built on 44 hills (even if the city claims to have seven original hills). Our hotel was on the corner of Van Ness Avenue and Lombard Street on Russian Hill (the latter street I shall return to below) and we then went down Van Ness, past Fort Mason and down to Aquatic Park and Ghirardelli Square. From there we continued to Fisherman's Wharf, which is one of the city's famous tourist traps, but as this was a tourist trip, it was quite all right. Before we looked at the area, we enjoyed a cup of coffee at a Starbucks, and here we met another Danish couple who were on tour in the western United States. They were in a company of tourists, going by bus, and the wife of the couple found it a litte weird and dangerous, that we were driving around on our own in a car. But we did and enjoyed it. This meeting was only to be the first of a long series meetings, shorter or longer, with other Danes on this trip, but it was our first ever meeting with the Danes in America, beside family of course.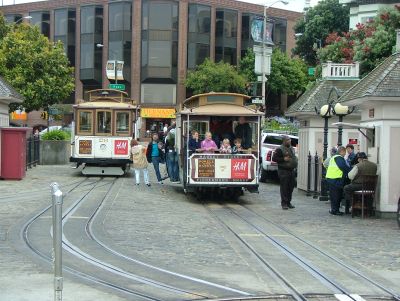 At Hyde Street we waited in line for around 30 minutes to board a Hyde & Powell cable car. The tram runs through the city's hilly streets from the terminus at Fisherman's Wharf to Market Street in downtown. We stayed on board to the Market Street Terminus. The trip to Market Street takes approximately 45 minutes, and as it was getting late, we just walked around in the area for a short while, before we took the cable car back again. By coincidence, it was one of the other routes (Powell and Mason), that also ran to Fisherman's Wharf, but ended up at the other end of the area. So we walked along the waterfront, and looked at the many restaurants and amusements that were here. We decided that it was time for dinner, so we found a restaurant that looked interesting. It was called Pompei's Grotto and was of course Italian. As we both like fish and other seafood, the menu suited us fine. For starters we had Bruchettas, garlic bread with tomato and in my case also with crabmeat. As a main course Dorte chose crabcakes, while I ate the Fish of the day, which was great although I could not determine the species, and I didn't ask. For the first time on the trip, we had wine with the meal. After dinner we strolled slowly back toward the hotel while we enjoyed the lights and life on "the wharf".

On our way we got our next surprise. Somewhere on the sidewalk a man was hiding behind a portable bush, and beside him stood a plastic bucket. When unsuspecting people walked by, he jumped out from behind the bush, (which he also held in the hand) and yelled booh or something like that. People were scared, laughed and threw money in his bucket. I've later learned, that he is "The Famous Bush Man of Fisherman's Wharf". He is a homeless guy, that makes around $ 60.000 a year on his little stunt.
The rest of the walk back to the hotel was mostly uphill, and that made it take twice as long to get home as going out, but it would be even worse the next day.
A captivating experience
When you have only a single day in a big city, especially one you have not previously visited, it can often be difficult to choose what to see. We therefore decided to do things the easy way, namely by taking a guided bus tour, and both in San Francisco and later in Los Angeles we booked the tour from home via the internet. The tour we had booked in San Francisco was a combined trip that consisted of a visit to Alcatraz, and a "De Luxe City Tour".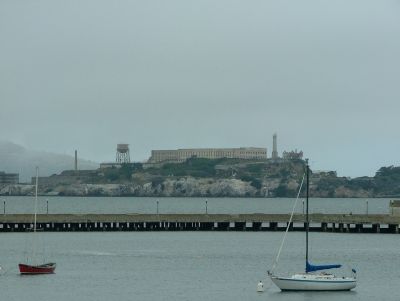 Next morning we were picked up at the hotel and taken to a collection point near Fisherman's Wharf. Here, we registered and then waited for our particular tour bus to arrive. After some delay several buses arrived to go on the various tours, and we also found the one we were going to use. The driver, whose name was Greg, told us that first we would visit Alcatraz. He would therefore take us to the Alcatraz ticket office. We just had to be back at the bus at 1.30 PM, when the city tour would start, whether everyone was back or not. The boat to Alcatraz sailed every half hour (each way), and the trip lasted about 10 minutes. We could catch the ferry at 10.45 AM, so there would be plenty of time to take a look at the the island. But first we once had to stand in line to register, even if we had already paid the ticket from home. Then we had to stand in another line to get onboard the boat. While waiting we admired the sea lions that were sunning themselves on some rafts at the next pier.

After some waiting, we were let on board the ferry, where we met another Danish couple and had a chat with them and a cup of coffee before reaching Alcatraz.

Alcatraz Island has had a turbulent life. Most people know it is probably best as a state prison, but the island has been used for much else. Lighthouse, military prison, fortress. But as State Prison it served from 1934 to 1963. In the 29 years the prison existed it counted greater number of prominent prisoners, usually prisoners who had attempted escape from other prisons, or were considered to be particularly dangerous. Best known is probably Al "Scarface" Capone, who was sent to prison for tax evasion. Three other "celebrity" prisoners were George "Machinegun" Kelly (1934 - 1951), who was convicted of among other things armed robbery and kidnapping. It was Kelly who coined the term G-men for the FBI agents when he was arrested in 1933. Alvin "Creepy" Karpis (1936 - 1962) was convicted of bank robbery. He was the prisoner, who spent the most time on Alcatraz. 26 years he was imprisoned on the island where the average time otherwise was about 5 years. Karpis was a member, or more likely the head of the Karpis-Barker gang, along with the notorious Ma Barker and her sons. The last of the famous or rather infamous, inmates of Alcatraz, I want to mention is Robert "The Birdman of Alcatraz" Stroud (1942 - 1959). In spite of the name he didn't actually kept birds at Alcatraz. Before transferringto Alacatraz he was incarcerated in Leavenworth, Kansas and while here he became an authority on canarys and wrote the book "Stroud's Digest on the Diseases of Birds", which helped make him famous. In 1959 he became seriously ill and was transferred to another prison in Missouri. Here he died in 1963, 73 years old. Of these he had been in prison for 54, including 42 years in isolation and 11 in the prison hospital at Alcatraz.

When we arrived at Alcatraz Island, we walked from the harbor up to the prison. Here, we walked around the prison. We saw the cells, where the above mentioned criminals had lived and many more of course. Along the way we were told about isolation cells, where The Birdman were confined for 6 years. We also saw the "hole" which was even more isolated (and dark), "the weapons galleries" which were the only areas where guards would be armed, never when they were with the prisoners, the dining room, outdoor area and we heard of riots and escape attempts. Officially, no one ever escaped from Alcatraz, although many tried. Most were recaptured - two escaped from the island, but was brought back, two drowned and seven were shot and killed. The only ones that may have escaped were Frank Morris and brothers John and Clarence Anglin. They disappeared from their cells on June 11th, 1962 by digging through the wall of an air duct behind the cells. From there, they crawled through air ducts and through a ventilation shaft to the prison roof, from where they disappeared, never to be seen again. They brought along among other things a lot of rain coats, which they would tie together and paddle away on. The escape had been camouflaged by placing dolls of papier-mâché in their bunks (dolls is still in the cells). Officially, the three prisoners was declared drowned during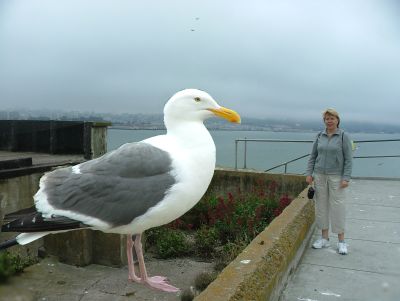 escape attempt, but their bodies were never found. If they actually managed to escape they were never heard of again. An experiment in 2003 has shown that it is possible that the three prisoners could have paddled on raincoats to an area near the north tower of the Golden Gate Bridge in approx. 40 minutes, so maybe they did get away. For viewers of the Discovery Channel I should mention that the experiment was performed by Jamie Hyneman and Adam Savage, better known as the Mythbusters.

After our visit to the prison we took a short walk on the island. A variety of seabirds breeds on the island, not least some gulls, that Dorte was sure were much bigger than Danish gulls. That's what I always said, Americans make everything bigger and better than us, even the seagulls. When we were done with both the tour as well as gigantic sea gulls, we returned to the ferry. When we were back on the mainland again, we had time for a quick serving of seafood salad at a sidewalk restaurant, before we again had to meet the bus.
When it arrived, the driver was still Greg, who also took us to the harbor, and it turned out that he was also the guide. Nothing was really anything wrong about that concept except that Dorte was a little nervous when she discovered that he spoke in an ordinary microphone, which he held in one hand while he steered the bus around the corners the bus with the other. Nothing happened though so he had probably done it before. Greg started to tell us about the tour we were on. We were first going to the Golden Gate Bridge, where there would be a short pause, and thence we would continue to the Pacific coast. Again there would be a short stop, and and there would also be two stops in Golden Gate Park and at one place in town. Overall, the trip would take approx. 3 ½ hours and it came to be a rather precise prediction. During the three and a half hours, Greg's mouth didn't stop for a moment, so we got mounts of information about the city, so many that I had forgotten most, when I came back to the hotel and had time to write them down. The first stop was at the Golden Gate Bridge, which was still covered in fog, so there wasn't much to see this time either. In stead Dorte and I walk a bit out on the bridge back again, and we looked at a piece of the cable that carry the bridge. Under the Bridge is also a fort from the Civil War time, and we had just taken a picture of that when it also vanished in the fog.
From the bridge we drove through San Francisco's Presidio. Here we made no stop but continued to the Pacific coast where we enjoyed the view over the Pacific, before we drove to Golden Gate Park, where we stopped at the Japanese tea Garden. Here the bus mase a rather lengthy stop to allow us time to visit the garden, which we did. The garden is very beautiful, if you like Japanese gardens with trees cut in different shapes, winding streams, stepping stones and so on. We spent about 30 minutes in the park before we returned to the bus and continued the trip. Our last and final stop in Golden Gate Park was at the Conservatory of Flowers, where there was a five minute stop to take pictures.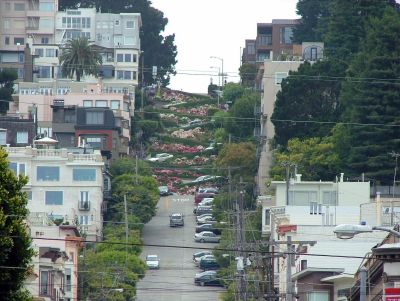 From the park we continued through many of San Francisco's neighborhoods. We did not see the oldest part of town, Mission District, around the old Dolores Mission Station, but we came through Seacliffs, the city's most expensive neighborhood, and we saw the road where most of the movie car chases in San Francisco are filmed. In addition, we saw Downtown Business District, Nob Hill, Russian Hill, and not least the Haight-Ashbury district where the hippie movement began in 1965 and culminated in 1967. At least 100,000 young people from around the world flocked in Haight-Ashbury. The last stop we made at Alamo Square, with the famous Victorian houses in Steiner Street. The houses are painted in different colors, and are called "The Painted Ladies". From the park we returned to the meeting point, where the tour had started in the morning, and where other buses would take us back to our hotels, but Dorte and I decided that we would rather walk back to the hotel. So we did!

As our hotel was on the corner of Van Ness Avenue and Lombard Street, we decided to take the latter from where we were and simply continue forward until we reached the hotel. It would also allow us to see what is called America's most crooked street. What we had not taken into consideration was that Lombard Street also crosses two of the city's 43 hills, Telegraph Hill and Russsian Hill. Generally, the road is almost straight, like most streets in town, but on a single block up Russian Hill, the street has a number of serpentine turns. Although it was not that hot in San Francisco, it was quite hard and made us sweat to walk up and down first Telegraph Hill with Coit Tower and not least Russian Hill. We enjoyed the crooked part with it's brick roadway and all the flowers, and after another short climb, we reached the hotel, which was a bit down the opposite side of Russian Hill.

But I probably better justify the heading even if the wordplay is not that good in English. In Danish it would be "En fængslende oplevelse" which sholud be directly translated to sometinh like "An incarcerating experience", but I don't think that word exists in this sense in English, Anyway if any of my Danish readers, read the heading, they would probably think, that it was referring to our visit to Alcatraz, but they would be mistaken.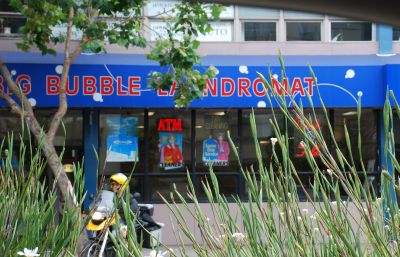 The captivating or incarcerating experience was something completely different, and much more everyday. When we travel to the United States, we do not so bring too many clothes, because at many hotels and motels are washing machines, so we tend to wash a few times along the way. We had now been away for a week, so it was about time to do some laundry. Unfortunately, the hotel that we stayed at, didn't have a washing machine for guests, but a little further down Van Ness Avenue there was a launderette, recommended by the reception, so there we went. We put our clothes in two machines, and set them in motion, and then we sat down to wait at a table. While waiting Dorte wrote a few postcards that we would send home to friends and family. Just when we sat down, after having started our machines, a young girl entered the place, and it was her who gave us the captivating experience. I would guess that she was just in her early twenties, and she apparently was not used to do laundry. She certainly had great difficulty in sorting her clothes. First she occupied 5 double sized washing machines, and then she took each piece of clothing up and studied the care label before she decided which machine the piece of clothing would go into. Among other things she had at least 30 pairs of string panties, and each was studied in this manner. From time to time she took something out again and placed in another machine. Some clothes, she could not place immediately, so it was put on the edge of her cloth-basket until there was a neat stack. Then she called someone on her cell phone, apparently to get instructions because after each call, she moved some clothes from the edge of the basket to a machine. Dorte and I agreed that it was probably clothes without labels. We were convinced that either she called home to her mother for help, or else she was doing laundry for herself as well as some girlfriends - the many thong panties might indicate the latter - and she was afraid to wash their clothes wrong.A ll this took some time and we had plenty of time to observe the procedure, because when our clothes were finished, and had had two rounds in the dryer (about an hour and a half) she had only just finished sorting her clothes and was about to put her machines to work. We actually wanted to come back later just to watch her get her clothes together again, but didn't though.


- Return to Surpise Trip