From desert to mountains, once again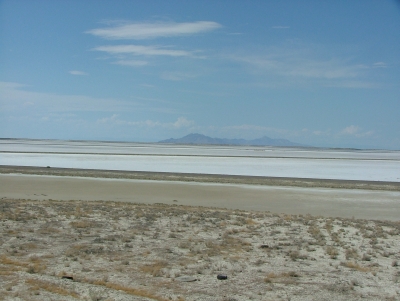 It was only around 2.30 pm when we got to Salt Lake City, so we decided to take a ride. Dorte would like to see the Great Salt Lake, and I would like to see the Great Salt Desert, so we took I-80 heading west. We drove 90 miles out in the desert before we turned around and drove back. Along the way we saw both the lake and the salt desert and managed to take pictures of both. It was a pretty interesting experience. It's the only time I've seen a lake (or for that matter an ocean), there is so salty that you can actually see floating salt flakes. The lake is so salty that almost nothing, except algae can live in it. Also the desert is in some places completely white with salt which I never saw before either.

When had enjoyed enough of salt, we returned to town. We parked the car at the hotel and then we went for a walk to look at the city itself. As we walked towards the center we talked about which way would be the easiest and suddenly somebody told us. In Danish! Again we had met Danes, and it would not be the last time on this trip. This time it was a family on a tour like us. They came from Yellowstone, where we were going after Salt Lake City, so we had a short chat on the street corner before we moved on.

When we were done talking, we went up to see the Temple of The Church of Jesus Christ of Latter-day Saints and some of the other Mormon buildings in the city, such as their tabernacle, administration building etc. The first building we met, however, was their archives, which should be a haven for genealogists. When we had completed our visit to the Temple Square, we returned to the hotel, however, taking a different way than when we walked there. We passed a street market, but almost everything else was closed, as it was getting rather late. The streets in the center of Salt Lake City, is also generally the widest I have ever seen in any town in America. In downtown Salt Lake City's no street had less than two lanes in each direction, most had three and a few up to five.

When we got back to the hotel, we went to the hotel's restaurant called Chez Michelle, to have dinner. Both the restaurant and the food was excellent, as was the wine - and this time, I ordered red wine, not white wine like in Los Angeles. Apart from our wine tasting in California it was only the third time on the trip that we drank wine with our meal. The waiter was very nice, and he was saying "Good" and "Excellent" or something like that every time we ordered something, but he was effective, and when we gave him a nice tip, he also said "Excellent".

After dinner we went over to the front desk. We hadn't booked a hotel for the next night, but as we were going to Yellowstone, we agreed that it was probably a good idea, since it is the most touristic place in the U.S., and July is the peak season. We would originally have stayed in the neighborhood of Rexburg, Idaho, but to get more time in Yellowstone and Grand Teton national parks we changed our mind and we got our hotel to book a room for us at a Best Western in Jackson, just south of Grand Teton National Park. This would be the first time, we had to pay more than $ 250 for a single night. On later trips we have paid a lot more than that, but at that time we found it quite expensive.
Into the Rockies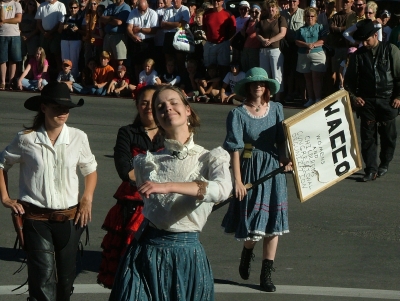 Once more a day on the road. After breakfast at the hotel (probably the best breakfast on the trip), we left Salt Lake City around 09.30 heading for Jackson in Wyoming. We took I-15 north to the town of Brigham, named after Brigham Young, Second Profet of the Mormons and first governor of Utah. At Brigham we switched to U.S. 89, that took us through the low mountains on the edge of the Rocky Mountains, and it was also along US 89, we drove into the Rockies. All the way we drove through the mountains, but even so the trip was very varied - also because of the many road works, we met along the way. The road followed Logan River for a long while, crossed a mountain pass (two times we had to stop for roadworks crossing the pass), and exited the mountains at Bear Lake. Along the lake U.S. 89 followed the old Oregon Trail for a while. We had lunch at Butch Cassidy Saloon in the town of Montpelier in Idaho; we had crossed the border betwee Utah and Idaho at Bear Lake. But shortly after Montpelier, actually at Geneva, we left Idaho, so it was a short visit. We then entered Wyoming, where the majority of Yellowstone National Park is located. We passed towns with names like Etna, Geneva, Paris (89 people!), Thayne (98 inhabitants), and especially the city of Afton, where Dorte convinced herself, that it was named by a Swede, who according to her had said, "We are tired, we camp here tonight (Tonight = "i afton" in Swedish)". The last part of the trip to Jackson the road followed the Snake River, U.S. 10,'s longest river, more than 1,000 miles long. Here we saw many people rafting down the river. As we drove through Idaho and the first part of Wyoming we drove through an area where almost all houses were built of wood. Many were log cabins, quite modern, but apparently built the same way, cabins were built in the 1800s. When we got to Jackson, the same was the case here - so it's obviously a building tradition in this area.

We reached Jackson and found The Lodge, as our hotel was called. Incidentally, it was also built in wood and raw stone. It turned out that our "$ 250+ room" was a suite with kitchen and living room besides a sleeping section, so it really was not so bad. At five o'clock we walked down to the center of town, a walk of about one mile each way. The town was very nice, in old western style with raised walkways, etc. We visited a few shops and bought some gifts to take home, and at the "square" we watched yet another "shoot-out" performance with gunfire, stage coach, a double hanging and more. There were suffragette girls as well, and all in all it was rather entertaining.

When we had seen enough we walked back to the hotel. Right next door was the restaurant Gun Barrel. It opened at 5.30, so it was closed when we walked to town, but as it is now was around 7.30, we believed that we could get food, and that proved to be correct :-). Even though the restaurant was fairly large, it was actually filled up, so we had to wait at the bar for 40 minutes before we got a table. When that happened we got really good food and for starters something that none of us have tried before, bison carpaccio, which tasted really good. It was the most expensive restaurant on this trip, but also by far the best.

- Return to Surprise Trip -