A lot of wooden boats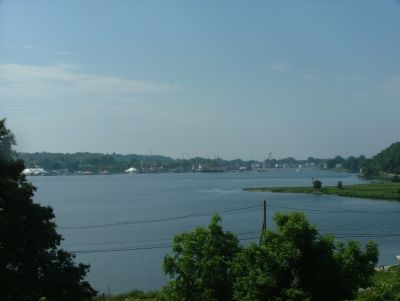 We left New London early, and planed to drive straight on to Boston, Massachusetts, taking the interstate all the way. We wanted to get to Boston early, so we had time to look at the city that very afternoon. We therefore got on I-95 as early as possible, and drove north. We had not driven more than about 10 miles though, when we saw a signpost, advertising a "scenic overview". We decided to take a look, and it turned out that from the overview, we could see a portion of Mystick River and the city Mystic. If anyone wonders about the name Mystic, there is no mystery to it. The name origins from a word from a now extinct Native American language (The Mohegan-Montauk-Narragansett). The word "missituck" simply means "the river that is so big that it has waves.

The view was so interesting that we decided to leave the highway in spite of our earlier decision, and drive down to town so we did. When we got there, we followed the signposts to Mystic Seaport, an "open air museum of ships", actually this is the world's largest maritime museum. The museum is built as a seafaring town from the 1800s, and several large and small vessels are located in the museum, which also includes workshops, such as ship building workshops, a blacksmith shop and more. We found a parking lot and bought a ticket to the museum. When we entered, it appeared that we visited the place on the last day of the annual wooden boat festival, and it meant that there were even more old wooden vessels than usual - most of them were still in use and in private ownership.

We walked around and looked at the ships and the many workshops. Among the big ships are Charles W. Morgan, from 1841, America's only remaining wooden whaling ship. The ship did not catch whales, this was done by smaller whale boats, which the whaling ship carried around, hanging from davits. When whales were observed the whale boats were lowered from the davits, and from these small vessels the hunting and killing of whales were carried out. The whaling ship itself functioned as a depot ship, a whaling factory and whale oil storage. If you are interested in how these things went on, Herman Melville's Moby Dick is a good, but somewhat "slow" starting point. Herman Melville himself had sailed on whaling ships, so he was familiar with the business.

Another large sailing ship is J.P. Conrad, built in 1882 under the name Georg Stage, and used as as Danish sailtraining vessel until 1934 when it was replaced by the current Georg Stage, built of steel. These two ships, as well as several others are located permanently in Mystic Seaport. Among the other ships is a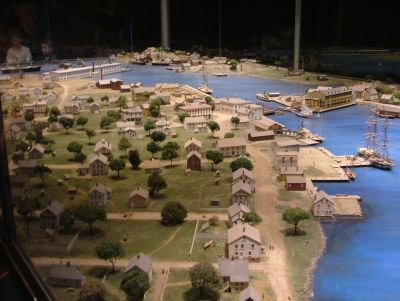 reconstruction of the slave ship Amistad, which is probably best known from the namesake movie, and the remains of the schooner Australia, who suffered a stormy life, partly as a blockade runner during the American Civil War. The boat has been restored several times but is now left like a wreckage with open hull, so you can see how the ship is constructed.

We also visited a building, housing a model that showed how the city had looked about 1870, and we saw the preservation shipyard which works to preserve and restore old wooden boats. Furthermore, we walked through some of the workshops, including a brass foundry.

In honor of the wooden ships festival numerous stalls was set up, from which were sold everything between heaven and earth. I bought some beef jerky spiced with pepper, and it was pretty hot! Dorte bought herself a hat made from seaweed. The hat could survive being wet, pinched, curled up and so on, and it stuck on the head even in windy conditions. As usual she never wore it again!
After our visit to the museum, we returned to the interstate and continued to Boston with no further interruptions. We stayed at the Hyatt Regency in Cambridge, and had n trouble finding the hotel, but a little trouble getting there, as a lot of streets were closed due to a bike race, but eventually we managed and got ourselves a room with a view over Charles River and Boston on the opposite bank.